7. 8. 2018 | Rubriky: Articles,CD reviews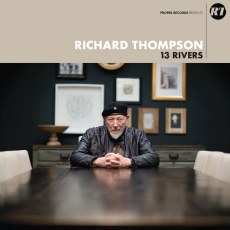 [by Ken Hunt, London] With any selection of new Richard Thompson songs, there's no knowing in whose company and in what straits listeners will be plunged. There might be a long-awaited cheap-suited estate agent or the borderline apocalyptic. 13 Rivers opens with the one of his finest recent songs, The Storm Won't Come. He sings in bible-bashing fashion: "I am longing for a storm to blow through town/Blow these sad old buildings down/Fire to burn what fire may/Rain to wash it all away."
Things soon curdling and souring splendidly. By the third track, Her Love Was Meant For Me, he jabs a middle finger up at that bugbear of his about lazy journalism banging on about doom-and-gloom. (At the beginning of my writing career, he took me aside and put me straight.) He sings, "Armageddon's in the mirror/And her love was meant for me."
Bones of Gilead is Thompsonian-strength cryptic. "What's my name? Just call me Micah/Micah like the Bible says…" he sings in character to chunky electric guitar. Possibly he watched Margaret Atwood's hugely popular The Handmaid's Tale. There Gilead is the dystopian theocracy that succeeds the United States of America. Working out the possibilities of Thompson's pepper-sprayed allusions is part of the fun, however fanciful they might be. "In my cloud/Of illusion" from My Rock, My Rope could be glancing off the anonymous early Christian mystic's text The Cloud of Unknowing. (Or not.) Religious allusions abound in any case. In the ninth track You Can't Reach Me there comes reprise-like: "…The war and Armageddon and shit."' In Shaking the Gates – though Shaking The Gates Of Heaven Of Heaven should be the fuller title, Thompson sings, "I falter at heaven's gate" – maybe with a wink to Michael Cimino's 1980 film epic of mixed fortunes.
The track sequencing of 13 Rivers is a taste of perfection. It is an antidote to streaming tracks and moving on to the next thing. As Suzanne Vega said in an interview (with Andrew Williams) in July (Metro, 17 July 2018, 16): "An album is an art form in and of itself. Whenever I release a collection of songs I think of them as an album even though I know hardly anyone consumes them in that way. It's a narrative. We used to spend a lot of time sequencing them and figuring out the spaces in between the songs. It was fun to plan that into the experience for the listener." Well, Richard Thompson must have had a whale of a time with 13 Rivers.
As I have said elsewhere, it is criminal how good 13 Rivers. That's why this thrilling piece of work is destined to be one of the albums of 2018. No place for cheap-suited estate agents, though. Maybe another time.
Richard Thompson 13 Rivers Proper Records
www.proper-records.co.uk
www.richardthompson-music.com