8. 6. 2015 | Rubriky: Articles,Live reviews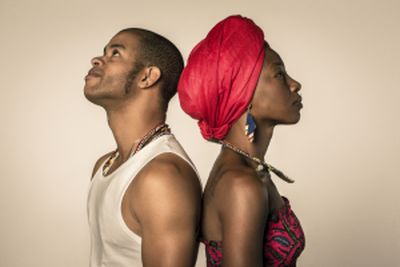 [by Martha Hawley, Amsterdam] Roberto Fonseca and Fatoumata Diawara passed through the Netherlands in May 2015, in the company of musicians from Mali and Cuba, stopping at the Music Meeting in Nijmegen, and in Amsterdam's North Sea Jazz Club, where I heard them. The North Sea Jazz Club is licensed to use the name of the sprawling North Sea Jazz Festival – both maintain a programming policy of jazz with a broad range, including Latin, African, funk, soul and more. The Club prides itself on giving big names the opportunity to perform in a small venue.
Roberto Fonseca and Fatoumata Diawara are well-matched to carry their musical roots forward, both having played with hometown greats. After doing some acting and performing in musicals, Diawara first toured the world as a back-up singer for Oumou Sangare. Fonseca has been
on stage for longer, and earned a name for himself as back-up pianist for Ruben Gonzalez in the Buena Vista Social Club. This is not their first encounter – Diawara was one of 15 guest artists on Fonseca's album YO in 2010 – but in this project they share the lead.
At the North Sea Jazz Club in Amsterdam, the crowd is enthralled when Fonseca, the band and Diawara appear. She is a striking figure, smiling and colorful from head to toe, wielding an acoustic guitar. To give as many people as possible the chance to share this intimate setting, tables and chairs have been removed. For me, the 450 people in the room somewhat diminish the feeling of intimacy, but I go with the flow and station myself on the front lines. Necks are craned – including those of many tall Dutch people – as the buzz carries the observation that the evening's star vocalist is pregnant. The mother-to-be certainly seems to have enough energy for at least two.
The melodies and rhythms of Mali and Cuba sustain their seduction throughout the evening, but it is Diawara on stage who offers us the best moments, the moments crowds long to experience, when she looks out at us and holds her arms up high, exhorting all women to fly away and be free, to fly wherever they want to go. She describes running, running, and looking back to see if her parents are coming after her, on her trail to force her to marry her cousin. Women must keep running towards the destinations of their dreams, she tells us.
Diawara has had to cover some distance to be where she is now; her parents were not in favour of the artist's life for their daughter. At work as a back-up singer, she started playing guitar and then released an album: Fatou. She never looked back. The project with Fonseca is not her first collaboration with jazz musicians. One such gig involved working with Herbie Hancock on The Imagine Project in 2010. More recently she wrote (and co-composed with Amine Bouhafa) the ode to Timbuktu for the film by Abderrahmane Sissako.
Fonseca, on the other hand, grew up in a musical family. At some point, a jazz cassette of Keith Jarrett and Bill Evans came into his life and got him started as a jazz musician. After Rubén González died, Fonseca became the accompanist for Ibrahim Ferrer, who told him: jazz is beautiful, but you must never forget your roots. At school he was told: urban music is terrific, but never forget your classical Cuban background.
There's little chance of that happening: Bolero had always been a familiar sound to him, thanks to his mother, a classical singer. Before he sat down at the piano he had performed as a drummer – his father was a drummer in the Afro-Cuban tradition – and Fonseca's first professional gig apparently featured him as Ringo Starr in a Beatles cover band. I'm sorry I missed that phase in his career – there was a time when listening to the Beatles in Cuba was not done.
In Amsterdam, Fonseca is pleased and proud to introduce and reintroduce Diawara, and his piano stayed dynamic, but he seemed to be very tired that evening and for much of the set his focus seems to be away from the crowd. The piano rings true and clear, but it is Diawara's presence that creates the connection and makes the concert a success. People are already on their feet in this standing room only event, and there is no let up in their enthusiasm. The crowd claps and responds to Diawara's call for vocal participation. She is hard to refuse, but at times the audience appreciation seemed more a form of encouragement and a call for more, as if waiting for the fireworks to really begin.
Meanwhile, the musicians are grooving: Yandy Martínez, Bah Sekou, Sidibé Drissa and Ramsés Rodríguez, introduced by Fonseca as the band's 'pretty boy'. They are not featured, however, in the number with the most intensity: with Fonseca and Diawara alone on stage. No clapping or dancing, just voice and piano. All 450 listeners in the room are drawn in; the performers embrace at the end of the number.
It's hard to tell how much further this combination could go, but for the time being, it's an intriguing combination of traditions, old and new. The tones of Fonseca wafted into our lives via his work with Ferrer and the Bolero. It could be argued that staggering numbers of Latin Americans alive today are 'bolero babies', the fruit of romantic unions brought about by the poetry of classical ballads introduced to a younger generation by Ibrahim Ferrer and Omara Portuondo. Fonseca learned that well and it carries into his affinity with contemporary sounds: jazz, funk, soul.
Diawara builds on the Wassoulou tradition brought to us by powerful female griots including Kandia Kouyate and Oumou Sangare. Diawara sings about the most pressing themes in the society where she was raised: women's independence, and children who are not raised by their parents, as in her own case. She sings speaks out against arranged marriage, against female genital mutilation. Not the romantic appeal of the bolero, just very real. She also sings to those on the move, the younger generation of Africans, male and female, who are not able to travel freely and gain a global perspective. Girls come to her in Bamako and tell her how happy they are with what she is doing. The audience in Amsterdam is clearly comprised of music-loving girl-supporting globe-trotters on the Diawara band-wagon. When the concert is truly over, a young African man elbows me to display his very own selfie with Fatoumata Diawara. He is thrilled, and the phone is flashed for all passersby to see.
I was close to the stage at the start, but the exuberant opening blasts sent me seeking better sound towards the back, where I could stand at the bar, taking notes by candlelight. As I edged towards the back, I passed several African women edging their way towards the front. I'm sure they made it within the radiant reach of Diawara's smile.
Photo courtesy of Kartel Music Group