18. 6. 2012 | Rubriky: Articles,Lives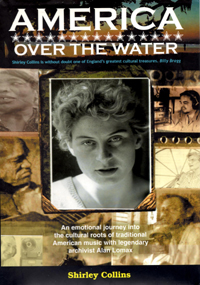 [by Ken Hunt] Ahmet Ertegun will predictably be most remembered for the big acts and platinum hit-makers. He and Nesuhi Ertegun also pay-rolled a project of immense significance for the worlds of US vernacular music – folk, blues, gospel, work song and beyond. That project was Atlantic's Southern Heritage Folk Series (1960), seven LPs, also released in Britain, culled from 80 hours of field recordings made sometimes under the most arduous, sometimes the most exhilarating of circumstances. It was the work of the white Texan folklorist, author and broadcaster Alan Lomax (1915-2002) and the Sussex-born folk singer Shirley Collins. Collins' America Over The Water (2004) and her Arts Council-supported multi-media talk of the same name home in on that 1959 field trip.
In her book she recalls Lomax's growing desperation of getting the project off the ground. Columbia Records wanted them to send a Union engineer along with them, quite contrary to Lomax's style and flexible approach.
"Alan went to Neshui and Ahmet Ertegun. To our joy, those two heroes came up with an offer to back the entire trip."
In 1993 Lomax discussed Collins' role with me,
"She was, of course, the perfect person to take into the field because she absolutely loved every single minute of it. Took wonderful notes. And was a huge help, was great with all the people and a perfect, perfect field companion. She helped me in hundreds of ways I don't even know being an unobservant, busy male."
In Lomax's introduction to Atlantic's four-CD reinstatement of the 1960 albums, Sounds of the South (1993), he observed,
"The set reflects, to some extent, what the Erteguns felt might best reach their pop audience. Yet some of the songways date back to ancient European or African origins. Others were created in the pioneer period. The whole collection is a testament to the creativity of the South, where country folk – people of African and British descent – continue to shape the deep songs of this country."
The music they captured from the mouths and hands of Estil C. Ball, Bessie Jones, Ed Lewis, the Mountain Ramblers, Alameda Riddle, Hobart Smith and Lonnie and Ed Young remains one of the greatest treasuries of America's folkways ever heard. To hear Calvary and the full flood of the Alabama Sacred Harp Singers' white gospel is as mighty a religious experience as Sid Hemphill and Lucius Smith panpipe-and-drum Come On, Boys, Let's Go To The Ball is elemental. Recording Mississippi Fred McDowell doing Keep Your Lamps Trimmed And Burning and Been Drinkin' Water Out Of A Hollow Log lifted him out of Cora, Mississippi and into a recording career and on to stages round the world. Material from Southern Heritage Folk Series artists entered the repertoires of many acts and actual performances grace the Coen Brothers' acclaimed O Brother, Where Art Thou? And it was the Erteguns that made it happen. In so doing they transformed many, many people's lives.
This is a piece written directly after Ahmet Ertegun's death discovered in the archives that apparently never ran.