31. 12. 2016 | Rubriky: Articles,Best of Year,Feature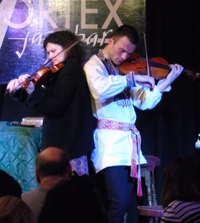 [by Ken Hunt, London] 2016 proved to be, to soundbite Elvis Costello, a particularly good year for the roses. Well, the artistic ones at least. (Brexit notwithstanding, in England the garden roses and the garden as a whole suffered somewhat thanks to the English climate's vagaries of rain and sunshine.) Nevertheless, it truly was a year to remember musically. That was assisted by chance musical encounters that made me stop and stare and listen. The busker playing chromatic harmonica down below at Waterloo underground station one day in September was utterly spellbinding. A party bash outside the National Theatre in Prague celebrating a Czech national holiday was uplifting. A few days later hanging out with Czech friends and my son in a pizza parlour in Malá Strana in Prague 1 I was listening to a slice of tramping (Czech and Slovak uses the same word as English) that I had fondly associated with Czechoslovakia's communist-era (and before) outdoors movement. It was something I had only ever read about. It sounded like a singalong joy and was an unfettered hoot. And one dank, dismal day towards the end of 2016 there was a Roma accordion duo performing in Kingsland in London to brighten things up. They caused me to stop and stare. If ever you have a little money to spare, put some into a street musician's collection box, hat or case.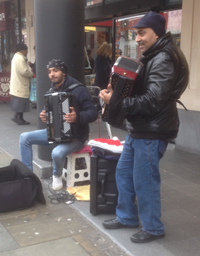 In the year that included the deaths of David Bowie and George Michael amongst others, the illness and death of Dave Swarbrick aged 75 on 3 June 2016 in Aberystwyth, Ceredigion in Wales overshadowed the first half of the year. In Dave's obituary in the autumn 2016 issue of Canada's folk magazine of record, Penguin Eggs I wrote, "Arguably no single folk musician ever had a greater impact across Europe." I meant it. I could have expanded massively with examples but that is the nature of word counts. In actual fact it was to be a year of losses. The German singer-songwriter and guitarist Werner Lämmerhirt died on 14 October, aged 67. Amongst others, he had worked with Wizz Jones, Tom Paxton and Hannes Wader. On 7 November Leonard Cohen died at the age of 82 with his troubling (in a good way) end-of-life You Want It Darker already on the year's playlist. On 15 November musician-composer Mose Allison died at the age of 89, followed a week later by arguably the most influential male vocalist of the South Indian classical tradition in Dr Balamurali Krishna. He died on 22 November in Chennai aged 86 The US experimental composer, electronic music pioneer and wayward spirit Pauline Oliveros died on 25 November, aged 84. And Martin Stone of, amongst other bands, Mighty Baby and Chilli Willi and the Red Hot Peppers died on 9 November 2016 on Versailles in France. Reading his anonymously written obituary in The Daily Telegraph introduced me to a part of his life about which I had had no idea: his book hunting and dealing exploits.
To two events in music that made me the happiest. The first was the re-emergence of Shirley Collins with her Lodestar album and, similarly important, her limited live performance before an audience for BBC Radio 4's Mastertapes series at the end of the year. The other was Aruna Sairam receiving the Bharat Ratna Dr. M.S. Subbulakshmi Centenary Commemoration Special Award on 13 September 2016. It was conferred on her by the Shanmukhananda Sangeetha Sabha, Mumbai. (To clarify the Bharat Ratna at the front refers to M.S. Subbulakshmi as the recipient, not to Aruna Sairam receiving India's highest civilian award.) I like positivity. Furthermore, three big anniversaries happened in 2016. In the Celtic realm Eire's Tulla Céilí Band turned 70 and the Welsh folk group Ar Log turned 40. And fRoots produced its 400th issue with Lucy Farrell on the cover (she of various Emily Portman band permutations, including, see below, the Coracle Band, and the Furrow Collective). I must have written in most of those, even if many times my byline didn't and doesn't appear beside the contribution. My article about Aruna Sairam appears in its January/February 2017 issue.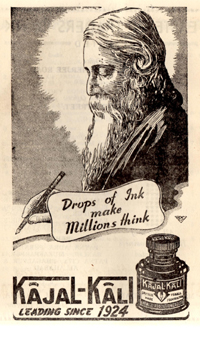 In other artistic, non-musical news, after years of being thwarting I finally got to see Alfons Mucha's cycle of monumental paintings fittingly called the Slovanská epopej (Slav Epic). When I first started cooking up plans to view it, it was on exhibition in Moravský Krumlov in southern Moravia. Iva Bittová and I even discussed finding time to visit when we were both in Moravia but it never happened. Then in 2012 amid some very strange goings-on the 20 canvasses were shipped to Prague. Even then temporary closures and annoyingly non-updated web information thwarted me when I was in the city. Veletržní palác was where I finally tracked it down. It is one of the galleries forming the so-called National Gallery in Prague (Národní galerie v Praze) over multiple sites. (I mention this merely to save readers future aggravation because the National Gallery is not only in one place.) The sheer scale of the paintings bowled me over. Having my son, Tom with me, ramped up the experience. And, thanks to Bożena Szota, working at the Ethno Port Poznań Festival in Poland set me on several paths. Dr Wojciech Mania of the Poznań Tourist Organisation's guided tour of the city fed my head with ideas and planted thoughts about how two kindred Slav cultures – the Polish and the Czech – have assimilated their pre-Christian pasts. In the Czech Republic – and Mucha's Slav Epic – the pagan deities appear. For example, bottles of Radegast beer carry an image of its eponymous Slav deity. In Poland and talking to Polish friends in Britain, it seems as if the country's pre-Christian past was not taught beyond alluding to conversion and Christianisation.
And to conclude on a Banksy note (incidentally name-checked in the first episode of that marvellous television drama, The Young Pope), the Banksy near Hounslow railway station gets defaced periodically. What happened to it in 2015 is another of this year's images. Banksy's gal got hijabed. That got cleaned off. Came a clean, came a new bunch of idiots, came a new bunch of spray tags and halfwit defacings.
Sorry to be garrulous.
New releases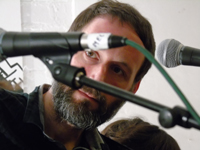 Leonard Cohen / You Want It Darker / Columbia
Furrow Collective / Wild Hog / Hudson Records
Home Service / A New Ground / Dotted Line
Karl Jenkins / Cantata memoria – For the Children/Er mwyny plant / Deutsche Grammophon
Kayhan Kalhor, Aynur, Salman Gambarov & Cemîl Qoçgirî / Hawniyaz / Harmonia Mundi
Alana & Leigh Cline / Alana & Leigh Cline / Scimitar Records
Kitty Macfarlane / Tide & Time / TCR Music
Leyla McCalla / A Day For The Hunter, A Day For The Prey / Jazz Village
Amira Medunjanin / Damar / World Village
Christy Moore / Lily / Columbia
Polkaholix / Sex & Drugs & Sauerkraut / Monopol Records
Anoushka Shankar / Land of Gold / Deutsche Grammophon
Mr Martin Simpson & Mr Don Flemons / Proudly Present A Selection of Ever Popular Favourites / Fledg'ling
Strom & Wasser / Reykjavík / Traumton Records
Simon Thacker & Justyna Jablonska / Karmana / Slap The Moon Records
Three Cane Whale / Live At The Old Barn, Kelston Roundhill / Kelson Records
Trio Dhoore / Momentum / Appel Records
Värttinä / Viena / Westpark
Bob Weir / Blue Mountain / Columbia Legacy
Jason Wilson / Perennials / Wheel Records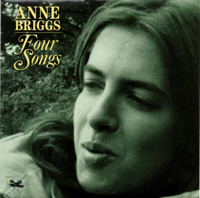 Historic releases, reissues and anthologies
Anne Briggs / Four Songs / Fledg'ling [forgive the plug: this vinyl EP release includes my liner notes in the style of Bert Lloyd's Hazards of Love Topic EP notes]
Grateful Dead / Dave's Picks Volume 19 / Grateful Dead/Rhino
Pentangle / Finale / Topic
Pete Seeger / In England / Lake Records
Various / Indus Raag 2 / Tehzeeb
Various / laut yodeln / Trikont
Various / Magic Flute / NoEthno
Various / Refugees For Refugees / Muziekpublique
Various / Rudolstadt Festival 2016 / heideck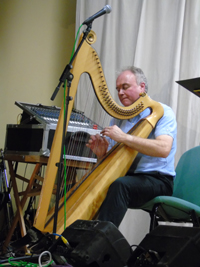 Events of 2016
In some cases a stronger performance ousted another by the same act
Oysters3 / The Stables, Milton Keynes / 22 January 2016
Imagining Ireland / Royal Festival Hall / 29 April 2016
Kronos Quartet / Barbican Hall, London / 9 May 2016
Zakir Hussain's tabla concerto Peshkarwith the BBC Concert Orchestra / Alchemy Festival, Royal Festival Hall, London / 20 May 2016
Eliza Carthy's Generations / The Sage, Gateshead / 4 June 2016
Vardan Hovanissian & Emre Gültekin Adana / Great Hall, Ethno Port Poznań Festival / 17 June 2016
Karolina Cicha & Shafqat Ali Khan / Castle Courtyard, Ethno Port Poznań Festival / 17 June 2016
Debashish Bhattacharya and Sanju Sahai / Castle Courtyard, Ethno Port Poznań Festival / 18 June 2016
Lo Còr de la Plana / Castle Courtyard, Ethno Port Poznań Festival / 18 June 2016
Moh! Kouyaté / Scene on the grass, Ethno Port Poznań Festival / 19 June 2016
MeNaiset / Neumarkt, Rudolstadt Festival / 8 July 2016
Anoushka Shankar, Land of Gold / Größe Bühne, Heinepark, Rudolstadt Festival / 9 July 2016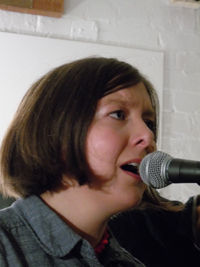 MeNaiset, Gottesdienst (church service), Stadtkirche St Andreas, Rudolstadt Festival / 10 July 2016
Emily Portman & The Coracle Band / Heidecksburg, Rudolstadt Festival, / 10 July 2016
Gangstagrass / Markt, Rudolstadt Festival / 10 July 2016
Vishwa Mohan Bhatt & Desert Slide / Union Chapel, London / 29 July 2016
Peggy Seeger and Sam Greaves / Cecil Sharp House, London / 16 September 2016
Aruna Sairam & Jayanthi Kumaresh / Darbar Festival, Royal Festival Hall, London, 17 September 2016
Parissa + the Meshk Ensemble / Royal Festival Hall, London / 1 October 2016
Anoushka Shankar, Land of Gold / Royal Festival Hall, London / 13 October 2016
Furrow Collective / Cecil Sharp House, London / 1 November 2016
Ar Log / Community Hall, Dinas Mawddwy / 4 November 2016
Shirley Collins with Ian Kearey, Dave Arthur and Pete Cooper / Mastertapes radio recording session about Love, Death & the Lady / BBC Maida Vale, London / 26 November 2016
Iva Bittová and Abraham Brody / Vortex Jazz Club, London / 6 December 2016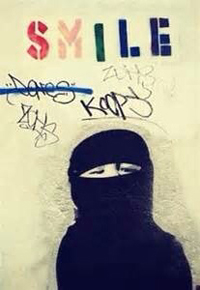 A baker's dozen of past music projects, released in 2015 or earlier. Either they were newly introduced journeys of exploration or ones which returned to inspire over the course of writing in 2016
Ar Log / Goreuon Ar Log/The Best Of Ar Log / Sain Records, 2007
Lautari / vol. 67 – live 2014 / Wodzirej, 2015
MeNaiset / Kelu / Aania, 2010
Fairport Convention / Live At The BBC / Island/Universal, 1996
Peter Graham / Wabi / Rosa s.r.o., 2014
Muzykanci / a na onej górze… / Wydawnictwo Jana Słowińskiego, 2002
Nawa / Ancient Sufi Invocations & Forgotten Songs from Aleppo, Sacred Voices of Syria, Vol. 1 / Lost Origin Sound Series/Electric Cowbell Records, undated [2014]
Pauline Oliveros / Accordion & Voice / Lovely Music, 1982
Projekt.Kolberg / In Fidelis / Karrot, 2014 https://pl-pl.facebook.com/projekt.kolberg/
Paul Robeson / Freedom Train and the Welsh Transatlantic Concert / Folk Era Records, 1998
Aruna Sairam, Noureddine Tahiri and Dominique Vellard / Trialogue / Glossa, 2012
Dave Swarbrick / raison d'être / Shirty, 2010
Swarb's Lazarus / Live & Kicking / Squiggle, 2006
From top to bottom the images are Iva Bittová and Abraham Brody; street musicians in Kingsland; in the year of Bob Dylan being awarded the Nobel Prize for Literature the image of previous Nobel Literature winner Rabindranath Tagore used to advertise Kājal-Kāli ink from a 1945 Indian almanac (© lost in the mists of time); the Furrow Collective's Alasdair Roberts; Anne Briggs (© Al Atkinson/Fledg'ling Records); Ar Log's Dafydd Roberts playing telyn deires, the Welsh triple harp; and the Furrow Collective's Emily Portman. Concluding, the Banksy with a burqa. Unless otherwise stated, images are © Ken Hunt/Swing 51 Archives.
A biography of the author is regularly updated here: https://www.linkedin.com/in/ken-hunt-261b7bb