31. 12. 2020 | Rubriky: Articles,Best of Year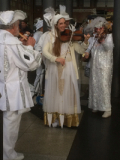 [by Ken Hunt, London] 2020 will go down as the first year of Covid-19. It was the strangest year for making music and writing about it many of us have ever experienced. In late February I was working in Gaienhofen on the German bank of Lake Constance on a radio script for my contributions to Ulrike Zöller's Pandit Ravi Shankar 100th birth anniversary event for BR-Klassik (Bavarian Radio's classical station): https://www.br-klassik.de/programm/radio/ausstrahlung-2058660.html
I spent time drafting and testing phrases and sentences while gaining insights into what ordinary people who had never listened to Indian music understood made of what I said. I re-drafted my script with ordinary radio listeners in mind who were listening in their kitchen or sitting room or while driving. One aspect of the musician I knew I wished to communicate was his sense of humour. We laughed a lot together.
Afterwards it was the Stein am Rhein train back to Zürich. The hotel was close to, and handy for the city's main station. One time crossing its concourse – ShopVille-Zürich Hauptbahnhof – on 1 March 2020 there was a white-clad ensemble playing, engaging with passers-by. They were exquisite. They stuck in my mind and I wish I knew who they were. Please let me know if anyone knows. I would love to know more about them.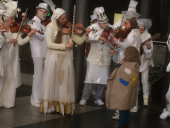 Reading the Swiss broadsheets, I watched the daily Covid-19 infections springing from canton to canton. I went into lockdown when I got back to London at the very beginning of March. Days later, before the official lockdown had started, we saw our last live music of 2020 in a physical venue. I was commissioned to review the Yorkston Thorne Khan concert at King's Place in London. Sod's Law, one magazine pulled out of running a review. Pulse did not. Doubly pleased to have gone because YTS were magnificent and their Navarasa : Nine Emotions is spectacularly good.
That gig ended the year's usual spate of discoveries through live performances at festivals, in folk clubs and concert halls.
Lockdown gave and took. Martin Carthy and I did a batch of interviews face to face in February for his approved biography, Prince Heathen. My stereo stopped talking to me – and couldn't be repaired until July – meaning no access to old vinyl releases I needed to listen to. But isolation gave me the chance to get stuck into Prince Heathen while unfortunately without access to libraries and galleries. The stuff we used to take for granted! Much of the year was spent tracking down and buying research materials to continue working on the book.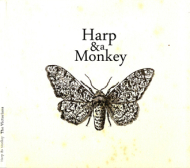 New releases aka Playlist
Najma Akhtar / Five Rivers / LM Productions
Steffen Basho-Junghans / The Dancer on the Hill / Architects of Harmonic Rooms & Records https://architectsofharmonicroomsrecords.bandcamp.com
Burd Ellen / Says The Never Beyond / [Own label] www.burdellen.com
Katy Carr / Providence / Deluce Recordings
Shirley Collins / Heart's Ease / Domino www.dominomusic.com/uk
Harp & A Monkey / The Victorians / [Own label] www.harpandamonkey.com
David A. Jaycock / Murder, And The Birds / Triassic Tusk https://www.triassictuskrecords.com/
Peter Knight's Gigspanner Big Band / Natural Invention / [Own label] www.gigspanner.com
Kronos Quartet & Friends / Long Time Coming / Smithsonian Folkways
Lo'Jo / Transe de Papier / Yotanka https://www.yotanka.net/fr/home/
The Magpie Arc / EP1 / [Own Label] https://themagpiearc.com/
Thomas McCarthy / Comfort / Deafear Productions [no website]
Scarlett O' / ob Du mich lieb hast? / Electrocadero
Jackie Oates & John Spiers / Needle Pin, Needle Pin / [Own label]
Romanovská Tichý Hrubý / Bylo To Právé / It Was Right At / Hevhetia http://www.hevhetia.sk/Hevhetia/
Anoushka Shankar / Love Letters / MercuryKX
Jack Sharp / Good Times Older / From Here Records https://jacksharp.bandcamp.com/
Martin Simpson / Home Recordings / Topic Records https://www.topicrecords.co.uk/
Trolska Polska / Eufori / GO' Danish Folk Music https://folkshop.dk/
Yorkston / Thorne / Khan / Navarasa : Nine Emotions / Domino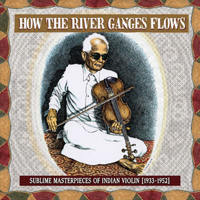 Historic releases, reissues and anthologies
The Band / The Band – 50th Anniversary Edition / Capitol
Commander Cody & His Lost Planet Airmen / Found In The Ozone / Owsley Stanley Foundations https://owsleystanleyfoundation.org/
The Dubliners / The Dubliners, In Concert, Finnegan Wakes, In Person, Mainly Barney and More of the Dubliners / BGO https://www.bgo-records.com/
Grateful Dead / Workingman's Dead – 50th Anniversary Deluxe Edition / Rhino
Andy Irvine / Old Dog Long Road Vol. 2 1961–2015 / [Own Label] www.andyirvine.com
Joni Mitchell / Joni Mitchell Archives – Vol.1: The Early Years (1963–1967) / Rhino
Richard and Linda Thompson / Hard Luck Stories (1972–1982) / Universal
Trees / Trees (50th Anniversary Edition) / Earth Recordings https://earthrecordlabel.com/
Various / How the River Ganges Flows – Sublime Masterpieces of Indian Violin [1933–1952] / Third Man Records https://thirdmanrecords.com/
Various / Working River – Songs and Music of the Thames / Folktree Recordings https://folktreerecordings.bandcamp.com/album/working-river-songs-and-music-of-the-thames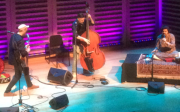 Events of 2020
Covid-19 reduced a healthy diet of live music to a starvation one by March. Three gigs stood out musically and/or for planting seeds of thought – which is pretty much a prerequisite for me.
Martin Carthy & John Kirkpatrick / Cecil Sharp House / 16 January 2020
Martin Carthy / Kalamazoo Club, London / 14 February / 2020
Yorkston Thorne Khan / Kings Place, London / 11 March 2020
Read more www.pulseconnects.com/yorkston-thorne-khan
A baker's dozen of past music projects, released before pre-Covid (2020), either newly introduced journeys of exploration or ones which returned to inspire over the course of writing this year.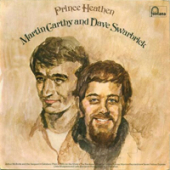 Martin Carthy / Prince Heathen / Fontana, 1969
Dillard & Clark / The Fantastic Expedition of Dillard & Clark / Through The Morning, Through The Night / A&M / Mobile Fidelety Sound Lab, n/d
Snooks Eaglin / New Orleans Street Singer / Smithsonian Folkways, 2005
Davey Graham / After Hours at Hull University, 4th February 1967 / Roller Coaster, 1997
Los Lobos / Acoustic en vivo / Los Lobos Records, 2005
Lisa O'Neill / The Wren, The Wren / River Lea Recordings, 2019
Carlos Paredes / Concerto en Frankfurt / Polygram, 1993
Jean Ritchie / Mountain Heath & Home / Rhino Handmade, 2004
Paul Simon / Graceland – 25th Anniversary Edition / Sony Legacy, 2012
Sutari / Osty / Unzipped Fly Records, 2017
Various / Songs from ABC Television's "Hallelujah" / Fontana, 1966
Various / Stick In The Wheel present From Here: English Folk Field Recordings / From Here Records, 2016
Various / The Trallaleri of Genoa / Alan Lomax Collection, Rounder, 1999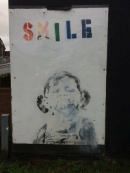 The latest installment in the People's Republic of Hounslow's very own Banksy. 'Smile' is on the wall of what used to be a pub. This is the hugely distressed 'Smile' in December 2020. Unless otherwise stated, © Ken Hunt/Swing 51 Archives.