18. 5. 2009 | Rubriky: Articles,Live reviews
"Folk returns to East Dulwich – but not as you knew it!"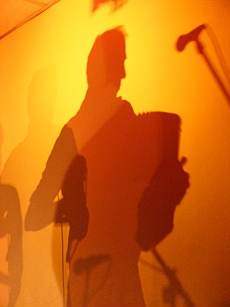 [by Ken Hunt, London] Brass Monkey was a band that unfurled before my eyes. Or so it seemed. From their varied beginnings consolidating in the trio of Martin Carthy, Howard Evans and John Kirkpatrick that performed from January to December 1980 to the establishment of the powerhouse acoustic quintet, Brass Monkey proper, in January 1981 of Carthy, Evans and Kirkpatrick with Martin Brinsford and Roger Williams, their impact was never less than revelatory.
For one thing the Metal Monkey's instrumental alchemy was like no other band's on the English folk scene. They summoned wood and wire (Martin Carthy), squeeze and button instruments (John Kirkpatrick), brass (Howard Evans and Roger Williams) and, thanks to Martin Brinsford, near-brass – saxophone and harmonica – and percussion elements. Above all, they created surprises, as if to the manor born.
There would be trombonist fluctuations but the core of the group remained intact. In March 2006, however, Howard Evans died and on 27 March 2006 Martin Brinsford, Martin Carthy, John Kirkpatrick and Roger Williams played their band mate home. It was a good send-off. At The Goose Is Out! folk club, off Dog Kennel Hill in East Dulwich (towards the back of Sainsbury's car park, now you ask) Brass Monkey's new line-up, circa 2009, opened with The Old Grenadier – a military march that Evans had brought to the band at its inception and they had sent him off with.
The new line-up comprises Paul Archibald (trumpets, cornets), Martin Brinsford (C-melody saxophone, mouth-organ, percussion), Martin Carthy (vocals, guitar, flatback mandolin), John Kirkpatrick (Anglo-concertina and button accordion) and Roger Williams (trombones and euphonium). If the very mention of those names and the combination of those instruments in one sentence sounds scary, imagine what they unleash. And they were touring a new album Head of Steam though their performance came with nods to their past. In remembrance of Howard, they kicked off with The Old Grenadier – one of the key early pieces he brought to the band.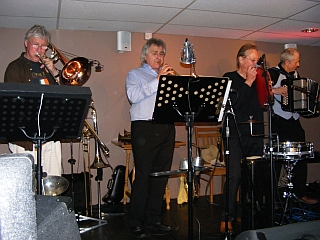 The main focus, however, remained fixedly on Head of Steam's repertoire, as it had to be. Paul Archibald may be playing Howard Evans lines on older material such as the final encore Waterman's Hornpipe or Maid of Australia but he is definitely here to add a new chapter. For example, fluegelhorn didn't figure in the set but he did add pointillist piccolo trumpet and, like Roger Williams and his trombone mutes, a greater variety of mutes than Howard Evans ever used. In other words, similar but different.
Given the nature of the music business, albums get recorded and then acts tour the album. Two months into touring this material and then recording it would have created, musically speaking, a far meatier beast. So it goes. The new material – the likes of The Moldavian Schottische/The Snowdrop Polka and Lichfield Tattoo/The Radstock Jig/The Quickstep From The Battle of Prague – actually worked better live than on the album.
This, however, isn't a Head of Steam album review and one of the advantages of Brass Monkey's unique creativity derives from them being an occasional assembly of talent – a sideshow, without being demeaning, beside their primary income streams. Brass Monkey is one vigorous offshoot.
There were several outstanding performances. One was the Martin Brinsford tour-de-force Happy Hours during which he blew double mouth-organ and Roger Williams puffed into one of largest trombone mutes – the so-called 'bucket mute' – known to organology and science. Lower-key was Maid of Australia from 2004's Flame of Fire which Carthy delivered wholly without Peter Bellamy's knowing wink or leer – Bellamy being a factor in Brass Monkey's take-up of the song. On the basis of The Goose Is Out! performance there could be no disputing Brass Monkey's prowess. When, as their first encore, they played the incest ballad Maid And The Palmer – one of the ten greatest English folk revivalist interpretations ever and a desert island disc choice – they reminded why life lived without Brass Monkey is no life at all.
Further information:
Head of Steam Topic TSCD575 (2009)
The Goose Is Out!
www.thegooseisout.com

Ken Hunt's obituary of Howard Evans from The Independent is at http://www.independent.co.uk/news/obituaries/howard-evans-470889.html
All photos (c) Santosh Sidhu/Swing51 Archives