27. 1. 2008 | Rubriky: Articles,Live reviews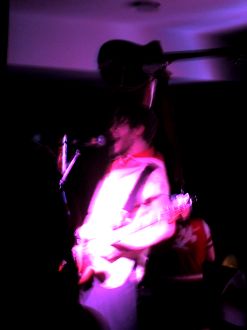 [by Ken Hunt, London] London's embassies regularly host exhibitions, talks, artist showcases and recitals. Generally speaking, these events are free. The Czech Embassy situated on the leafier fringe of London's Notting Hill district is no exception. Its showcase featuring the classical violin maestro Pavel Šporcl stands out in my memory. But British Sea Power launching their new album Do You Like Rock Music? on embassy grounds? It neither conformed to embassies promoting their own nation's artists, nor, on the face of it, did it seem the likeliest venue.
I approached reviewing British Sea Power's album launch gig in a way seldom possible for a full-time freelance journalist. I treated it and them as a blank canvas and deliberately went with, as near as possible, no preconceptions of any kind. Aside from a vague memory of one British Sea Power track on a freebie giveaway CD once, I had never consciously heard them. I did my 'non-homework'. In the spirit of non-preparation all background listening or reading research was banned. I went with several blank sheets of paper for notes and that was that.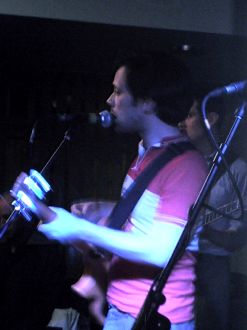 What had filtered through was that British Sea Power were East Sussex-based, around Brighton, down the coast from Rottingdean and that consequently there had been a Copper Family connection at some point in their past. And, lastly that they were an indie rock band. Here I must confess to not quite knowing what 'indie rock' really means. But, by way of perspective, nothing like the confusion and bewilderment that my music journalist mate Joel McIver generates when he talks metal and reels off brain-numbing metal subgenres and names like Killswitch Engage, Avenged Sevenfold and Audioslave. The one useful contamination of my innocence came from the Embassy itself telling me that Do You Like Rock Music? had been partly recorded in the Czech Republic.
If ever there was a European nation capable of laughing off Britain's much-vaunted historical sea power, surely the landlocked Czech lands must be way up the list. But Czechs today know a good deal about tabloid xenophobia, job losses and economic protectionalism. And how that applies at home and abroad. An Evening Standard abandoned on the homeward train after the gig listed British Sea Power at the Czech Embassy as its 'Don't Miss' gig of the day. Its preview began, "Alarmed by the News of the World's anti-Eastern European immigrants rhetoric, young indie-rockers British Sea Power decided to make a stand. Having 'always liked that part of the world', they recorded an ode to European expansion, Waving Flags, as their latest single." The Evening Standard may well have got it right when hailing it London's 'Don't Miss' gig of the night. (Comparison is, of course, impossible.) It was a truly great night. For me, Waving Flags stood head and shoulders above most of the evening's songs – all unknown to me, remember. Only No Lucifer, probably because of its chanted chorus of 'Easy!' (repeated over and over again) lodged more forcibly in the cranium.
I went a British Sea Power virgin and came out a convert, certainly a convert to their energy. But most importantly curious about what the albums sounded like. To be honest, Do You Like Rock Music? afterwards turned my head far more than the gig itself. The gig has been raw, directed energy, a silhouette of body with a guitar bodysurfing, lyrics mostly AWOL in the overall sound, images of Abi Fry's bow moving on some songs but her viola's voice indiscernible in the mix. Do You Like Rock Music? reveals them playing outside the rock cliché field, certainly lyrically speaking. And their Open Season (2005) carries the dedication, "For Robert Copper of Rottingdean". (And there is the good possibility that there will be a further Copper overlap in 2008). Next time I see British Sea Power play I will be better equipped to appreciate what the band does. But how often do you get to go in cold to a baptism of fire?
Photographs: (c) 2008 Santosh Sidhu, Swing 51 Archives