12. 3. 2009 | Rubriky: Articles,Feature
[by Ken Hunt, London] Oh, he was a one!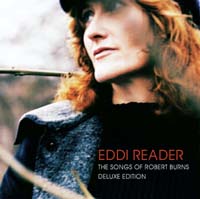 "Jamie, come try me,
Jamie, come try me,
If thou would be my love
Jamie, if thou would kiss me love
Wha [who] could deny thee
If thou would be my love, Jamie?"
Wilily the writer is putting his words onto a woman's tongue, the woman he wishes to get to know better. Or, in plainer talk, seduce. Thus when Eddi Reader flirts entreating the man – the very author of the words pulsating on her lips – to try her, there is a delicious, besotted undercurrent of contrary sensuality in flow. That is Eddie Reader and Robert Burns for you.
On Eddie Reader's lips – even with the Royal Scottish National Orchestra, as on The Songs of Robert Burns blasting away in support – that song, Jamie, Come Try Me, is a song of sensuality, seduction and ambiguity. Ambiguity, because we can only imagine the inevitable ending of this piece of come-hither theatre. Mind you, the way Eddie Reader sings it, her performance makes destiny plain. And that inevitability is plainer still when she sings Jamie, Come Try Me without the orchestral flourishes on one of her live releases. Live: Newcastle, UK 24.05.03, for example.
England and the world have their William Shakespeare. Russia and the world have their Alexander Sergeyevich Pushkin. Elsewhere, when it comes to the international stage, few nations have produced a literary giant to compare with Scots poet-sangster Robert Burns (1759-1796). Likely as not, time will see Bob Dylan as similarly internationalist but that is a judgement for posterity not for here and now, for none of us will ever know that with the certainty that we can say that of Burns, Pushkin or Shakespeare in our lifetimes. That is not to say that Burns had an easy ride during his lifetime or his work has had an easy passage since his death. There is a lot of tartan and haggis out there to sidestep.
In August 2002 the Eddie Reader of Perfect and Patience of Angels returned to home to Glasgow and she threw herself into a Robert Burns project involving the likes of double-bassist Ewen Vernal and multi-instrumentalist Phil Cunningham for the January 2003 Celtic Connections festival. The Songs of Robert Burns was originally released in 2003. It re-appeared in an expanded edition in January 2009, timed to coincide with the 250th anniversary of Burns' birth. In many ways though Eddie Reader's roots lay in Irvine however, not Glasgow.
Eddie Reader and Ken Hunt talk about Burns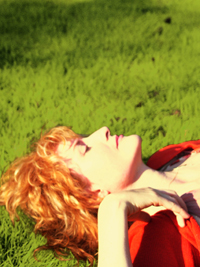 Eddie Reader: In Burns' day Irvine was a massive port and he met all these merchant sailors there. They taught him about drinking and women and song. When he was living in Irvine, he was trying to become a flax dresser. He ended up living in Irvine for a year and a bit. He wound up getting really ill. Eventually he had to come home because he only had a bag of oats left to last him six months. While he was in Irvine he'd write things like "Dainty Davie" and he met a wonderful sailor called [Captain] Richard Brown. The guy really influenced him. He wrote lots of poems about him.
You couldn't help but be affected by the countryside, the sea and the harbour.
Ken Hunt: If I'm writing about something I love visiting the places where things happened. Do you do that at all? Talking about Burns specifically. To feel the vibrations. I know that sounds a bit hippy, but you know what I mean.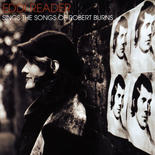 I know exactly what you mean! Doesn't everybody do that? I hope. I absolutely adore the history of something.
I was talking to Natalie MacMaster about this. She's so sweet when she's playing and I know when she's playing it's her genetics that are playing, not her. I look at her in her modern clothes and it's like someone else's fingers, her great-great-grandfather's fingers, are moving. I said to her what it is to me is when you get a song and it's almost like finding a bit of gold in a junkshop, the junkshop of human emotions. You find what someone has written 300 years ago is equally as relevant as something written today. When you find it in a book or you go and visit, say, Burns' house and you know he actually stood on the step there, leant over that bed, poured over that sink or picked up a kid from that floor, it always makes something a little bit more real. Definitely. You can identify on a human level because you do these things now, so you know they must have done them all. It's great for me the more involved I get in Burns. As I walk into a graveyard, there's the grave of Jessy Lewars, who he wrote O, Wert Thou In The Cauld Blast for and who nursed him.
I go to Mauchline where Burns was brought up from the age of 16 through to when he left to become a star in Edinburgh at the age of 28. Those ten years in Mauchline he became a star in the town. The good thing about Burns is that most of his poetry is about people. It's a description of somebody or a story about somebody. All of these people existed. They were real. They wouldn't be mentioned hardly at all probably if it weren't for this little guy wrote some poems about them. I get a great sense of affection for Burns and most of all when I'm in his environment. Definitely.
Do you get a sense of serenity from that…
Well, I'm quite a serene person anyway, I think.
…in a sense of heightened serenity?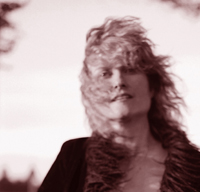 I'm very excited when I'm finding these things and I'm in that environment. I commune with… Actually, I think I probably feel more removed from the character of Burns when I'm visiting a house, much more than when I'm singing the songs. When I'm singing the songs I feel like he's singing them with me. Or he's watching me or dancing with me. Or whatever.
I'm much more connected to him and who he was when I'm singing the words.
Is there a sense of being energised?
Energised as well. Definitely energised. I'm never tired when I'm singing Burns' songs. My voice never tires. There's no hard work in it at all. Energised, yeah, more so than being in a house that's been whitewashed three million times. And maybe the mattress isn't the same! Visiting his old haunts definitely fills me with joy. When I see them for the first time it's wonderful.
Photographs: Colin Dunsmuir, courtesy of Rough Trade. All rights reserved.
Eddi Reader The Songs of Robert Burns Rough Trade RTRADCDX097, 2009
To follow Eddie Reader's activities http://www.eddireader.co.uk/ is the topmost of top tips.