9. 11. 2016 | Rubriky: Articles,Live reviews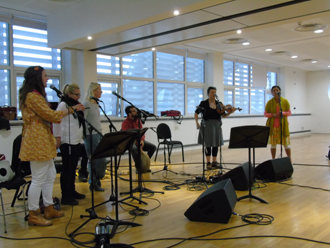 [by Ken Hunt, London] The Sage is the hub of so much arts-related activity on Tyneside and the wider north-east England region. It was meet and right for the venue to host this much anticipated project. Its promotional literature described Eliza Carthy bringing together second-generation folk artists, like herself, from across Europe. Her accomplices were the genre-stretching Czech vocalist-violinist Iva Bittová, the Greek singer and lute player Martha Mavroidi, the frame drum player and violinist Mauro Durante from Italy's Canzoniere Grecanico Salentino, and the Finnish group Värttinä's core vocal trio of Susan Aho, Mari Kaasinen and Karoliina Kantelinen. A scaled-back Wayward Band acted as house musicians. Keeping the second-generation premise further alive, its Barn Stradling is the son of the folk musicians Rod and Danny Stradling.
Expanding on the basic premise, the advance information said, "The unique idea behind this project is to discover what makes these family musicians tick, whether as musicians they have continued pursuing traditional music or whether than have 'branched out' into other genres, whether their musical communities in their own countries are pre-existing or self-made, how those countries view what they do."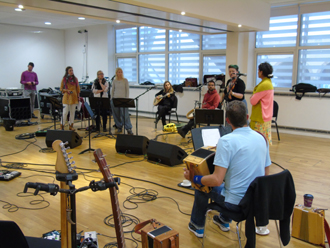 Commitments prevented me attending the pre-concert talk. For anyone who hadn't attended, the first half might have appeared diffuse. It acted as an introduction to the collaborators. With material in a state of flux into the afternoon rehearsals, it would have been impossible to produce a set list in advance for the public. Nevertheless, a sheet with biographical portraits could have helped the members of the audience to get their heads around what the general generational and cultural contexts were. This was a unique concert but it was also a stage on the project's journey as there are plans to expand and consolidate it, including recording it in 2017.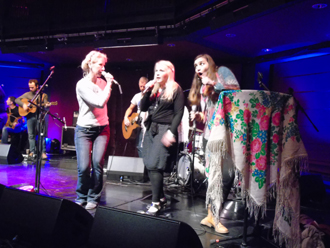 It fell to Iva Bittová to open. Her solo slot started with an audience walkabout, a sung poem in English and climaxed with an exhilarating full-tilt rendition of a signature song of hers, Strange Young Lady – or Divná Slečinka for the Czech-enabled. Martha Mavroidi performed alone, with a second song blighted by technical gremlins. Her triumph over adversity clearly won her a place in the audience's heart. She followed with a duo performance of Aremu (Who knows.) with Mauro Durante. It made manifest a Greek and Griko connection. (Griko is an Italiot Greek dialect and minority culture, recognised by Italian law, from Italy's 'boot heel' region of Salento.) Last, Värttinä swept in, completing their set with an exuberant joik.
What brought so much together so well was the Fife-based sound engineer Ben Seal's 'stage domain'. Its especially clear sound meant the audience could concentrate on, or home in on individual voices, even during, for example, the Remarkable Finale (as I shall dub it). The second half provided both the meat of the programme and portents aplenty of what might materialise at some point in the future.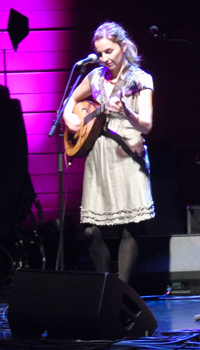 The second set opened with a Bittová/Carthy violin and vocal duet. Given the geographical location on Tyneside, it was fittingly adapted from the Northumbrian Minstrelsy. O I Hae Seen The Roses Blaw became O I Have Seen The Roses Blow that afternoon. A violin exchange began it and Carthy carried it forward. On the last verse Bittová sang a game-raising, complementary vocal part. Next came a partnership brought together by Ian Anderson for the Queen Elizabeth Hall's Bridges – Celebrating 35 Years Of fRoots Magazine celebration in March 2014. Carthy and Mavroidi performed Thalassaki and Bushes And Briars together, both bringing umpteen latent possibilities to life. A roll of the dice added an untoward factor as the concert progressed. Carthy's voice was a stopgap Vocalzone pastille and blackcurrant lozenge realm. After performing the project's absentee Orcadian sojourner Kris Drever's The Light of Other Days with the stripped-back 'Wayward Quintet', they switched to vocal recovery territory with some instrumental wizardry. Mauro Durante augmented the Wayward Band for Pizzica Indiavolata. It proved a rhapsodic pointer to a bright future (and one shorn of the word indiavolata's diabolic or devilish underlying meanings). The penultimate barnstormer with the Wayward Band and Värttinä brought together Three Drunken Maidens and Kanaset (Chicks, as in little Finnish chickens). The Remarkable Finale took them through Roma, Finnish and English trad. arr. territory – with Fe labu mange, Oi da and The Sportsman's Hornpipe. Worked up over the afternoon's rehearsals, like much of Generations, it was seat-of-the-pants, extemporised stuff drawing on ideas laced together over the previous 48 hours.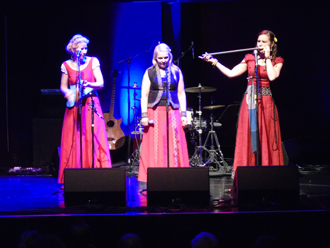 Generations is a mouth-watering work in progress. They came prospecting for gold and found nuggets. Its potential as "an album at some point next year" (as Carthy put it) shone. With Bittová, Durante and Mavroidi on board, the assembly probably won't need the full Wayward Band. With this concert's core house band – guitarist Dave Delarre, drummer Laurence Hunt, melodeon player Saul Rose, bassist Barn Stradling and fiddle player Sam Sweeney – it would be foolish not to counsel a less-is-more approach.
All images © Ken Hunt/Swing 51 Archives.
From top to bottom (and, so to speak, left to right) the images capture the rehearsals. The first is Värttinä, Mauro Durante, Eliza Carthy and Iva Bittová. The second is unidentified crew member, Värttinä, Martha Mavroidi, Mauro Durante, Eliza Carthy, Iva Bittová and the back of Saul Rose. The Sage stage rehearsal shot is of members of the Wayward Band and Värttinä. The concert images are of Martha Mavroidi and Värttinä.