19. 8. 2015 | Rubriky: Articles,Live reviews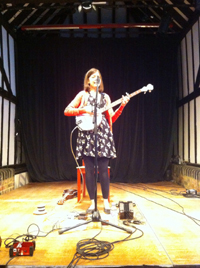 [by Ken Hunt, London] One day before her third album Coracle's official release the Emily Portman Trio performed much of it a good number of songs at a Sunday lunchtime concert at the Riverhouse Arts Centre in Walton-on-Thames. A splendid, characterful venue yards away from the Thames, its barn-like interior is all wooden beams and half-timbered decorations.
It made for a stark backdrop for the Trio. Even with the sun shining outside, it suited Portman's songs from the womb to the tomb and their proclivity for seeking out dark spaces. In a real sense rather than touring the new album they were touring a triptych of The Glamoury (2010), Hatchling (2012) and Coracle.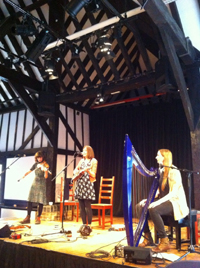 The Summer 2015 touring trio comprised Emily Portman on vocals, concertina, banjo and ukulele, Rachel Newton on vocals, harp (a Camac electric with, amongst other tricks, guitar effects which had replaced the acoustic harp two days before) and viola, and Lucy Farrell on vocals, viola, violin and on High Tide (a setting of an Eleanor Rees poem) musical saw. The sound palette was considerably scaled back from the arrangements on Coracle and consequently gained a distinctive tautness.
In fact, the opener turned out to be Hollin (a dialect name for the holly tree) from Hatchling and for a good way into the first set the repertoire stuck close to the first two albums. Portman has a skill at reimagining the signs and wonders of traditional folk tales. Introducing Tongue-Tied she admitted her debt to Angela Carter (and Carter's adaptation of The Twelve Wild Ducks, a folk tale from Norway). Stick Stock, another example, draws on the German folk tale The Juniper Tree. (One anthology edition drawing on the tale, The Juniper Tree And Other Tales from Grimm benefited from Maurice Sendak's illustrations.)
Part-way through the concert the thought struck that the cultural wherewithal in Angela Carter's Book of Fairy Tales (2005) or its Virago predecessors from the early 1990s might be postulated as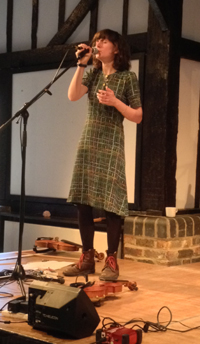 Portman's handbook. It could have been that it cracked open a vein of tradition-based imagination and creativity. Carter had an appreciation of folksong, for example, taking part in the Centre 42 project. Furthermore, her then-husband Paul Carter figured in several important recordings' credits. To name but one – however invidious one may sound – he is credited as recording supervisor on Anne Briggs' The Hazards of Love EP. More than read and appreciated, Angela Carter may well have helped to provision Portman's fantastical expeditions with a blueprint for reworking traditional folk tales into quasi-folksong settings. In the case of Bones And Feathers she told how a she-wolf tale got relocated to Fenham, a district in Newcastle upon Tyne – the city in which she studied.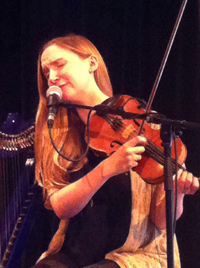 The second set opened with Nightjar (the word refers to a bird, Caprimulgus europaeus, more heard than seen). They concluded with When You're Weary which ends Hatchling. Their unaccompanied encore of this part-song lullaby sent the sensible not off up the wooden hill to Bedfordshire but more like round the corner to The Swan on the banks of the Thames for Sunday lunch. Over the course of their set, Emily Portman touched on truths and myths, verities and lies. When Lucy Farrell played musical saw it set off a train of thoughts that led to to playing again Tine Kindermann's 2008 Oriente album Schamlos schön. For which I thank the Emily Portman Trio.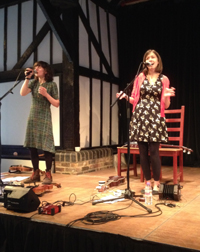 I don't want to even to begin trying to imagine the British folk scene without Emily Portman. She has made a place for herself there. She is brainfood and the Riverhouse Barn's brooding backdrop was made for the black and white of Portman's morality tales and the dark spaces that oral folk literature can lurk in and occupy. A Sunday lunchtime concert on the longest day of the year. What could go amiss? One of the concerts of the year.
riverhousebarn.co.uk/
www.emilyportman.co.uk