23. 8. 2010 | Rubriky: Articles,Lives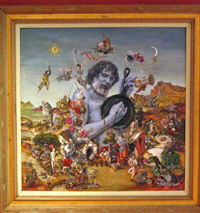 [by Ken Hunt, London] In January 1963 Bob Dylan was in Europe, flitting between London and Rome, bankrolled by an appearance as a folksinger in the BBC television drama, Madhouse on Castle Street. In London he fell into the company of, amongst others, the British folksingers Martin Carthy, Bob Davenport and Rory McEwen – like Eric von Schmidt, another exceptional painter, notably in McEwen's case of botanical subjects – and was reunited with some compatriots, the songwriter and novelist Richard Fariña, Ethan Signer of the Charles Valley River Boys, and the musician and illustrator Eric von Schmidt.
On 14 January Fariña and von Schmidt went into the basement of Dobell's on Charing Cross Road to start making Dick Fariña & Eric von Schmidt (1963) for the Folklore label, a side-venture of Dobell's record shop. The resultant LP attained a certain discographical and Dylanological luminescence once it leaked out that its 'Blind Boy Grunt' – stoned aliases, the morning after and all that – was Dylan then under contract to Columbia Records.
Guitarist, singer, songwriter and graphic artist, von Schmidt was born in Westport, Connecticut on 28 May 1931. Ten years Dylan's senior and a major figure and mentor to many on the East Coast folk scene, he co-authored one of the finest accounts of any folk scene anywhere. Baby, Let Me Follow You Down – The illustrated story of the Cambridge folk years (1979) captured its critical mass. Its co-author, Jim Rooney told me: "He was older than us by a generation really. He's of [Ramblin'] Jack Elliott's generation. He had a great record collection. He had a lot of the Library of Congress recordings which he himself had gone and got at the Library of Congress." He continued, "Eric had this material and was way ahead of us. Informed about what existed. He also had the Harry Smith collection, the Anthology of American Folk Music that Folkways put out."
In von Schmidt's essay for the reissued Anthology of American Folk Music (1997), he described the process and impact of "Folk Thrall": "We were romantics. I had named a boat I had built The John Hurt, after [blues musician] Mississippi John. Geoff Muldaur was planning to find the grave of Blind Lemon Jefferson and sweep it 'neat and clean' as Jefferson had plaintively requested on a Paramount 78. Most of the smitten folkies were in their late teens, and though ten years older, I was still mourning the fact that Lead Belly had died before I could meet him."
Around 1948 he had heard a Leadbelly song on the radio and he knew it was for him. Over the next years he took up banjo and guitar and, by the time he moved to Cambridge, Massachusetts in 1957, he was a figure of influence for East Coast folkies. His early song Joshua Gone Barbados became highly popular and was covered by such acts as Johnny Cash, Brendan Croker & The 5 O'Clock Shadows, Tom Rush and Martin Simpson. The Dylan connection would follow von Schmidt, beginning with him being name-checked as his source for Baby, Let Me Follow You Down on Dylan's self-titled début (1962) while the artfully posed cover photograph for Bringing It All Back Home (1965), with its accoutrements of hip and having-made-it, positioned von Schmidt's 1963 LP The Folk Blues of Eric von Schmidt atop albums by Dylan's Columbia label mates Lotte Lenya and Robert Johnson.
Von Schmidt grew up in Westport, Connecticut. His father, Harold von Schmidt (1892-1982) was a painter and magazine illustrator, noted for his painting of the Old West. His son – the subject of his painting 'Ric', a rare image of a beardless von Schmidt – followed in his footsteps. After coming out of the army, von Schmidt eventually obtained a Fulbright grant and spent 18 months in Italy studying and painting. He developed several distinctive graphic and pictorial styles. His work embraced Indian ink line drawing and cartoon, children's book, songbook and album jacket artwork, and large-scale canvasses depicting historical events, the nature of which titles such as The Ballad of Lewis and Clark and Storming of the Alamo – the latter is 23 feet wide – give away. He also had a fluid calligraphy-like hand which helped him gain plentiful poster and album commissions. His cover painting for Eric von Schmidt and The Cruel Family (1977) (the illustration shown) was especially eye-catching with himself at the centre of a modern-day garden of earthly delights playing a skillet. He did illustrations for albums from people as diverse as Joan Baez, James Baldwin, The Blue Velvet Band (which included Rooney in their number), Rev. Gary Davis, Cisco Houston, Geoff and Maria Muldaur, John Renbourn and Dave van Ronk. His collage-like painting Cambridge Tapestry 1950-1959 is peopled with folk scene luminaries including Baez, Bill Monroe, Odetta, Peter Rowan, Jackie Washington and Josh White. And, of course, Dylan. He was, in short, one of the greatest multi-talents of American music.
Eric von Schmidt died in Fairfield, Connecticut on 2 February 2007.