29. 8. 2017 | Rubriky: Articles,CD reviews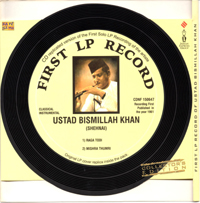 [by Ken Hunt, London] These are five influential LPs of Indian classical music that captured the imagination of listeners in the early years of the post-war boom.
Ali Akbar Khan Music of India – Morning And Evening Râgas (His Master's Voice ALPC 2, stereo, 1955)
Brother-in-law to Ravi Shankar, the musician Yehudi Menuhin considered the greatest on the planet, Ali Akbar Khan played sarod. In his celebrated jugalbandis (duets) with Shankar, this short-necked lute played the male role in conversations with the sitar's female voice. Menuhin had met them in 1952 and was so enraptured that he finagled this album's New York session – the first microgroove long-player dedicated to a principal Indian soloist. Menuhin is literally its master of ceremonies. With it a musical consciousness-raising began.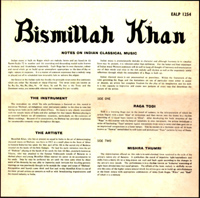 Bismillah Khan Raga Todi and Mishra Thumri (EALP 1254, 1961, reissued as Saregama CDNF 150647, 2005)
George Harrison's love of India's musical traditions never abated. In the 1960s he attended Rory McEwen's invitation-only mehfil (cushion) concerts in London's Tregunter Road and he was still turning up at recitals, some very small, more or less till the end of his life. One artist's London recitals you could be pretty sure to see him at were Bismillah Khan's. Khan played the shehnai, the double-reeded 'emperor's flute' (shehnai). This was his debut long-player.
M.S. Subbulakshmi The Sounds Of Subbulakshmi (World Pacific WP 1440 mono and WPS 21440 stereo, 1967, out-of-print)
The majority of musicians and listeners stuck to the northern or Hindustani music system. One who embraced the wonders of the Karnatic system was Jimi Hendrix. At the time of his death alongside the standard Ravi Shankars in his record collection he had this sublime female vocalist – most probably this, her World Pacific debut. M.S. Subbulakshmi was, is and shall ever remain a prime benchmark of the Karnatic vocal artistry.
Various artists The Anthology Of Indian Music Volume One (World Pacific WD 6200 mono, WDS 26200 stereo, 1967, out-of-print)
The Californian World Pacific label was the launch pad for many of the era's greatest Indian musicians and was the mother-lode for Byrds and Beatles alike. This arm-and-a-leg expensive triple-LP package straddles the north-south divide with performances by Ravi Shankar, Ali Akbar Khan, the southern vina (fretted stringed instrument) maverick Balachander and others. After Ravi Shankar, the critics' crush and the hippies' craze, this boxed set formed of vital part of the upgrading of people's education.
Various artists Drums Of North And South India (World Pacific WP 1437 mono, WPS 21437, 1966, out-of-print)
"The most comprehensive record of traditional Indian drumming ever recorded" included Alla Rakha, Chatur Lal, Ramabhadran and Sivaraman (the southern representatives) and Kanai Dutta. The Grateful Dead's Tom Constanten and Phil Lesh turned the band's drummers Mickey Hart and Bill Kreutzmann onto this crash course in five-, ten-, eleven-, twelve- and sixteen-matra (beat) tâlas (rhythm cycles). Both studied with Shankar's tabla player, Alla Rakha. On the sublime Fillmore West 1969 – The Complete Recordings (Grateful Dead Productions DECD291, 2005, out-of-print) Hart and Kreutzmann even recite bols (rhythm mnemonics) as route maps during one drum duet.