30. 8. 2014 | Rubriky: Articles,Giant Donut Discs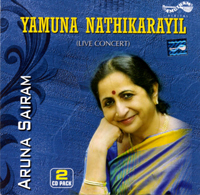 [by Ken Hunt, London] A good deal of music this month came out following up new musical experiences gained over the summer. There was also prepping interviews and anticipating 2014's annual Darbar Festival, then about to take place between 18 and 21 September. (Before that festival there is generally a good measure of music to listen to by way of preparation or homework to be done. Much of this month's selections sprang from attending Colours of Ostrava. This month Jackson Browne, The Pogues, June Tabor & Oysterband, Velvet Underground, Ganesh-Kumaresh, Shirley Collins and Steve Ashley, Lo Còr De La Plana, Jackson Browne & Graham Nash, Alla Rakha and Aruna Sairam are in attendance. But there are many more discoveries waiting in the wings.
This column was updated on 30 November 2014.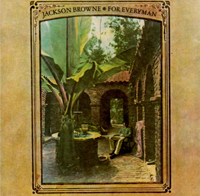 Take It Easy → Our Lady of the Well – Jackson Browne
Of all Jackson Browne's studio recordings, the transition of Take It Easy – the song that soon helped to make him famous (courtesy of the Eagles covering it on their debut album) into Our Lady of the Well remains an abiding favourite. The pedal steel guitar of Sneaky Pete Kleinow flows underneath Take It Easy and then forms the structural bridge into Our Lady of the Well.
Decades before I managed to get to California, there was a certain something about the LP cover illustration and picturing Jackson Browne sitting there in the shade of that courtyard. The horticulture got me. California lived up to expectations From For Everyman (Asylum 243 003, 1973)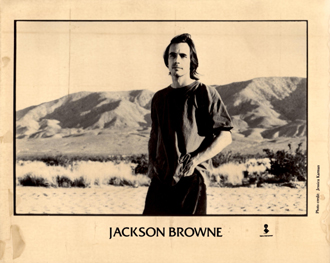 An update – at his concert at the Royal Albert Hall on 25 November 2014 Jackson Browne played these two compositions as a transition.
Thousands Are Sailing – The Pogues
"Did the old songs taunt or cheer you/
And did they still make you cry?/
Did you count the months and years?/
Or did your teardrops quickly dry?"
I interviewed Phil Chevron, the man who composed this song, once and I interviewed Christy Moore about Phil Chevron once. For some peculiar reason I recall Phil Chevron and me chatting in the late 1980s in Hammersmith Palais – of Clash immortalisation-through-song fame, though it was a venue that my father had also played. The gig had some Christy Moore connection. It's all a blur now. Unlike this song. From If I Should Fall From Grace With God (WEA 2292-44493-2, 1987)
Adam Sweeting's obituary of Phil Chevron from the Guardian is here: http://www.theguardian.com/music/2013/oct/09/philip-chevron
Love Will Tear Us Apart – June Tabor & Oysterband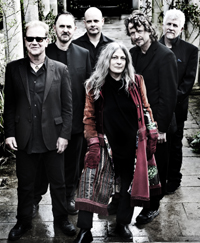 Joy Division did little for me, quite likely because I was listening to very different music at the time and it is the nature of a music critic's life that there is never enough time to get in all the listening that he or she wants to do. What brought this song – and performance – back into material that I wanted to revisit was twofold. June Tabor & Oysterband performed at TFF Rudolstadt 2014 this July, though I wasn't there. Second, the Belgian music journalist Annik Honoré died on 3 July 2014 at the age of 56. In her case the word 'muse' was frequently bandied about in the context of Joy Division's Ian Curtis writing these words. Although Joy Division was marginal in my musical worldview, down the years enough of the mudslinging, arguments and counter-denials about Honoré did seep into my consciousness.
Ian Curtis died in May 1980 and Love Will Tear Us Apart subsequently became something of a hit. This version bottles its essence. The closing verse sings this way: "You cry out in your sleep all my failings exposed/And there's a taste in my mouth as desperation takes hold/Just that something so good just can't function no more.". Ragged Kingdom didn't put me on the path to Joy Division but it did introduce me to the value of a really excellent and dark song. From Ragged Kingdom (Topic Records TSCD585, 2011)
June Tabor and John Jones talk about Ragged Kingdom here. Check out https://www.youtube.com/watch?v=J4_573-Lxdc
Pale Blue Eyes – Velvet Underground
Lou Reed's poeticising of human frailty and carnal desire in song was something truly special. Amid the column inches after his death on 27 October 2013 the gentle, wistful song asked to be played. It is from the Velvet Underground's third, self-titled album, released in 1969, and the first to be made without John Cale. It's a habit of that goes back to the early 1990s to play Velvet Underground music either in Prague or on returning from the city. Or before going, as in this case. Not from the pre-expanded edition set of their third album. From the boxed set The Velvet Underground (Polydor 31452 7887-2, 1995)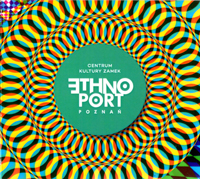 Gabhira Nottal – Ganesh-Kumaresh
This is a recording from the Karnatic violin duo Ganesh-Kumaresh from Darbar Festival in London in 2009. It fades out but gives a good impression of the sound the brothers make. I happened to be in the audience for this concert. Aside from their music-making, what struck me was the enthusiasm and energy of their responsiveness that they showed when they attended other musicians' concerts. This recording captures their musical energy. From Ethno Port Poznań 2014 (Centrum Kultury Zamek CK ZAMEK 009, 2014)
The Ethno Port Poznań festival's website for 2014 (in English) is located round about here: http://www.zamek.poznan.pl/news,en,394,3198.html
Honour Bright – Shirley Collins and Steve Ashley
I did my first interviews of many interviews with the Sussex folksinger Shirley Collins in 1979. At one point she used an idiom that I hadn't heard before. It was honour bright. It is a dated expression and means 'on my honour' though I took it to mean something it along the lines of 'Scout's honour'.
I had no idea – and she didn't illuminate much – that it was the title of a song by her first husband. After her first husband, Austin John Marshall's death on 3 November 2013 in Manhattan, Honour Bright was one of the pieces of music I played to nudge memories of him whilst I was writing his obituary for The Independent. It is the first track on the fourth disc of the Shirley Collins boxed set. It is now out of print. Alas. It is such a labour of love. And just to correct an omission, the uncredited Alan Lomax interview material about Shirley in it is mine. From Within Sound (Fledg'ling NEST 5001, 2002)
Ken Hunt's obituary of Austin John Marshall from the Independent is here: http://www.independent.co.uk/news/obituaries/austin-john-marshall-graphic-artist-record-producer-and-songwriter-who-played-a-key-role-in-the-folk-revival-of-the-1960s-9094365.html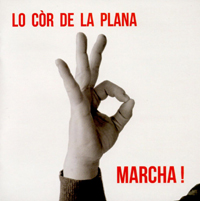 Nòste País – Lo Còr De La Plana
Lo Còr De La Plana is a group that has never failed to exceed my expectations and hopes for them on the occasions I have seen them perform live in Germany, England and the Czech Republic. They lift my heart no matter what the subject matter. And some of it gets pretty dark whether about relationships breaking up, Satan in Marselha (Marseilles), arming the police, crime syndicate stuff, you get the picture. That may have something to do with understanding so imperfectly what they are singing about but the spirit communicates. They sing in Occitan, an ancient language, the homeland of which straddles modern-day France, Spain, Italy and Monaco. If I am correct, Lo Còr De La Plana translates as 'the heart of [Marselha's] La Plaine [neighbourhood or quarter]'. In a manner of speaking more heart than 'choir' – or to lapse into French more c˜ur than ch˜ur. At Colours of Ostrava they delivered one of the festival's most outstanding performances. And this album reinforces why they are a band beyond description.
At Ostrava I broke a long-standing, personal rule (concerning two left feet) and danced in public. My excuse was that it was a circle dance with scores of people in each circle. And there were several separate ring dances going on in the tented Drive Stage enclosure. You never know when you'll have another chance to dance, so I danced. On one hand was a beautiful Polish woman and the other a beautiful Czech or Slovak woman. (My Czech is too primitive to know whether I am hearing Czech or Slovak.) It was the spirit of the festival and Còr De La Plana that got me. Colours of Ostrava is a festival I can only recommend. From Marcha! (Buda Musique 2799095, undated [2012])
Crow On The Cradle – Jackson Browne & Graham Nash
This stylish cover of Sydney Carter's song really buggered his relationship with the Inland Revenue. Its influx of royalties convinced the taxman that his annual income had shifted up a gear. And nobody on a moderate income relishes having to dissuade said authorities that they have got the wrong end of the stick. Disabusing can take years. David Lindley's violin on a track is marvellous. It is a song that Browne and Lindley would return to.
From No Nukes (Elektra/Asylum 7559-60592-2, 1979)
Intermission – Alla Rakha
In the LP sleeve notes to Gandhi, Richard Attenborough writes, "To be greeted by a thick blanket of snow – many of them witnessing such a sight for the first time ever – a group of India's most distinguished musicians arrived in England in the second week of January this year [1982]. They had come to record the music that Ravi Shankar had written for Gandhi." The contingent that performs on the Indian part of the film soundtrack includes the sarodist Aashish Khan, the sarodist Sultan Khan, the vocalist Lakshmi Shankar and the tabla maestro Alla Rakha. It is an aberration in my opinion that this soundtrack has never been reissued.
One of the decisive scenes is the re-enactment of General Dyer's wholesale slaughter of men, women and children at the Sikh holy temple at Amritsar. After the massacre there is an interlude of quiet reflection before the "intermission". The screen is black and a tabla strikes up. The playing is unmistakably that of Alla Rakha. Fluent and articulate, it is consummate piece of Hindustani rhythmicality. It is a piece that Ravi Shankar could have at most suggested taal (rhythm cycle) and laya (tempo) building brick terms. Rather than composing in detail, I would suggest.
It was Alla Rakha and his tabla fluency which opened the Hindustani treasure cave for me. Not voice, not sitar, sarod or any instrument of melody. To hear, to intuitively understand that rhythmicality was down to my musician father teaching me how notto count time signatures but instead to feel them and when the 'one' was arriving. Then to be in the presence of Alla Rakhaji's rhythmic sophistication and muscularity meant entering a new realm of music. I went through the door and when I returned I was never the same.
This choice was brought on by Richard Attenborough's death. It is an exquisite piece of mythopoetic fiction. That's mythopoetic in its original sense of making myths. To which I would add in Attenborough's case the nurturing of myths. The Indian government paid handsomely for this propaganda film. It was money well spent by the Indian government. It became the standard history. So many figures were 'disappeared' or maginalised. Take Jinnah on the Pakistani side of Self-rule's history or Ambedkar on the Indian side of the border.
In the 1982 Academy Awards Ravi Shankar and George Fenton lost out to John Williams' E.T. for Best Original Score. So far, not re-released. Bizarre. I volunteer to write its reissue's CD booklet notes… From Gandhi – Music From The Original Motion Picture Soundtrack (RCA ABl1-4557, 1982)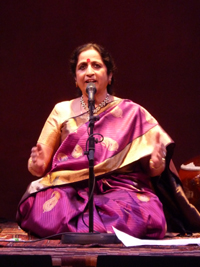 Kalinga Nardhnam – Aruna Sairam
Of the living Karnatic vocalists – male or female – Aruna Sairam (also rendered Sayeeram especially in Francophone territories) is the musician whose music I play and revel in the most often. For me, her music is an essential part of a healthy and balanced musical diet. I can no longer imagine what it might be like, never to have listened – or experienced live – Aruna's singing. At Colours of Ostrava I found myself extolling her virtues and explaining how mesmerising a performer and interpreter she is for the director of another European festival. Kalinga Nardhnam became the central plank of an impromptu thesis on the inexpressible joys of Aruna Sairam's vocal artistry.
When it came to specifying a piece of music which demonstrates what sets her apart, I instinctively and immediately chose her interpretation of this thillana. I described how in it she sings of the time that the Boy Krishna trounced the multi-headed serpent-demon Kalinga by dancing on its head. TLest this episode sound arcane. Kalinga (Kālingā) is another name for Kaliya (Kāliyā). For lovers of popular culture, the original cover artwork of Aerosmith's Nine Lives (Columbia, 1997) transmogrified Krishna's head into, well, a cat's. Sacred Hindu imagery spoiled by a moggy, so to speak. I digress.
Talking about Aruna Sairam's phenomenal gift led to a craving to re-experience her singing this spectacular piece of sacred music. So I tracked down a commercial recording and ordered the Amultham label's Yamuna Nathikarayil. From Yamuna Nathikarayil (Amutham AM 5230, 2007)
PS Then on 31 August 2014 something wonderful concerning Aruna Sairam occurred. But that's a story for another time…
The photograph of Jackson Browne is copyright unknown, credited to Jessica Karman. The June Tabor and the Oysterband shot is © Judith Burrows. The live photo of Aruna Sairam is © Santosh Sidhu/Swing 51 Archives. The copyright of the other images lies with their respective photographers, companies and image-makers.