31. 7. 2014 | Rubriky: Articles,Giant Donut Discs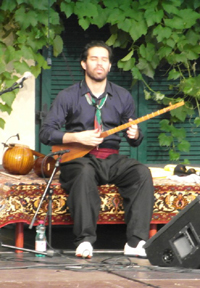 [by Ken Hunt, London] Several of these listening selections came about thanks to travelling in the Czech Republic and Austria and meeting an extraordinary bunch of people, some of whom became new friends. The gathering here comprises Nishtiman, John Barry (featuring John Leach as soloist), Grateful Dead, Tommy McCarthy, Bonnie Dobson & Her Boys, Geirr Tveitt, Ado Abdelmasih, Aziz Günel and Ibrahim Aksim, Iva Bittová & Vladamír Václavek and CSNY.
This month's Giant Donut Discs is in memory of the jazz critic Jack Massarik, my fellow Jazzwise scribe and sometime tour guide to jazz spots in Soho (after the Jazzwise writers' Christmas get-togethers). I learned that Jack had died on 13 July 2015 while I was out East. Jack was a very good egg.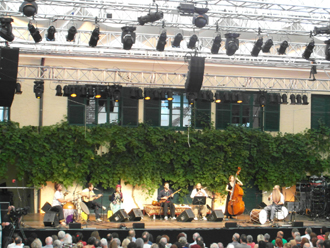 Nishtiman – Nishtiman
Nishtiman plays Kurdish folk-flavoured art music. The songs are in a variety of Kurdish regional voices. The details would be a list that neither I nor you the reader, would grasp without speaking Kurdish. As a title, the word is emblematic of Kurdistan. Nishtiman signifies 'homeland' (though the word's German translation Heimat captures nuances that 'homeland' doesn't). The world's largest stateless nation, the fictive Kurdistan straddles Iran, Iraq, Syria and Turkey and, in terms of geopolitical status, it comes with varying degrees of autonomy and external support. The septet is a mixture of Kurds from Iran, Iraq and Turkey, augmented with two France-based musicians – the percussionist Robin Vassy and double-bass player Leila Renault – who provide the timbral lift at the lower end. The project's artistic director and percussionist Hussein Zahawy has pulled together musicians who reflect back aspects of the Kurdish diaspora, regional styles and dialects. Sohrab Pournazeri sings and plays tambur or tanbur (long-necked lute) and kamancheh (spike fiddle). Ertan Tekin plays zurna (shawm). Goran Kamil plays oud (lute). Maryam Ebrahimpour sings.
Listening to Nishtiman, it occurred that all Kurdish music ever to cross my path had had a diaspora or expat dimension. (For example, music from The Kamkars.) This music is neither 'purist' nor folkloristic in its approach. It is folk-inflected, light classical Kurdish music for today with a solid underpinning with bass and percussion to propel it. It is an adventure.
Nishtiman was the second to last act on the final night of the 2014 edition of Glatt&Verkehrt, the long-running Austrian festival based in Krems an der Donau in the Wachau district – an hour's rail journey from Vienna along the Danube (Donau). At the festival I didn't get them. However, the performance did prime me for the recording. It all fell into place back in Britain reviewing this album for fRoots. Loved to be disabused. From Kurdistan – Nishtiman (Accords Croisés AC 150, 2014)
Opening theme to The Ipcress File – John Barry and John Leach
Sidney J. Furie's spy film The Ipcress File (1965) was a big shift away from the malarkey and high jinks of the James Bond films. While the opening credits roll and Michael Caine's character Harry Palmer is in the kitchen making coffee and generally starting his day. John Barry's theme plays over the opening credits. The music has a modern jazz feel but it has an unusual sound to it central to its impact. This is the cimbalom, the large Hungarian member of the hammer dulcimer family. The musician playing it was John Leach. It never even crossed my pretty little teenage head what the instrument delivering that distinctive sound was at that time. It was just an interesting and unusual sound. With hindsight it was probably the first time I heard the instrument. Reading the excellent obituary of him in the Daily Telegraph rekindled my curiosity.
The IPCRESS File (1962) was Len Deighton's first spy novel and it was a revelation. The word in the title stood for 'Induction of Psycho-neuroses by Conditioned Reflex under strESS'. To steal an anachronism from David Lindley, it had a putting-wires-into-your-brain vibe. Deighton's Horse Under Water (1963) and Funeral in Berlin (1964) followed and I read both in them all in their Penguin paperback editions.
The music in context is here: https://www.youtube.com/watch?v=pBCqP7R42K0
From The Ipcress File – Special Edition (2006)
John Leach's obituary from the Daily Telegraph of Saturday 12 July 2014 is here: http://www.telegraph.co.uk/news/obituaries/10962261/John-Leach-ob ituary.html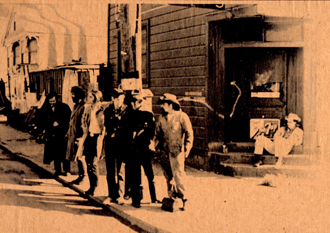 New Speedway Boogie – Grateful Dead
Over the course of the summer many things kismet caused me to rethink my relationship with the Dead's Workingman's Dead album from 1970. The album marked a profound change in the Dead's songwriting, for, with it, their lyricist Robert Hunter revealed new levels of achievement and songcraft. The songs were like nothing on the previous albums and the lyrics were in another realm compared to those revealed on Aoxomoxoa and Live/Dead (the US release of which included song lyrics for the first time).
New Speedway Boogie is a prime example of the Hunter/Garcia song parttnerships's new style. Its launch-pad was the debacle that was the Altamont Speedway Free Festival held on 6 December 1969. It is strewn with lines that sound like proverbs or old saws. A favourite verse is, "Now I don't know but I been told/it's hard to run with the weight of gold/Other hand I heard it said/it's just as hard with the weight of lead." Apparently the Dead first performed the song on 20 December 1969 at the Fillmore Auditorium in San Francisco, an indication of the creativity and speed of productivity that typified the Workingman's Dead period. The cover, a group shot including Robert Hunter (far left, standing), is a product of the Alton Kelly/Stanley Mouse studio. Alas, my (uncredited) obituary of Alton Kelly for The Times is now behind a paywall. From Workingman's Dead (Rhino R2-74401-F, 2001)
Further information about Stanley Mouse is at: http://http://www.mousestudios.com/
Down That Road – Tommy McCarthy
The opening track from Tommy McCarthy's debut album. This was listening material in anticipation of his next album. Thomas McCarthy is the Traveller singer that gives me the strongest hope of this culture blossoming into thisncentury. He is the real thing – as best I can judge it. Apart from that he is a fab singer. As this piece illustrates. From Round Top Wagon (ITCD 0012, 2010)
I Got Stung – Bonnie Dobson & Her Boys
This is the album to which I have returned to over and over again all year. Bonnie Dobson is a song interpreter and a songwriter to whom I have returned for more years than I care to put a year on. From Take Me For A Walk In The Morning Dew (Hornbeam Recordings HBR003, 2014)
Hundrad Hardingtonar, Opus 151 – Geirr Tveitt
Hundrad Hardingtonar, Opus 151 by the Norwegian composer Geirr Tveitt (1908-1981) was a curiosity purchase in a charity shop in Richmond upon Thames. I had never heard of him but Norway's Hardangar folk fiddle tradition is a long-standing interest of mine, dating back originally to the curiosity of seeing the cover artwork of the LP Folk Music of Norway (Topic 12TS351, 1977). Tveitt's suite of tunes associated with the Norway's famed folk violin with sympathetic strings is a wondrous example of mining a folk tradition and refashioning that musical ore for classical purposes. From Suites Nos. 1 and 4 (NAXOS 8.55078, 2001)
B'Utho – The priests Ado Abdelmasih, Aziz Günel and Ibrahim Aksim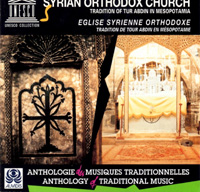 This particular piece of Christian liturgical music belongs to what may well be a bygone era of tolerance in Syria. Its inclusion in this month's selection of music is, no apology, occasioned by the UnIslamic State and its decision to reinvent the region's culture.
From Syrian Orthodox Church – Tradition of Tur Abdin in Mesopotamia (UNESCO/Auvidis D 8075, 1998)
Sirka v Louži – Iva Bittová & Vladamír Václavek
Bílé inferno – 'white inferno' in Czech. Co-credited to Vladamír Václavek, it is one of Iva Bittová's milestone albums. Every home should have one. At Colours of Ostrava in July 2014, just thinking about her, ideas flowed through my head. She's that sort of gal. The plan was that I was going to do a ten-minute or so talk about an aspect of contemporary Eastern European music. Namely, writing odd lyrics for her – mainly in English but also sometimes in Czech – and how that came about.
For me, the image of the 'white inferno' is a key one. She remains one of my handful of 'total musicians' – a concept I shan't expand upon here. One nice thing about Sirka v Louži is that Vladamír Václavek wound up on the composing side of a set of lyrics of mine called Paper Cone of Cherries that Iva set to music. How good can is life get? Very. From Bílé inferno (Indies Records MAM055-2, 1997)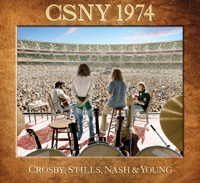 The Lee Shore – CSNY
This track is from a 40-track 3-CD, one DVD set curated by Graham Nash and Joel Bernstein. What they have produce is a mix-and-match fantasy set. It combines electric and acoustic sets, with or without accompanists. (The accompanists are Tim Drummond on electric bass, Russell Kunkel on drums and Joe Lala on percussion.) The material is presented in solo, duo, trio and quartet permutations and come from Crosby, Stills, Nash & Young gigs in Landover, MD, Chicago IL and Hampstead, NY and Wembley in England in August 1974, augmented by recordings from a benefit gig in San Francisco in December 1974. The bonus DVD adds eight tracks from Landover and Wembley.
This boxed set had accompanied me to Austria so that I could finish listening to its music, watch the DVD and knock out the review. Sitting tip-tapping on the keyboard in an apartment looking over Vienna's Praterstrasse at the end of July 2014, occasionally I would look out at the plane trees outside while collecting or re-shaping my thoughts. At around certain times of the morning one or two black redstarts would arrive to feed in the time canopy. The Rotschwanz (Phoenicurus ochruros) is a seasonal visitor in Britain and only knew its German-language name. But I watched it and that flycatcher is now twinned with this song of Pacific sailing in my head. Which means nothing to you, but helped fix The Lee Shore in my head this month. From CSNY 1974 (CSNY/Rhino 8122796035, 2014)
Jane Cornwall's tribute to Jack Massarik entitled 'A passionate jazzman' appeared in the Evening Standard of Wednesday 26 July 2014. It appears here: http://www.standard.co.uk/news/london/a-passionate-jazzman-jack-massarik-obituary-9608559.html
Jane is another fellow Jazzwise scribe and, like Jack, a contributor to the Evening Standard.
The copyright of all images lies with the respective photographers, companies and image-makers. The photographs of Nishtiman at Glatt&Verkehrt are © Ken Hunt/Swing 51 Archives.