11. 12. 2017 | Rubriky: Articles,Giant Donut Discs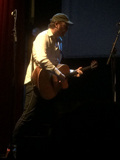 [by Ken Hunt, Venice and London] So much has been happening that it would be very hard and very boring to explain, let alone to know where to start. This column began and was concluded in London. Much of it was written during time in Venice on the outermost fringe of Cannaregio, a quiet part of the sestiere (as Venetian districts are called) remote enough to be away from the hustle and bustle of the tourist traipses. This assortment of music comprises a scattering of work, ancient and modern, from Judy Collins, Dick Connette, Bob and Ron Copper, Marlene Dietrich, Christy Moore, Severija, Sutari, Traffic, Marry Waterson & David A. Jaycock and Yorkston Thorne Khan.
Plane Wreck At Los Gatos (Deportee) – Judy Collins
[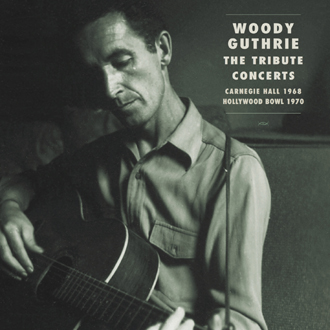 Elektra Records released a first-rate, somewhat pricey, three-LP boxed set Woody Guthrie: Library of Congress Recordings in 1964. I only held a copy in my hand when Vicki Nadsady was bequeathed me Marsha Necheles' battered copy. Marsha was one of founder editors of Folkscene magazine out in California, which I wrote for.
Even around the time of his death in 1967, many listeners knew Guthrie's music through interpretations from the likes of Jack Elliott, Cisco Houston and the Weavers. All these years later I am no longer aware when my actual Woody Guthrie revelation occurred. What is clear is that Judy Collins' version of the song called Deportee swept me away. It appeared on her 1964 on Judy Collins #3 LP, the one with Jim Marshall's startling photographic portrait of her.
Unfamiliar with Spanish, one word flummoxed. It was "Jesus" pronounced Spanish fashion! It remains one of the great tales of social injustice. Its relevance has only increased in these troubled times. The song now conjures a concatenation of extended images spawned by dog-whistle nationalistic policies and politics. They might be White Australia and Australian detention centres on Manus Island and Nauru, the wall policies of Viktor Orbán and Donald Trump. And on and on and on. From Woody Guthrie – The Tribute Concerts (Bear Family BCD17329, 2017)
Ride On – Christy Moore
Christy Moore's favoured form of communication is the concert. On The Road has 24 tracks from 17, mainly Irish venues from Derry's Forum to Dublin's Vicar Street (with 'appearances' at Glasgow's Barrowland and London's Royal Festival Hall. Just love this song-story and Declan Sinnott's electric guitar touches the parts other accompaniments generally miss. Sinnott's guitar playing has a rare empathy. From On The Road (Sony Music 889885493842, 2017)
A Kulnę – Sutari
Founded in 2012, Kasia Kapela, Basia Songin and Zosia Zembrrzuska, collectively Sutari, are exploring the Polish counterpart of a Lithuanian multipart song form known as sutartinės. (Sutartinės derives from the word sutarti which means 'to be in concordance', 'to agree with'.) It is a cross-cultural, two- and three-voiced style of polyphony unique to the Baltic region and vocal folk music. The singers tracked old recordings down held in the Polish Radio archives and also in the notations of Polish ethnographer, folklorist and composer Oscar Kolberg (1814-1890). That is not to suggest that Sutari make unaccompanied vocal music. Fiddle is prominent on this track.
A Kulnę means 'Roll the wreath' ("I will roll the wreath in the street/Where have all my suitors gone") set to one of their own melodies and a folk tune from Mazovia (Mazowsze in Polish), a region in mid-north-eastern Poland. They sing five verses from different regions to this. It is a declaration of female independence. One verse says, "I loved a boy once and I was fine/I will love seven more for one is not enough." Another, "I won't go home before dawn/I have no baby crying after me."
Bernhard Hanneken put them on Rudolstadt Festival's bill this year. They proved popular. To get into their second concert I had wave my staff pass – Access All Areas with oomph – and sit behind heavy theatre drapes three metres from the mixing desk but I luxuriated in their sound. It was probably the worst seat in the house but I had got in. And they sounded so good and worth all wait and hassle to get into the building. From Osty (Unzipped Fly Records UFCD 011, 2017)
Song For Thirza – Yorkston Thorne Khan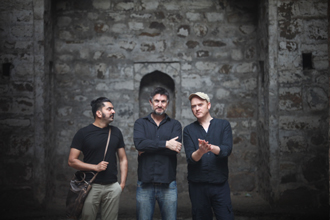 James Yorkston explained the beginnings of Yorkston Thorne Khan in the notes to the album on which Song For Thirza appears. In 2011 he was sitting in his dressing room at a festival in Cowgate, Edinburgh playing his guitar when there was a knock on the door. It was Suhail Yusuf Khan. He asked if Yorkston minded if he joined him. He had his sarangi with him and while they talked he took it out of its case and started accompanying Yorkston's guitar impromptu. It led to the Scots musician asked the Delhi-based musician if he fancied joining him on stage that evening. They winged the evening. They had a chance to reprise the experience later that year at a festival the novelist Ian Rankin was curating in Aberfeldy and the sponsor paid for Khan's air flight.
Things progressed and double-bassist Jon Thorne who had been part of Yorkston's jigsaw puzzle since 2009, as did the Irish singer Lisa O'Neill (who also sings on Song For Thirza) joined them. For a while they were going to be a Yorkston Thorne Khan O'Neill. Part of Everything Sacred album bears witness to that.
This song is by Lal Waterson. It entered my life while writing the book that accompanied the Watersons' 4CD/1DVD anthology Mighty River of Song for Topic Records. It was a demo that had survived and it was from Lal's son Oliver (younger brother to Marry) that James Yorkston heard it. It is a fond tribute to Thirza, the woman "brought from the workhouse" who helped raise the three Waterson siblings after their parents' deaths. It is poignant. I never thought I would hear anyone who wasn't the family sing it and do it justice. Yorkston Thorne Khan do. From Everything Sacred (Domino Recording Co WIGCD367, 2016).
The song is also available in its original version on Lal & Mike Waterson's expanded Bright Phoebus – Songs by Lal & Mike Waterson (Domino REWIGCD102X, 2017)
No Face, No Name, No Number – Traffic
Traffic were a vital part of my musical education and development. This song, written by Steve Winwood and Jim Capaldi, set new standards of lyricism. It is quite unlike the tracks that surround it or the other music they were performing or recording. It has majesty with a church-like melody.
In September the living person I had literally known the longest, my friend John Howard Meakings (1949-2017) died. This was a piece of music he and I had listened to a great deal together. Two months later I found myself listening to Traffic as research for a commission. That would have tickled John. From Mr Fantasy (Island IMCD 264 546496-2, 1968 (sic))
Orphée in Opelousas – Dick Connette
Clocking "Written and arranged by Dick Connette" on the album cover seemed like a sure-fire guarantee of promise about to be tasted. With Sonya Cohen, Connette was a mainspring of Last Forever, a folk band that Joe Boyd introduced me to. He handed me the good stuff and I was hooked, honey. Later Connette produced and played on Loudon Wainwright III's High Wide & Handsome: The Charlie Poole Project.
Too Sad For The Public did not disappoint. Connette's featured singers realising this here vision are Ana Egge, Rachelle Garniez, Gabriel Kahane and Suzzy Roche. Among the album's accompanists are Erik Friedlander (Liberty City features his "soulfully psychedelic cello"), Rayna Gellert (whose old-timey fiddle on Black River Falls is taste personified) and Chaim Tannenbaum (on harmonica). Running through the project, resurfacing three times is Jaco Pastorius' Liberty City. That is pretty interesting in itself, without getting into its gratuitous Czechoslovak references or backslapping on a Czech-English website.
Connette himself sings Orphée in Opelousas. It is a retelling in which, to bend Lord Buckley's The Nazz, Orpheus stomps on Louisiana terra. Quirky and visionary in ways few albums ever are, handsomely packaged, too, this whole album is one of my 10 of 2017. It is decidedly obscure but will repay diligence in tracking it down over and over again. From Too Sad For The Public – Vol 1 – Oysters Ice Cream Lemonade (Storysound Records 161-020, 2017)
Zu Asche, Zu Staub (Psycho Nikoros) – Severija
Television drama doesn't figure hugely in my life, leastways compared to many people I know. Babylon Berlin is an exception.* Set primarily in Berlin in the aftermath of the Great War, in two series it has built a world of damaged and war-warped people with flawed characters. It depicts their struggles to make it through in the capital's dog-eat-dog society in 1929. Corruption and vice is rife. Poverty is everywhere. Political factions of all stripes are jockeying for power. War veterans are treated like heroes or like scum – with much of the differing treatment of them divided along military rank or class lines. Then there is the wild life, the demi-monde of sexual frankness, unconventional sexualities and exploitation.
This song Zu Asche, Zu Staub (To ashes, to dust) made an immediate impact. It appears in varying arrangements throughout the two series, but its appearance in the second episode of the first series in a Moka Efti club showpiece is truly moving. It breaks down to a drum-led, choreographed dance floor number at one point. About its singer Severija Janušauskaitė I know little. Beyond her being a Lithuanian actor with a trail of small and silver screen work behind her, that is. She holds the attention. Playing a second cabaret role (this time set in France) in the second series she also delivers a performance of Vaskresenje. This Russian rendition of Gloomy Sunday and its dénouement (it does happen in France, after all) are a small screen masterpiece.
The soundtrack includes a number of cuts from The Bryan Ferry Orchestra, with Ferry fulfilling an on-screen role as louche as his press typecast him for. If they help lead people to Severija (Severija Janušauskaitė) all the better. From Babylon Berlin (Music from the Original TV Series) (BMG 538349170, 2017)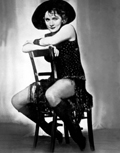 Ich bin von Kopf bis Fuss auf Liebe eingestellt– Marlene Dietrich
Watching Babylon Berlin fed another passion. Most likely anyone who does translations won't be able to switch off comparing the original dialogue with the subtitles in translation as they come up. Chunks of the original, especially the working-class dialogue is played out in Berlin dialect or period slang. Finding an equivalent of equal fluency and fluidity in English wouldn't be possible. Say, it were put into London slang (and I do not mean Cockney) and period slang. That wouldn't work for the United States. So, how the translator negotiated the shoals was fascinating.
Mulling over those issues set in train brought back thoughts of adapting lyrics for another language. Ich bin von Kopf bis Fuss auf Liebe eingestellt here is the version from the Josef von Sternberg-directed film Der blaue Engel (The blue angel). Premiered in April 1930 at the Gloria-Palast on Berlin's Kurfürstendamm, it took Marlene Dietrich to new places and helped launch her to international stardom. (It was shot in a German- and an English-language version.) By contrast Falling In Love Again is a pale shadow of its German counterpart. The 'lost' third verse is a celebration of female sexuality and the joys of physical loving. And that is yet another reason it is the version which calls me home.
The original Gloria-Palast was across the way from the Gedächtniskirche. Both got turned to rubble and ruins during bombing during the Second World War. In the case of the Gloria-Palast thirteen years after the Berlin premiere of Der blaue Engel.
From Bei uns um die Gedächtniskirche rum. (edel 0014532TLR, 1996) and Die blonde Engel – Die Retrospektive EMI Electrola 7243 5 35567 2 7, 2001)
Spencer The Rover – Bob and Ron Copper
I first heard Spencer the Rover sung by Shirley Collins on her 1967 LP The Sweet Primeroses, with her sister Dolly accompanying on her (rented) flute-organ. (Primerose is a variant of primrose.) This song above all of the songs on that album set me on a voyage of discovery. This album, recorded by Peter Kennedy and released originally in 1963, was an important step. A friend of mine was after it and I tracked it down in the second-hand records at Collett's in New Oxford Street in London. Instead of keeping it, I passed it to him, but not before listening to it.
It led to me making the trip to Rottingdean in Sussex to hear Bob and Ron Copper. They were the first source or traditional singers I had ever seen perform. And it being those days, Ron Copper was propping the bar with a pint glass in his hands. I fell into conversation. I was hooked. And I began exploring music and musical roots with a new vision.
Years later I was with Bob Copper and his son, John, doing some interviews over a few ales when John Copper got a phone call saying there had been an accident in New York City. A plane had crashed into a skyscraper. A little later John got a second phone call. Another plane had crashed into a skyscraper. When I arrived at Brighton railway station there was a wait for the next train. I adjourned to a local pub to kill time, read and write till the train's departure. The television was on. An unholy silence descended on the pub. Anyone who came in talking was hushed. Numbly I missed train after train. The date was September 11, 2001. From Traditional Songs from Rottingdean (Fledg'ling records FLED 3097, 2014)
Death Had Quicker Wings Than Love – Marry Waterson & David A. Jaycock
This little piece of thought-provoking perfection was sparked by Marry Waterson seeing a tombstone in the Old St. Stephen's Church graveyard in Fylingdales, near Robin Hood's Bay in Yorkshire. The inscription read "Death Had Quicker Wings Than Love" and is a translation via the Rev. John Wesley from the writings of Gregory of Nazianzus.
The album is produced Portishead's Adrian Utley. On this particular track Waterson sings, Jaycock plays acoustic guitar, Moog and bowed guitar, Emma Smith violin and viola, Utley electric guitar and Kathryn Williams adds harmony vocals. I love its otherness. Its last words are, "A faithful maid lies here/a lover true, sincere." From Death Had Quicker Wings Than Love (One Little Indian TPLP1419, 2017)
The copyright of all images lies with the respective photographers, companies and image-makers. The solo image of James Yorkston is © Ken Hunt/Swing 51 Archives.
* Since rules need exceptions, Detectorists (BBC Four) is another. Much of portent could be read into its everyday story of metal detecting. With (creator) Mackenzie Crook and Toby Jones in the lead roles, it blends a superb evocation of the English countryside, a nothing-happens-quickly approach and characters who banter about their dreams, hopes and troubles in life.
[An update (19 December 2017)… On reflection, gogglebox drama actually figured more prominently because Jed Mercurio's Line of Duty (BBC One), with the can't-take-my-eyes-offa you Thandie Newton as DCI Roz Huntley, and the penultimate series of Game of Thrones (HBO), a few hiccups aside (notably the cost-cutting Cave of Convenience scene), were pretty darn enthralling.]