31. 10. 2014 | Rubriky: Articles,Giant Donut Discs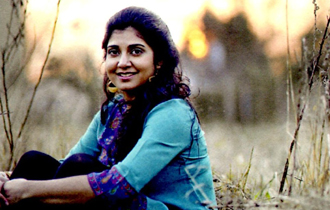 [by Ken Hunt, London] Two months rolled into one, thanks to the aftermath of travelling and delivering copy. The choices refect work, death and making associations. The musical scatter cushions include Kishore Kumar, Carlos Paredes, Kavita Shah, Olga Bell, Abhishek Raghururam… And more.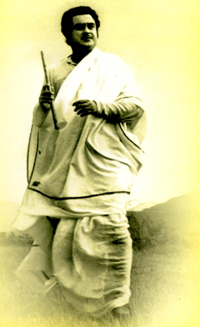 Dil Aisa Kisi Ne Mera Toda – Kishore Kumar
13 October 2014 marked the 27th death anniversary of one of Bollywood's greatest male vocalists, Kishore Kumar. Dil aisa kisi ne. is a song from a relatively unknown Bollywood composer called Shyamlal Mitra. Kishore Kumar won the Best Male Playback Singer for this song at the 1976 Filmfare Awards and its lyricist Shyamalal Babu Rai, known professionally as Indeevar, Best Lyricist in the same awards. It is from the film Amanush which apparently translates as 'English: Inhuman'. Surely with a title like that it deserves to appear on playlists. From Amanush (1975)
Siddhivinaayakam – Mandolin U. Srinivas
U. Srinivas – latterly increasingly rendered Shrinivas – died on 19 September 2014. Born on 28 February 1969 in Palakolin in Andhra Pradesh's West Godavari District, he was a child prodigy in the classic South Indian sense. One of the great differences was he did not burn out young. Unlike too many child musicians in Karnatic music. What he did with a solid-body electric mandolin was exquisite. This is a composition by the pre-eminent Hindu saint-composer Dikshitkar. It says everything you need to know about Srinivas.
The piece was recorded on 26 July 1995 at Real World Studios with K. Murugaboopathi on mridangam (double-headed, barrel-shaped hand drum) and E.M. Subramaniam on ghatam (tuned clay pot). My obituary of Srinivas appears in the Winter 2014 issue (Issue #64) of the Canadian folk magazine Penguin Eggs. From Mandolin U Srinivas (WOMAD WSCCD003, 1995)
Further information about the magazine is at: http://www.penguineggs.ab.ca/
Paper Planes – Kavita Shah
The M.I.A. track from her 2007 album Kala ('Art'). The album this track comes from ranks as one of the most daring and ambitious works of 2014.
Kavita Shah interprets a highly interesting body of work. Joni Mitchell's Little Green gets a kora (African harp) passage intervention. Her recognition and reworking of this M.I.A. song gets my wholehearted approval. From Visions (Naïve NJ 624811, 2014)
Further information about Kavita Shah is at: http://www.kavitashahmusic.com/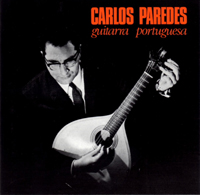 Canção Verdes Anos – Carlos Paredes
Listening to a private recording graciously provided by Jackson Browne from a concert in The Hague at which Carlos Varela joined Browne on stage, I was struck by the sound of Varela's guitar. It reminded me of Carlos Paredes. It sent me off on a Paredes listening jag. Canção Verdes Anos ('Song of the Green Years') was the the performance that wound up on repeat over and over again.
Carlos Paredes (1925-2004) was an integral feature in a line of master musicians known in idiomatic Portuguese as a casa. It means a "case" – a usage with similarities in English. It means someone unique or someone who is their own man. (Maybe even theiur own 'person' nowadays.) He extended the range, voice and dynamics of the guitarra portuguesa or Portuguese guitar. He took it to new places. Paredes' style was also shaped by his development of his so-called Coimbra guitar. It was a bigger, richer-voiced instrument than the usual, twelve-string Lisbon model.
This particular composition appeared in director Paulo Rocha's 1963 film Os Verdes Anos ('The Green Years'). The Kronos Quartet included it on their Kronos Caravan album (2000), a project for which I wrote the notes. It was a thoroughly exciting ride, with ideas flying to and fro. Canção Verdes Anos was a piece of music that David Harrington identified. I have a memory of David telling me that he obtained approval for arranging the track from Paredes in person.
From guitarra portuguesa (EMI 0 777748674 2 9, 1987)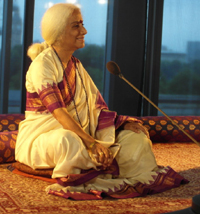 Jogkauns – Prabha Atre
The remarkable, truly remarkable concert that Prabha Atre gave at the Darbar Festival was called 'Best Then, Better Now: The Legendary Prabha Atre'. It sounded like a neat line. Still, something niggled about the line's originality. That niggle was answered after reading the advertising poster for Timberland at a bus stop. It said, of course, 'Best Then. Better Now'. (A short history of advertising slogans is now declined…)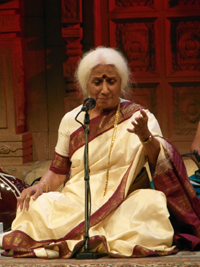 I had waited many years to see Prabha Atre sing and she did not disappoint in any way. She brought an originality of delivery to her performance that was commanding and arresting. My review of her concert appears in the Winter 2014 issue of Pulse. From Amrut Prabha (Times Music TDICL 154P, 2007)
Jungle Drum – Emilíana Torrini
Listened to this song a lot while gaining a measure of the Icelandic singer-songwriter Emilíana Torrini's songwriting. Of course, the homework counted for little because that's the way it goes in the 'grand scheme' of preparation. From a Rough Trade promo single [undated])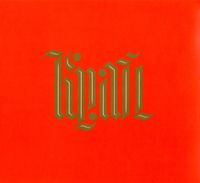 Perm Krai– Olga Bell
Every so often I pick up magazines that ordinarily I wouldn't read. I do it deliberately because I get asked by several European music festivals about musicians. Born in Moscow and raised in Alaska, Olga Bell is a musician operating out of New York. An article about Olga Bell's music in a freebie music magazine struck me that hers was a music I should listen to. From Krai (One Little Indian
TPLP1236CD, 2014)
Further information about Olga Bell is at: http://bellinspace.tumblr.com/
Dolphins – Eddi Reader
Eddi Reader did better with this song in live situations but her interpretation of this song just uplifts. How she bends the song to fit her voice and fit Tim Buckley's vocal delivery. This is definitely something based on Tim Buckley's version rather than its composer, Fred Neil.
I wouldn't want to imagine how Britain's music scene would sound without Eddi Reader. She is a continual source of joy and inspiration. From Mirmama (RCA 74321 15865 2, 1992)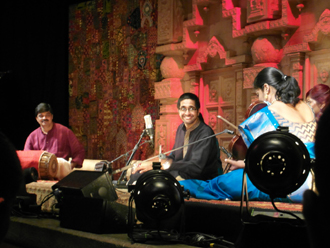 Viriboni – Abhishek Raghururam
This performance opens the Karnatic vocalist Abhishek Raghururam's double-CD concert souvenir from a concert he gave at Sringeri Math, T Nagar Chennai on the last day of December 2010. His name had come out of a discussion about names to watch out for. India is a big place and keeping on top of names to note is a never-ending adventure. Live in London at the Darbar Festival he lived up to the praise that preceded him. From December Season 2010 (CDW274AD, 2011)
Enjoy Yourself (It's Later Than You Think) – Marvellous singers and players
The actor Toby Jones takes the lead role as Neil Baldwin (who also appears as himself providing historical and personal insights) in Peter Bowker's uplifting BBC drama Marvellous. Televised on 25 September 2014, it had a recurring musical theme in this song. The playwright in a blog for the BBC (link below) explains, "We have a chorus in the form of a choir and ukulele orchestra that, to reflect the inclusive nature of the film, is a combination of three choirs including one from Hanley – the M.Y. Inter Theatre Choir – for adults with disabilities. The choir itself I invented and called the Neil Baldwin Orchestra. At first they stand alone as a chorus but they are slowly integrated into the story and then the fictional Neil actually joins their ranks."
The refrain sings this way:
"Enjoy yourself, it's later than you think
Enjoy yourself, while you're still in the pink
The years go by, as quickly as a wink
Enjoy yourself, enjoy yourself, it's later than you think…"
An absolute earworm of a song (with added "the worms crawl in, the worms crawl out…" segue possibilities). The original Enjoy Yourself (It's Later than You Think) by Carl Sigman with lyrics by Herb Magidson was sung by, amongst others, Guy Lombardo and His Royal Canadians, Doris Day, Prince Buster and The Specials. From the television drama Marvellous (2014)
The copyright of all images lies with the respective photographers, companies and image-makers. The photograph of Jackson Browne of unknown date is from the Swing 51 Archives by Jessica Karman. The image of Prabha Atre with a blue sky behind her is © Ken Hunt/Swing 51 Archives. The other image of her and that of Abhishek Raghururam are © Santosh Sidhu/Swing 51 Archives.