15. 12. 2015 | Rubriky: Articles,Giant Donut Discs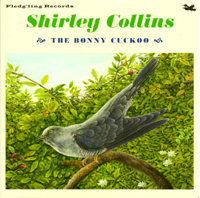 [by Ken Hunt, London] This month's collection is a mixture of project-related listening and music listened to just for pleasure. In the latter case that doesn't happen too often. On 5 July 2015 Shirley Collins celebrated her 80th birthday in London as All in the Downs but I was working in Germany on that date (see below). The assortment includes The 31st of February, Shirley Collins, Bert Jansch, Led Zeppelin, Mita Nag, Brian McNeill, Samira, Scotty Stoneman, Trollmusikken and Rhiannon Giddens
An occasional reminder. Giant Donut Discs is a bequest column. The singer Pete Bellamy granted Ken Hunt, the author's Swing 51 magazine the concept and column. It was a variation on an idea by the UK-based radio broadcaster, Roy Plomley (pronounced Plum'lee). The BBC Home Service first broadcast Desert Island Discs in January 1942 and it is now hosted by BBC Radio 4. The essence is that each programme a guest (usually
one) is stranded on an imaginary desert island. They choose eight pieces of music, originally gramophone records, to take with them. Since several libations were involved in our discussion – and it was after a gig – Pete and I went for two over the eight.
Bonny Cuckoo – Shirley Collins
This vinyl EP containing two versions of The Bonny Cuckoo and Bonny Labouring Boy (one each unaccompanied, one each with her banjo accompaniment) was "commercially released for the first time to celebrate her 80th birthday". They come from a BBC transcription disc acetate dated 20 October 1957 in David Tibet's possession.
Although I had heard and sung English folksongs in, I imagine, Cecil Sharp arrangements for schools before I was eleven, Shirley Collins was the Masonic handshake, my introduction to the mysteries of England's folkways with her EP Heroes in love. Dated 1963 I bought my own copy in 1967, having been listening to a friend's copy. Her music has irrigated my musical and political consciousness down the decades ever since. From The Bonny Cuckoo EP (Fledg'ling WING 1003, 2015)
Robin Denselow's review of the bash, 'All in the Downs review – a memorable Shirley Collins celebration' is at
http://www.theguardian.com/music/2015/jul/06/all-in-the-downs-rev iew-a-memorable-shirley-collins-celebration
To discover more, do go to shirleycollins.co.uk.
A Nickel's Worth of Benny's Help – The 31st of February
This track comes from a most exceptional collection of Vanguard obscurities. Most of the groups on it were little more than names in the index of rock for me. The 31st of February made one album for the label. After the event, they are perhaps best known as a footnote in the Allman Brothers
story. From Follow Me Down – Vanguard's Lost Psychedelic Era 1966-1970 (Ace/Vanguard VCD 78149, 2015)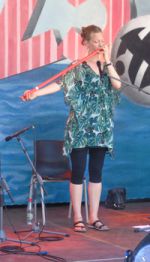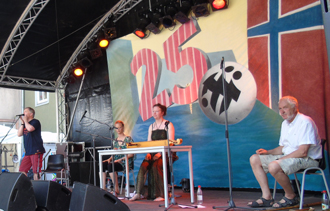 Trollmusikken
It was a blazingly hot Sunday afternoon when Trollmusikken took the stage at the Neumarkt at Tanz&FolkFest 2015. For the record it was 5 July 2015. For the festival programme I had already written about them and there was a genuine frisson about their two appearances as part of the Norway selection of musicians attending the festival. Perhaps, a frisson only in my noggin.
I had written, "Trollmusikken … is not a consort but the name for a concert of four individual artists from Norway. Rare musical instruments from the Nordic lands provide the common ground, one which for centuries – until some 50 years ago – had led solitary lives. Silje Hegg presents the sea flute (sjøfløyte) and the willow flute (seljefløyte) [Note: she would also play the 'snow flute' as she announced it in English but there are too many snø variations to bluff the fløyte suffix] Geir Egil Larsen's instrument is the bukkehorn (goat or ram horn), but also various flutes and the meråkerklarinett (the reeded shepherd's clarinet from Meråker, a parish situated ;north-east of Trondheim and close to the Swedish border) Ingvild Lie plays the Norwegian dulcimer, the langeleik; and Tom Willy Rustad is a one-man orkestret playing jew's harp, cister (cittern), guitar, double-bass, seljefløyte and an accordion of his own design. An impossibly brilliant musical alliance quite unlike anything all but very few will ever have seen or heard."
It was the kind of concert of ethnic music instruments as I have seldom seen in my life. That it was a collection of instruments from Norway helped. It was the epitome of why live music goes to places that recordings never can. It is music in the moment.
Black Water Side – Bert Jansch
Bert Jansch first made real sense for me with his Jack Orion album, his third LP for Transatlantic. This particular track has coloured my mind for a long time. When the time came around for the album to be reissued I was able to claim first dibs on writing its CD booklet notes.
The album brought back memories galore. It was the
first time Bert Jansch made complete sense to me. That was in 1966. It especially brought back memories linking Bert Jansch and Annie Briggs. That was how I approached writing the notes, given that I was asked to write in a personal vein. From Jack Orion (Sanctuary TRACD 143, 2015)
Marwa – Mita Nag
Mita Nag, the notes to this release explain, is "the sixth generation musician of the Nag Family of instrumentalists hailing from the Vishnupur School of Music, Bengal". This isn't the best recorded album of anybody's career but it captures the sitarist playing like a dream. Her
playing is expressive and is richly rounded with nuances. Sandip Banerjee accompanies on tabla on this live recording. No specific recording information is provided for this excellent performance but it was the only recording I had in the collection. I was already researching for the Darbar Festival
in September because listening properly takes time. From Twilight (Bihaan Music, 2004)
No Gods And Precious Few Heroes – Brian McNeill
Part of a longer-term, seemingly never-ending listening project. This song of Brian McNeill's context is a favourite. "To hell with the heather and the glen." he wrote in 1995. And with the Neverendum that masquerades as the Scottish Referendum, this is song to make the listener think. No bad thing. Till Death us do part. From No Gods (Greentrax CDTRAX 098, 1995)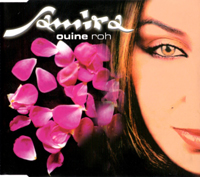 Ouine Roh: longue version – Samira
In November 2003 David Harrington and I worked in Paris on what became a short list for Kronos Quartet's You've Stolen My Heart album. We spent many a happy hour over a few days doing some truly intense listening to dozens of R.D. Burman compositions. The album it grew into was a joint Kronos and Asha Bhosle project. Kronos was also rehearsing for a concert at Théâtre de la Ville.
One day Alexandra du Bois (whose string quartet An eye for an eye makes the whole world blind was on the bill) joined us to walk along the Seine to the Institut du monde arabe. The conversation touched on R.D. Burman periodically but it was more about bouncing off and firing off one another's ideas. At other times I strolled across the bridge to Latin Quarter alone, nipping into somewhere to sit and write when the need arose. Aside from Burman, Arab music of various sorts was running through my head and fingers. I picked up a second-hand copy of Ysabel Saïah's biography Oum Kalsoum (Éditions Denoël, 1985) in Gibert Jeune at Place Saint-Michel and then this chance find of Samira's in the basement of a shop along the Boulevard Saint-Michel.
The skimpy biographical notes said that Samira was an Algerian-born singer, aged 19 at the time of this maxi-single's release in 2001. At the age of three she had first seen Parisian skies – it said 'sun' but that's the French and poetic licence for you. She had grown up in the 19th Arrondissement and had started writing songs while still at school. This particular version – one of three on the EP – supplies all sorts of suggestions about ingredients that fed into the song, including Maghrebi music and perhaps Egyptian film music and TLC's Waterfalls. It is a wonderful take on contemporary French music, though not necessarily typical of the 19th Arrondissement. Between the Théâtre de la Ville in the 3rd Arrondissement and that arrondissement (district) there is short distance that belongs to a sliver of the tenth. What happened to her? From long version of Ouine Roh (Warners 0927 43948 2 – WE 1101, 2001)
White Summer/Black Mountain Side – Led Zeppelin
A radio broadcast of an instrumental piece, apparently recorded and broadcast live "for the Playhouse Theatre over Radio One show" on 27 June 1969. A piece of listening for research purposes – see above – and a reminder of Jimmy Page's listening habits back in the day, back when Davey Graham and Bert Jansch were influencing him. From the four-CD Led Zeppelin (Atlantic 7567 82144-5, 1990)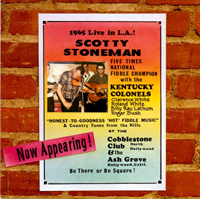 Listen To The Mockingbird – Scotty Stoneman
If there ever was a fiddler even approximating Scotty Stoneman then their playing never came to my attention. Raw, intense and extreme. This album originally appeared on Sierra Briar. The editors of Folkscene, Marsha Necheles and Vicki Nadsady, organised a review copy of this album to be sent to me. It was transformative. Its music gave me chances to recalibrate fiddle playing. And Stoneman's music had gone to places which informed so many other musicians' sensibilities. Musicians such as Jerry Garcia, Richard Greene and Peter Rowan to name but three.
Scotty Stoneman was in a class of one. Madcap inventions. It was recorded at the Cobblestone Club in North Hollywood and the Ash Grove in Hollywood. The Kentucky Colonels accompany him – they being Clarence While, Roland White, Billy Ray Lathum and Roger Bush.
For anyone interested in ornithological matters, during this piece the ensemble dives headlong into the thicket and shows that a bird in the bush is worth two in the hand. Little wren, whippoorwill and a woodpecker is just part of their avian trophies. Love this performance to bits. From Live In L.A.! (Rural Rhythm RHY 1017, 2002)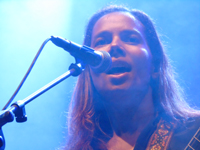 Tomorrow Is My Turn – Rhiannon Giddens
I have seen Rhiannon Giddens on stage in various contexts and concert situations. But the disparate nature of her Tomorrow Is My Turn threw me. I couldn't work out its unifying themes or master plan. Seeing her perform this Charles Aznavour/Marcel Stellman/Yves Stéphane song live in Rudolstadt's Heine-Park swung open the door to the album.
The song was part of the Philips (record label) phase of Nina Simone's recording career. Giddens writes in the notes, "I saw a video from 1968 of Nina Simone's performance in London and it became the linchpin of this entire project." The original is called L'amour C'est Comme Un Jour' (Life's like a day). But it was seeing her perform this song live that cracked the album's code after listening to the album umpteen times, persevering in the knowledge that my time hadn't come, rather than the oft-touted premise that if you listen to something frequently enough [continued page 77]. From Tomorrow Is My Turn (Nonesuch 7559-79563-1, 2015)
The copyright of all images lies with the respective photographers, companies and image-makers. The images of Rhiannon Giddens and Trollmusikken are © Ken Hunt/Swing 51 Archives.