2. 1. 2010 | Rubriky: Articles,Giant Donut Discs
[by Ken Hunt, London] Who said most months' Giant Donut Discs reflect deadlines and commissions with a pinch of music for pleasure? This month's reflects twinges of pain as well. A little pain goes a long way. This time around, we feast on Davy Graham, Wenzel, Llio Rhydderch and (Fernhill's) Tomas Williams, Achim Reichel, Sonu Nigham & Madhushree, Billie Holiday, The Fisher Family, Los Lobos, Shirley Collins and Big Brother & The Holding Company.
She Moved Thru' The Bizarre/Blue Raga – Davy Graham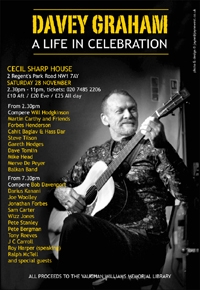 Davey Graham died on 15 December 2008, days before I was due to journey to India. That was why I missed his funeral. He would have approved of that – an excursion trip to India trumping a funeral trip. In the days before travelling I wrote his obituary for The Scotsman. Then whilst travelling in India I wrote his German-language obituary for Folker! (since then the magazine has dropped the exclamation mark) between Agra, Jaipur and Jalandhar. This is the way I wish to remember him: as a friend and a musician who at his best and at his various peaks made the rafters ring. He could be infuriating and could be infuriatingly good too. As here. When he recorded this he was Davy, by the way. From the Dave Suff-compiled anthology A Scholar and a Gentleman (Decca 532 263-1, 2009)
Ken Hunt's obituary in The Scotsman dated 18 December 2008: http://news.scotsman.com/obituaries/Davey-Graham-Guitarist-composer-multiinstrumentalist.4803436.jp
Arschgeweih – Wenzel
It's saucy. He's naughty. And Wenzel is a Liedermacher's Liedermacher, a songwriter's songwriter. He twists like an eel. He writes eely songs that sit around like time-bombs a-ticking away which you can never guess when they might 'fully' make sense. They come drenched in allusion and allegory. Arschgeweih! As a title, in the English 'Arse Antlers' works even better. There are no subtitles but, admit it, it is a hoot of a title to hook the unwary.
It opens with the potty mouth/barber's invitation "Das Schamhaar kurz rasiert." or "Public hair shorn short." and from that opening gambit it just gets better and better because he's not bothered. Plus who could resist offerings from a record company whose name translates both as "Sailor blue" or "Drunk as a sailor? If this is what a boy from the German interior can do, imagine what he could have done if he had grown up on Hamburg's Reeperbahn or in Rostock! From König von Honolulu (Matrosenblau //08, 2009)
Bedd f' anwylyd (My Lover's Gone) – Llio Rhydderch and Tomas Williams
It's not a perfect take but the combination of Rhydderch's triple-strung harp and Williams' trumpet captures another dimension of Welsh vernacular music. It's an apple with blemishes but, that said, many of the tastiest apples will never get on a supermarket shelf. It also says oodles about what's happening in Welsh arts nowadays. From the Various artists' Blodeugerdd – Songs of the Flowers (Smithsonian Folkways SFW CD 40552, 2009)
Die Gedanken sind frei – Achim Reichel
Achim Reichel is one of the defining musicians of Hamburg's music scene. A contemporary of whatever the Beatles were called in their Reeperbahn days, he survived Hamburg's little-white-pills-and-Pils beat scene era and went on to create a body of work that bottled Hamburg's very essence with shanties and folksongs (Volxlieder is a corruption of Volkslieder or folksongs).
One of the most enjoyable conversations – as opposed to interview – I ever had with a musician during the Noughties was with Achim Reichel. It lapsed into Hamburg dialect and Platt. This old song about thoughts being free, as in cannot be controlled, is one of most haunting songs of the German condition. Ougenweide's Frank Wulff lays his mojo hand on this studio recording like a Hamburg whore to healing superb effect. From Volxlieder (Tangram 69532, 2006)
Inn lamhon ke damaan mein – Sonu Nigham & Madhushree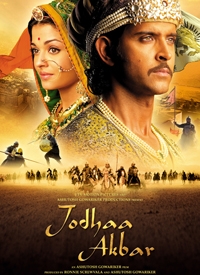 Watching Jodhaa Akbar in a freezing apartment in Jalandhar in the depths of winter in January 2009 summoned unbidden the opening words of T.S. Eliot's poem The Journey of the Magi: "A cold coming we had of it/Just the worst time of the year." Elliot's lines carry echoes of an Anglican sermon preached on Christmas Day 1622 and unless you have experienced a Punjabi winter they may sound out-of-place. The snakes and the frogs are tucked away hibernating even though, no doubt, the daytime winter temperatures were far milder than England in the early 1600s. But winter in Punjab is a different sort of cold to the ones westerners are used to.
Even before the heating finally kicked in and before the film's images took hold or Hrithik Roshan (Akbar) and Aishwarya Rai (Jodha) wove their cinematic magic, A.R. Rahman's OST was already on the way to dispelling the cold. It's difficult to call an A.R. Rahman soundtrack underrated nowadays. Jodhaa Akbar deserves to be better known, not least of all – mirroring Rahman's life – it blends Muslim and Hindu elements so cleverly and with such integrity. The soundtrack from which this song comes is masterly, a major piece of quality work. Javed Akhtar is the lyricist. The song itself is a typical Rahman composition in the sense that it could only come from him or one of his copyists – copycats if you wish. If anyone wants to hear what Bollywood was like in the second half of the first decade of the Twenty-first Century C.E., listen to Sonu Nigham & Madhushree. And be prepared for mood, tempo and rhythmic shifts, anchored in a marvellous melody.
Furthermore, the CD itself is a superlative piece of packaging, of the sort explains why the artefact can add value to the 'product'. (Like that of Rab ne bana di jodi (YRM-CD 90050, 2008) since you ask.) From the soundtrack to Jodhaa Akbar (UTV 88697 23373 2, 2007)
Gloomy Sunday – Billie Holiday
It's not the best version of the Hungarian suicide song but it was the one that introduced me to the masterpiece. Teddy Wilson & His Orchestra accompany. It was recorded in 1941 and finds its new lend-lease life here as part of Bob Dylan's radio show entitled President's Day (no. 68). From Theme Time Radio Hour – Season 2 (Ace CDCH2 1225, 2009)
Joy of my Heart – The Fisher Family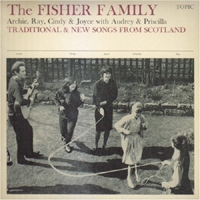 This track was recorded by Bill Leader in 1965. There was no room in the house so Joe Boyd slept in the car. It's a wonderful affirmation of life. Norman Buchan's notes said, "This Gaelic song is full of praise for the beauty of the Western Isles, and many have been translated into English – not always successfully – by Marjorie Kennedy-Fraser and others. This one reverses the process. It was written in English by Hugh S. Roberton to the Gaelic tune Leannon Mo Ghaoil. It has been translated into Gaelic by John Bannerman."
The Fisher Family on this recording are Archie, Cindy, Joyce, Priscilla (later Cilla) and Ray. For its joy of life. From The Fisher Family (Topic 12T137, 1966, reissued in Japan on the British Folk Paper Sleeve Collection VSCD-834, 2002)
Kiko And The Lavender Moon – Los Lobos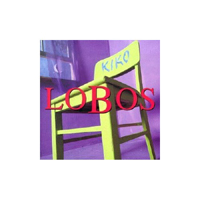 The performance is here because it's magical and moreishly sinister.
"He plays and plays/Still playing till he/Goes off to sleep."
The source's artwork is so bland and puny that it's going to be shamed but mercifully not named here. So there!
A Denying: The Blacksmith – Shirley Collins
Folk poetry is a rare thing and this is rare by any standard. A version appeared on Shirley Collins' EP Heroes In Love. That was how I first heard it. Having heard it, I went ferreting out England's folk heritage that no manner of Cecil Sharp-inspired singalongs or country dancing in school had ever prepared me for. Hearing that EP helped make it make sense. Hearing Anne Briggs' The Hazards of Love reinforced the wonder of a tradition I had never suspected existed or indeed had ever existed. Those two EPs were the first two folk record purchases I ever purchased. That is about as high as it gets in my opinion. I got more than lucky with those two sweet little mysteries of life.
This version is the second variant Shirley Collins recorded, though. It is the one from her Anthems in Eden song cycle that begins:
"Oh, a blacksmith courted me, I loved him dearly.
He played upon his pipes both neat and trimly,
With his hammer in his hand he strikes so steady
He makes the sparks to fly all round the smithy."
A Blacksmith Courted Me is a sublime tale of love and desertion – the way pain can be sublime. And Shirley Collins' performance on her and her sister Dolly's version on their magnum opus captured an additional facet of this superlative piece of folk poetry. Shirley's voice doesn't rant or rail: it captures the bewilderment of abandonment. Folk poetry in its highest state. From Anthems in Eden (EMI Harvest SHVL 754, 1969)
I Need A Man To Love – Big Brother & The Holding Company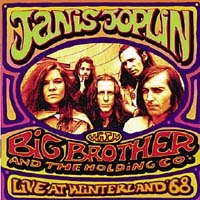 A choice brought on by guitarist James Gurley's death at the age of 69, a couple of days before his seventieth birthday. It brought back memories of Big Brother & The Holding Company and the birthing pangs of their Cheap Thrills album, on which this song was originally released.
Agreed, the smart money would be on the Cheap Thrills version. This one's slightly shorter in length yet still not what you'd call succinct. The song is a new introduction to their repertoire in April 1968 and is still being played in.
The group shot in the cover artwork is by Baron Wolman and was taken at the Palace of Fine Arts in San Francisco in 1969. Left to right: up front, Janis Joplin, Dave Getz, James Gurley, Peter Albin and Sam Andrew. From Live At Winterland '68 (Columbia Legacy CK 64869, 1998)
Valerie J. Nelson's obituary of James Gurley from the Los Angeles Times of 24 December 2009 is at http://www.latimes.com/news/obituaries/la-me-james-gurley24-2009dec24,0,1577562.story
Baron Wolman's website http://www.fotobaron.com/
Big Brother & The Holding Company's website: http://www.bbhc.com/