24. 1. 2011 | Rubriky: Articles,Lives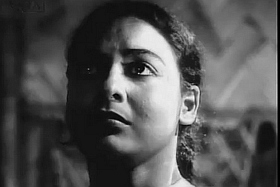 [by Ken Hunt, London] Bengal's popular arts lost two of its major figures on 17 January 2011.
The actress Gita Dey (1931-2011) died in north Kolkata. From her debut as a child actor in 1937 in director Dhiren Ganguly's film Ahutee, she reportedly appeared in some 200 Bengali films and thousands of stage dramas and folk plays. A startling character actress with a presence that did not overwhelm the part, she appeared in such films as film director Ritwik Ghatak's Meghe Dhaka Tara (1957), Satyajit Ray's Teen Kanya and Komal Gandhar, and Tapan Sinha's Haatey Baajarey, Jotugriha and Ekhonee. Lawrence Olivier was amongst the people who celebrated her.
The singer Pintu Bhattacharya's death some five hours later at the Thakurpukur Hospital in south Kolkata was slightly overshadowed by that of his contemporary. He was an exponent of popular Bengali modern song (as it is known) and worked with many of the Bengali film industry's foremost music directors including Salil Chowdhury (1922-1995) and for a range of film directors, including Tapan Sinha. Although he was something of a household name in Bengal, he was little known outside the region – a great shame for someone blessed with such a wondrous voice and interpretative skills. A big fish in a small pond, he was later sidelined by the Tollygunge film industry.