30. 1. 2009 | Rubriky: Articles,Live reviews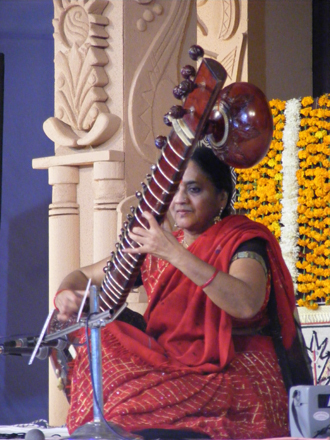 [by Ken Hunt, London] India has a long tradition of music festivals of the classical kind – often called music conferences – to compare with few places on the planet. Harballabh Sangeet Sammelan showed off everything that is typical and revealing about Indian audiences' attitudes, including their waywardness, to its art music traditions. The December 2008 festival was its 133rd gathering in an unbroken sequence since 1875. The annual festival takes place in deepest winter. There were few concessions to comfort and that sense of musical austerity works brilliantly for a festival grounded in dhrupad – one of the more austere forms of Hindustani art music. People come wrapped in shawls, untold layers of clothing and carrying snacks. Tellingly, it is still a free festival.
Over the course of its life since it was first held, Harballabh Sangeet Sammelan has grown considerably. As the musician and writer Sheila Dhar explained once upon a time, it is something along the lines of "the musical promised land, the ultimate criterion of true worth in music, a synonym for commitment and purity". For years it has been a badge of honour to perform at the festival.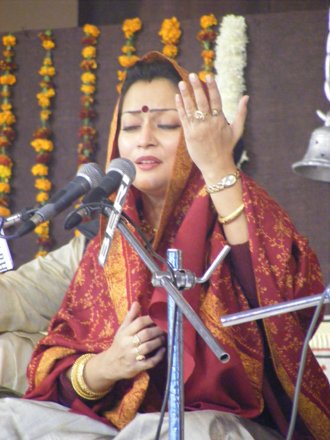 The standard of the music-making was frankly astonishing. Too good to pick at anything less than, if you get my drift, targeted random. Faiyaz Wasifuddin Dagar set the bar high with his recital of dhrupad music on Christmas Day, the first day of the gathering, The second day delivered an exceptional vocal recital by Sangeeta Sangeeta Bandyopadhyay (pictured). The third produced a North-South jugalbandi (duet) between the santoor player Satish Vyas and bamboo flute player Shashank. The final day was hallmarked by a wondrous sitar recital by Manju Mehta (pictured), a senior disciple of Ravi Shankar (and sister to Shashi Mohan Bhatt and Vishwa Mohan Bhatt). Her playing is totally stamped in the Maihar school of playing but she totally 'sang' in her own voice. On a blown-away Richter scale however, the first day's duet between Ronu Majumdar on bamboo flutes and Kadri Gopalnath on alto saxophone seared itself into the brain, far outstripping their Sense World Music album. That said, there wasn't one bad performance that I witnessed. Musicians were clearly on their mettle.
The one galling sadness revolved around the disruptions and distractions caused by the inappropriate, ill-timed, inconsiderate admission of dignitaries, sponsors and sundry VIPs. They were admitted without any sort of acknowledgement that anything special was happening on stage. At its worst – when Punjab's Chief Minister popped in – it created a media circus with camera crews vying to do their business. It betokened a disrespect that would not be countenanced in Europe or North America.
Above all it was the music that remains lodged in the cranium. That and the opportunities Harballabh Sangeet Sammelan granted to listen to world-class musicians who will probably never reach Europe and the next generation of musicians bringing new hope to the continuity of old traditions. If you are going to throw yourself into the pool, dive into the deep end with four days of music like this. With the likes of vocalist Ajoy Chakrabarty, tabla maestro Pooran Maharaj and singer Sangeeta Bandyopadhyay in attendance, this was everything that hard-core classical music is about. Sublime. In a word.
See also Aparna Banerji's piece from The Tribune at http://www.tribuneindia.com/2009/20090102/jplus1.htm