25. 8. 2017 | Rubriky: Articles,Live reviews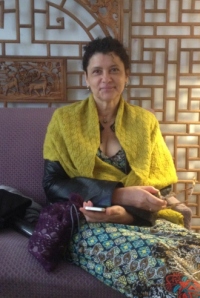 [by Ken Hunt, London] Regardless which of the nine Mousai (Greek mythology's Muses of the arts), their descendants or their modern-day mutant offspring anyone evokes, the ways of presenting Art remain ever-changing and ever-evolving. That's the nerve the German Jewish philosopher and cultural critic Walter Benjamin exposed. It is in live performance and especially ones with extemporisation that a special kind of magic can occur. A cultural and multi-media extravaganza, "I Exist" – nach Rajasthan ('to(wards) Rajasthan'), as the cliché goes, it ticks many boxes.
Two days before Berlin, "I Exist" had premiered at Dresden's Festspielhaus Hellerau. Like any good touring production, straightaway a process of assessment and fine-tuning started. Dresden was different to Berlin, as Berlin would be to Munich. In Berlin – in the Ostbahnhof district – the first element of the production each audience saw was the UK-based Delaine & Damian Le Bas's set design. It had static central and side panel art. Of British-based Traveller and Gypsy stock, the husband-wife team's visuals were outsider art in orientation. In part it was heavily calligraphic, yet, most critically, it drew on Rajasthani folk and religious art motifs. Curtain up, the overhead video installation started 'rolling'. With gong chimes from the production's red-clad percussionist Maria Schneider, the music began.
The northern Indian state of Rajasthan flanks Pakistan's Sind province and conceptually "I Exist" is the product of the principals visiting the fabled ancestral home of the Gypsies in 2016, and their responses to the region's history, culture and colours. Their experiences shape and form the work's focus. Musically speaking, "I Exist" blends contemporary and traditional music elements, whether fixed compositions or improvised sections. Complementing the music, the dual-screen video installation above the musicians captured elements of Rajasthan's distinctive folkways, its pre-eminent hereditary musician clans – the Langas and Manganiars (or Manganihars) – and tribal peoples, and the foreign participants' reactions to Rajasthan's eye-opening cultural otherness. Anyone who has spent time there, even on a casual level, will attest to the sheer vibrancy of its lambent light and shimmering colours.
Above all, "I Exist" is the product of teamwork. Marc Sinan is its artistic director, composer and electric guitarist-conductor. The western musical element is provided by the Marc Sinan Company in co-operation with the Dresden Symphony Orchestra and the No Borders Orchestra (an assembly of percussion, violin, viola, cello, double-bass, western flutes, trumpet, accordion). Musically, the all-important otherness came from the scene-stealingly good violin-vocal virtuosa Iva Bittová, a Czech musician of part-Roma bloodlines. In the video, as she referenced, without naming, the Roma survivor of Auschwitz-Birkenau, Růžena Danielová, the hairs on the back of my neck rose. She had movingly performed Danielová's concentration camp composition in James Kent's Holocaust: A Music Memorial Film from Auschwitz, televised by BBC2 in early 2005. The utterly, truly desi or down-home Rajasthani element was provided by three musicians. Under the musical direction of Vinod Joshi, "I Exist" also had the brilliancy of female vocalist Raju Bhopa and male vocalist and harmonium player Dayam Khan and the dholak drummer Papamir. These three Rajasthani musicians' contributions grounded the whole production in a Rajasthani sensibility and earthiness while their colourful traditional costumes – and Bittová's complementing scarlet stage outfit – gave off something of the saturated-colour vibrancy of the place.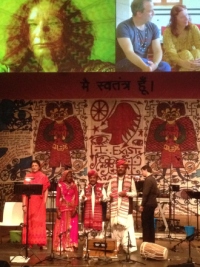 In one section of one song the Rajasthani musicians evoked the memory of a figurative bridge builder of a most singular kind. Namely Baba Ramdev. He could stand as emblematic for the entire project. (And the purpose of music.) Raju Bhopa sang about the legendary, medieval Hindu sant and Islamic pir who shared multi-religious sainthood, so to speak, much like the later mystic poet and sant (saint) Kabir. To this day, worshipping Baba Ramdev crosses the Hindu-Muslim divide and bridges caste divisions. His followers can be caste Hindus, tribal people or the casteless. In the last case that applies to Dalits and the supposedly castefree Muslims alike. Baba Ramdev could be the project's patron saint. Well, that's one interpretation.
At times it was nigh-impossible in a very good way to decide what to concentrate on. (This image captures that with its combination of overhead video and live music.) At times the video footage was irresistible. For example, one segment had Kathodi scheduled tribal people playing a folk instrument like nothing on the planet. The thalisar is an upright rod with a base plate which the musician stroked in a milking motion with both hands. Otherworldliness. I like that.
All images © Ken Hunt/Swing 51 Archives.
Top Iva Bittová in Berlin-Kreuzberg before the concert.
Below: A composite shot to give a feel of Delaine & Damian Le Bas's visual presentation. Top left is Delaine Le Bas; top right Damian and Delaine & Le Bas. The live concert 'part' is left to right: Iva Bittová, Raju Bhopa,  Dayam Khan and  Papamir (plus unknown other).
http://www.artexchange.org.uk/exhibition/safe-european-home-damian-and-delaine-le-bas
Update December 2017. Damian Le Bas died on 9 December 2017, aged 54.