1. 12. 2008 | Rubriky: Articles,Lives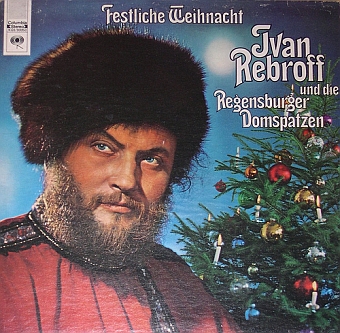 [by Ken Hunt, London] On 27 February the best-disguised Russian superhero Ivan Rebroff, a singer and star of stage, film, musical and television died. Rebroff kept his origins a closely guarded secret but he had been born Hans-Rolf Rippert in the Spandau district of Berlin on 31 July 1931. He created, to go faux-designer, a huge peasant chic and Cossack bravado that became his trademark for the friendly face of Russia during the Cold War era. It is impossible to estimate what he did for rapprochement during the period. "I brought Russian soul to Germany," he said once. Controversially and fittingly, Rebroff and the Balalaika Ensemble Troika got to play at the 1967 Burg Waldeck Festival in West Germany – a byword for cultural integrity. Their work, collectively and alone (in the case of the Balalaika Ensemble Troika), appears on the ten-CD boxed set Die Burg Waldeck Festivals 1964-1969 (Bear Family, 2008).
Comrade Rebroff's albums had evocative titles like Kosaken müssen reiten ('Cossacks Must Ride') (1970), Na Sdarowje (1968) named after the Russian drinking toast and logically therefore an album to do with alcoholic imbibing, Kalinka (1971) named after the folksong, Meine Reise um die Welt ('My Journey Around The World') (2000) and Zwischen Donau und Don ('Between the Danube and the Don') (1971) with the Croatian singer Dunja Raijter.
His success was truly international. To give but two examples, he had a best-selling Afrikaans album Ivan Rebroff Sing Vir Ons ('.Sings For Us') (1971) and, reflecting his enormous popularity in Australia, the Live In Concert, Sydney – Australia DVD from his sold-out 2004 tour. There is no knowing how many units he shifted but he had 50 or so gold or platinum discs across five continents, starred as Tevye in Un violon sur le toit (as Fiddler On The Roof was called in France) and brought Ah! si j'étais riche ('If I Were A Rich Man') to the French public's notice and he set and broke box-office records everywhere he went. Not bad for a fake Russian superstar.