30. 8. 2010 | Rubriky: Articles,Lives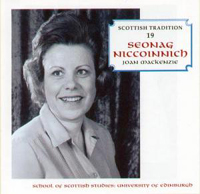 [by Ken Hunt, London] The Scots Gaelic song tradition had a relatively hard time of it during the twentieth century what with a diminishing mother-tongue population, a massive decline in Gaelic literacy and the steady encroachment of Scots and English. Seonag NicCoinnich, that is, Joan MacKenzie in the English, was one of four daughters born into a community where Gaelic was the first language – in Point on the Isle of Lewis in the Western Isles on 2 September 1929.
The spoken and sung language was strong and it was here that she developed her taste and love for Gaelic song. She and her sisters studied in Stornoway where she made her public singing debut as a schoolgirl. She went off to Glasgow to study to become a primary school teacher. She won the traditional singing contest at the Royal National Mod for four consecutive years from 1951. In 1955 she won a Gold Medal at the Mod, presented to her by the Queen Mother with the Queen Elizabeth in attendance.
Her prominence and reputation in Scots Gaelic circles led to her recording for Gaelfonn – she made but two 45s her entire career and they appeared on this small Scottish label – and broadcasting on the BBC's Scottish service. The School of Scottish Studies at the University of Edinburgh also supplied her with a tape recorder to capture the voices of Lewis for its archives.
Fittingly therefore it was the School of Scottish Studies that oversaw the release of an album of archival recordings. It drew mainly on the School's recordings with some material from BBC sources and became Joan MacKenzie – Seonag NicCoinnich, volume 19 in the Scottish Tradition Series (Greentrax CDTRAX9019, 1999). It captures her singing between 1955 and 1961 at the height of her powers. Its stand-out performance from 1961 – stand-out for her vocal clarity and control, expressiveness and emotion charge – is the traditional lament Ailein Duinn o hi ('Dark-haired Alan' with 'o hi' being meaningless vocables). The closing song An till mi tuilleadh a Leodhas? from the BBC archives was composed in exile by a relative on her father's side – Uilleam MacCoinnich (or William MacKenzie) – whilst living in Ontario where he died in 1908. It translates as 'Will I ever return to Lewis?' In 1956 she married Roddy Macleod with whom she had three sons. She died in Edinburgh on 13 May 2007.