16. 4. 2009 | Rubriky: Articles,CD reviews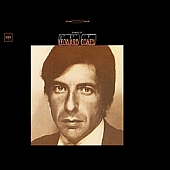 [by Ken Hunt, London] On its release Cohen's Songs Of Leonard Cohen (1967) was more than a strained-voice recapitulation of what we already knew through Judy Collins, the song interpreter who had done so much to introduce the Canadian songwriter on her In My Life (1966) and Wildflowers (1967). Cohen's delivery on his debut's ten-song album was so much more world-weary, more experienced, more laconic, more droll. (Listen to Teachers and One Of Us Cannot be Wrong for serious drollery, the sort of humorous insight that bedded any number of muses). His voice would never match Collins's dexterity, so he made a virtue of his limitations. On his Suzanne, So Long, Marianne and Sisters Of Mercy, Cohen seemed experienced in sensuous ways that would have made Judy Collins or Pete Seeger blush. Cohen seemed removed from Seeger's world of impassioned politics, but that was a blinkered take on things (as his second album Songs From A Room revealed). Two hitherto unreleased bonus tracks – Store Room and Blessed Is The Memory – outtakes from the album's John Hammond-produced sessions round off the original album. They add little great insight beyond the editorial process but they are welcome.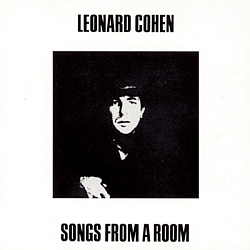 Though Anthony DeCurtis's three accompanying essays don't make the link, Leonard Norman Cohen, born in September 1934, was a child and graduate of the Canadian socialist and communist youth movement. Cohen's dipping into The People's Songbook (1948) with The Partisan on Songs From A Room (1969) made his politicised past explicit. Bird On The Wire, Story Of lsaac (introduced by Collins on her folk-rock masterpiece Who Knows Where The Time Goes?) and Seems So Long Ago, Nancy were and remain in an altogether different league. The album's bonus tracks, Like A Bird – an earlier version of Bird On The Wire – and Nothing To One – ditto, You Know Who I Am – are both recordings produced by David Crosby in May 1968.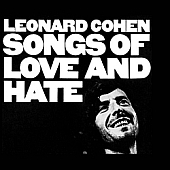 The cover artwork of Songs Of Love And Hate (1971) seemed stark and spare even by Cohen's standards. White characters on a black background. At its black heart was Dress Rehearsal Rag – a different sort of Hesitation Blues and a jewel-like monstrosity of the story-teller's art dealing with doing away with yourself. Or not. When Cohen released his own version of Dress Rehearsal Rag, the Velvet Underground had a head start when it came to morbidity – the whip-hand on bleak, so to speak – and Collins had premiered the song as long ago as In My Life, but Cohen's take on suicide shone. Joan Of Arc and Famous Blue Overcoat also appear here. The bonus track is a 1968 try-out of Dress Rehearsal Rag in a band arrangement including drums (the instrument of choice for eschewal on Cohen albums) and a flowing mandolin.
The eye-popping chapter and verse of the story of Leonard Cohen getting rooked ran and ran in the press during 2005 and 2006 as the trial against his former business manager unfurled. Millions went walkies while he sat and contemplated on a Zen Buddhist retreat in sunny southern California. Cohen's back-catalogue has long deserved a caring reissue of the Columbia Legacy kind. If Cohen's financial misfortune played any part in prompting the reissue of these first three albums of his then that is, without a whiff of Schadenfreude, our good luck. Three lustrous albums.
Songs Of Leonard Cohen Columbia Legacy 88697 04742 2 (2007)
Songs From A Room Columbia Legacy 88697 04740 2 (2007)
Songs Of Love And Hate Columbia Legacy 88697 04741 2 (2007)
This review first appeared in fRoots issue 292 (October 2007).