14. 11. 2007 | Rubriky: Articles,Live reviews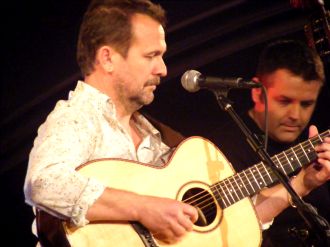 [by Ken Hunt, London] To my mind, Martin Simpson's Prodigal Son was more than one of the finest releases of 2007 – it was the finest album of his recording career, trumping even The Bramble Briar (2001), also made for Topic. And he made his first album, Golden Vanity for Trailer back in 1976, so the lad's been around for some while. Explaining why Simpson has remained such a signal feature in my soundscape would degenerate into a wallow of words. Suffice it to say that his instrumental playing is impeccable, much like his taste in instruments. Over the last decade he has developed exponentially into one of England's finest interpreters of British and American song material in a folk idiom, whether traditional folk, blues or, in the stamp of that maestro of mystery, Hank Bradley, bogus-folk from the US group Last Forever. Increasingly, as the Union Chapel concert hammered home with Love Never Dies (from 2003's Righteousness & Humidity) and Never Any Good (from Prodigal Son), he continues to evolve as a songwriter.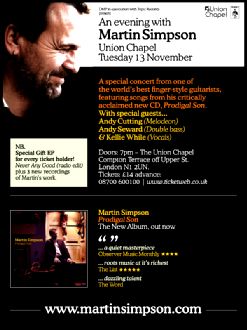 He opened with a mind-focussing instrumental overture. Mind-focussing for him more than anyone else. Eyes shut tight, he segued from She Slips Away (about his mother's death) and Mother Love (about his wife and daughter) into Little Musgrave. Little Musgrave – alias Matty Groves – is one of those Anglo-Scottish ballads of betrayal, retribution and restoration of the social order that our forebears apparently delighted in. Little Musgrave is multi-levelled. It drums home what a contravention of the upstairs/downstairs hierarchy can call down. The price of a midnight shag comes costly for one-off or trice-off Toyboy Musgrave. As the concert unfolded, Simpson played compositions by Cyril Tawney, Bob Dylan, Blind Willie Johnson, Randy Newman and himself. Tawney's Sammy's Bar he said he saw as being "about the relationship between Britain and the USA". Nowadays what I see as being at the song's broken heart has shifted. The poodle relationship remains. But I see it mostly in terms of exploitation. Surely, if anything, Cyril's narrative addresses the relationship between money and sexual exploitation. It's why great songwriting such as Sammy's Bar permits new interpretations to seed and grow. One highlight was that song of Blind Willie Johnson's about not being able to keep from crying sometimes. Simpson's effects on the instrumental introduction – I'm not going to bluff the technology – reminded me of koto and shakuhachi territory. It contrasted well with the next number – Newman's Louisiana 1927 – with its crisp snaps and flourishes and, another indication of great songwriting and song selection, its pre- and post-Katrina stings and relevances. Simpson's own Love Never Dies is two playlets in song as opposed to a three-act play. The way he tells it, the song draws on a couple of visits to the same truck stop between Memphis and Arkansas during Simpson's domicile in the USA. It telescopes observations and incidents. Apart from the 2003 version, it also appears on Simpson's catch-it-while-you-can-at-gigs limited edition Never Any Good. Also part-Prodigal Son promo and part-trailer for the shape of things to come.
The second set brought on the band. Andy Seward, the co-producer of the three new tracks on Never Any Good (2007), played double-bass, Andy Cutting played one of those three-row squeezy things and Kellie While sang. The set opened with Lakes of Champlain. Simpson and Cutting opened before Seward joined in and then While started singing the lines beginning with "Mother, oh mother." Until this point, I have held back that the show was being filmed by a team led by Robin Bextor for a DVD release. (Don't you love the evasiveness of the passive voice?) Lakes of Champlain was the only performance of the evening that I felt could have done with a re-take. The energies didn't work for me, were too hesitant in parts. The second song, Dick Connette's Last Forever outgrowth from Pretty Saro, Batchelors Hall (pity the poor Saxon genitive, and maybe bachelors, come to that), turned things around. Thereafter the quartet never looked back, so to speak. Meaning that the whole band was not necessarily on stage the whole time. The set was another travelogue, with interposed observations on the human condition. The "bent copper" tale, Duncan And Brady summoned a memory of New Orleans from Simpson and an encounter with a citizen of that fine city who trilled "Louisiana's got the best politicians money can buy!" Pretty Crowing Chicken into the fiddle tune Hiram's Tune – or so it sounded – was announced as being "against the Geneva Convention" on the basis of being a three-row and banjo duet. (Pre-emptive banjo joke strike etc.) Leastways, that was how it started out before Seward joined in on plucked, later bowed string bass. The highlights continued with Richard Thompson's Strange Affair, one of his more multi-levelled songs, and Simpson's own Never Any Good – the omission from the title being (With Money) – about his father and his parents' relationship. The home stretch was a slide take on The Lakes of Pontchartrain to what I would like to call an all-purpose, cut-and-paste rock'n'roll tune, similar to the vibe I get when Achim Reichel goes into post-Reeperbahn, Hamburg shanty territory. You get elegance with dirt under the figurative nails. The encore was Waitin' For A Train in a rather un-Boz Scaggs-, un-Singing Brakeman- version, with lashings of banjo.
To conclude, I guess if there is anything puts people off about Martin Simpson – and causes grumbles about dark alleys and breaking his fingers – it is the very thing that elevates him to the highest highs in the pantheon of acoustic guitarists. He has an instrumental prowess on the guitar in particular that that can be deemed to be over-consummate. Like Adrian Legg and David Lindley, his playing goes to places most guitarists never go. Generally, Simpson's balance of simplicity and flash stays on the right side. Occasionally I wish he'd play fewer notes and go for the song's picked clean bones. But most of all, I wish time allowed me to see more of his performances. Mostly because of the ways I've seen I Can't Keep From Crying Sometimes, Dylan's Buckets of Rain and, most especially his own Never Any Good and Love Never Dies keep evolving. That intrigues me enormously.
There is a rather good biography of Martin Simpson at http://www.martinsimpson.com/biography/?PHPSESSID=97f349f32089f93 19563efc729b966ac