6. 4. 2008 | Rubriky: Articles,Live reviews
Folk Roots New Routes
Queen Elizabeth House, Southbank Centre, London 25 March 2008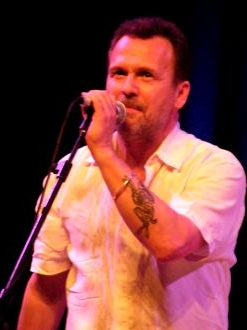 [by Ken Hunt, London] You'd be hard-pressed to find a finer and more authoritative curator for a programme of folk music than Shirley Collins. After all, she is one of the singers who poured ideas into Britain's second Folk Revival. Under the banner Folk Roots New Routes (a title lifted from her and Davy Graham's 1964 duo album), she curated the five-day season of folk-themed concerts at London's Southbank. And, if she is no longer singing in public and on stages, quite frankly that is an irrelevance because she needs to prove nothing, having created so much of such outstanding worth already. (In any case she gave three talks on the Saturday – Romany Rai (about Gypsy singers and songs from Southern England), A Most Sunshiny Day (about England's traditional music) and America Over The Water (about her time with the Texan musicologist Alan Lomax on their music-collecting sweep through the Southern States of the USA in 1959).) Whether ticketed concerts by Alasdair Roberts and Catherine Bott or free events (examples being Friday's excellent one with Lauren McCormick and Emily Portman – two thirds of the Devil's Interval – followed by Lisa Knapp or Saturday's Brighton Morris Men), Shirley Collins' Folk Roots New Routes crammed in plenty. It all began with this Martin Simpson and Chris Wood concert.
The honour of opening this Folk Meltdown fell to the violinist, guitarist, singer and songwriter Chris Wood. He did an exemplary set, much informed by his Trespasser (2007) album. Collins announced him as "a true English eccentric" (amongst other things). Without stooping to cliché about the reported English penchant for eccentricity, bear in mind that eccentricity is no bad thing. Wood took the stage with his accompanists Rob Jarvis on trombone and Barney Morse Brown on cello. Gently setting aside issues or charges of eccentricity, part of Wood's take on that currently much discussed word, Englishness might be explained by one of his song introductions. In his preamble to his third song, he cautioned, "Just because it's English, you don't have to understand it." Aspects of Wood's English worldview were revealed bit by bit. We got tales of the Lollard proselytiser John Ball – courtesy of Sydney Carter's song of the same name – and England's so-called 'peasant poet' John Clare. We got tales of Wood's daughter not so much nutting a-going as nutter (in Hard from his The Lark Descending), the second home syndrome, Agincourt and Peterloo, the impact of enclosures, "the old trap-door of English law" (love that line in Wood's Mad John) and Mummers' plays yanked kicking and screaming into the present (in his and Hugh Lupton's tour-de-force England In Ribbons buoyed along by Woods' distinctly Carthy-style Morris guitaristics). Rob Jarvis and Barney Morse Brown returned for the set's conclusion, a neat musical bookend. A couple of observations to close. Maybe it was QEH nerves but Wood's natural speaking voice seemed to diverge further from his singing voice than usual. Last, his treatment of social issues through songs set in the past and the present, notably Mad John, reveals him to be a worthy carrier of Sydney Carter's baton.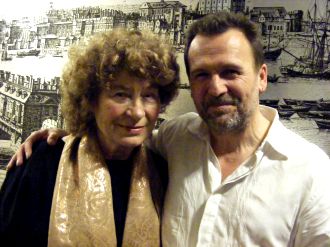 Martin Simpson's solo set concentrated on his most recent repertoire – notably from his Prodigal Son (2007). Predictably the set included his newly anointed BBC Radio 2 Folk Awards 'Best Original Song' – Never Any Good (With Money) – a flick through the family photograph album and a fine tale of fatherly foibles. (Prodigal Son won the BBC Radio 2 Folk Awards' 'Best Album of the Year' in February 2008 too.) Martin Simpson is an instrumentalist of consummate power. Somewhere down the line he found his singing voices a few years back, found in the sense when singing goes from just singing to another level. Voices because he has two singing voices. Having lived in the USA, maybe he has a semi-excuse. You could hear one voice on Little Musgrave and Never Any Good – the English one – and the American one on Duncan & Brady and Randy Newman's Louisiana 1927. Duncan & Brady came with a good anecdote about playing it super-fast on the Later television show and being hugged afterwards by Ronnie Wood. (In order not to spoil its telling in case it is part of the current introduction to the song, the anecdote is herewith truncated.) Louisiana 1927 is a song that, given Louisiana's hopeless history of natural disasters compounded by political apathy, continues to gather added meaning and relevance as it rolls along.
At the concert's end, a small sadness was planted. Sooner or later this particular repertoire of Martin Simpson's will be history as a performance repertoire. It was a wonderfully rounded repertoire but repertoires, by necessity, must move on or atrophy – even though individual pieces move on to the next concert repertoire. Others, slivers of them at least, have begun new or parallel lives as incidental music on radio and television. As 'this' night's Batchelors Hall and Duncan & Brady already have in a sequence on smallholding on BBC television's magazine programme Countryfile attest. The concert was a reminder of why we must grab opportunities to experience the magic of live performance when we can. Concerts like this evening of adrenalin and light-hearted bonhomie.