3. 12. 2009 | Rubriky: Articles,Lives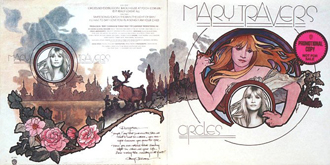 [by Ken Hunt, London] In 1959 the impresario Albert Grossman told the journalist Robert Shelton, "The American public is like Sleeping Beauty, waiting to be kissed awake by the prince of folk music." Who he meant if not himself is moot. That year the black folk-blues artist Josh White terminated his management contract with Grossman. Bob Dylan, whom he managed from 1962, was still stuck in Minnesota with the Minneapolis blues, yet Grossman was set on changing things in the folk business. A few years on, Grossman had his fingers stuck in many pies, folk, blues and beyond.
Months before contractually adding Peter, Paul and Mary – Peter Yarrow, Noel 'Stook' Stookey and Mary Travis – to his roster in January 1962, he predicted they were going to be "one of the top commercial groups". Grossman was right.
Mary Allin Travers, who was born in Louisville, Kentucky on 9 November 1936. Her parents were politically progressive journalists. Shortly after her birth, they moved to Albany, NY. With war impending, her father joined the US merchant marine (merchant navy) and mother and daughter moved to the Lower Manhattan district of Greenwich Village. As a girl, she attended the Sunday children's concerts at the Village Vanguard and saw Josh White and musician and social activist Harry Belafonte.
As a teenager she gravitated to nearby Washington Square where folkniks and undesirable bohemian and racial types mingled by the fountain to sing and fraternise. Her voice carried her into the Song Swappers and singing on several 1955 Folkways releases – although the fine detail of personnel credits was absent – and twice performing at Carnegie Hall. In April 1958, as Mary Allin Travers, she appeared in the folk-singing cast of the short-lived Broadway musical The Next President.
Mary Travers was one of the most physically striking figures launched onto the US – and international – folk scene during the 1960s. Now, without resorting to cliché and heedful of beauty, while Brigitte Bardot had cornered the international male-sighing market with her Gallic blonde looks during the 1950s, Mary Travers had a Nordic blondeness that was the opposite of Joan Baez's jet-black hair – though similarly/no less arresting.
The trio's début entitled Peter, Paul and Mary (1962) topped the US Billboard pop album chart from 20 October to 30 November 1962 generating two US Top 40 hits with Lemon Tree and If I Had a Hammer (The Hammer Song). The LP Moving (1963) included the Top 5 hit Puff (The Magic Dragon), a pension plan for life for its writers, Leonard Lipton and Yarrow. By July 1963 Peter, Paul and Mary's latch-lifting, smooth-harmony cover of Dylan's Blowin' In The Wind had sold over a million copies and with the Byrds introduced his writing to a domestic and, importantly, an international audience. It topped the Billboard Easy Listening chart and reached no. 2 in the Billboard all-genre Hot 100. It and Don't Think Twice, It's All Right – another Top 5 hit – spurred that year's LP In the Wind to the top spot and helped that third album win a Grammy in 1964. I Dig Rock and Roll Music and John Denver's Leaving On A Jet Plane from one of their finest albums, Album 1700 (1967), were Top 10 hits in 1967 and 1969 respectively. They were a folk phenomenon.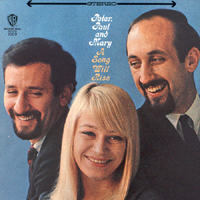 PP&M's performances entered the Anglophone popular consciousness and became karaoke staples to this day. In Britain Blowin' In The Wind reached the Top 20 in 1963, Tell It On The Mountain and The Times They Are A-Changin' the Top 50 in 1964 – earning them an appearance on the UK's foremost TV programme of the day, Ready, Steady, Go! (way cooler than the BBC's Top of the Pops) – and Jet Plane the UK Top 5 in 1970. Paradoxically, their best-known song Puff (The Magic Dragon) never did chart in Britain, yet it remains a continual source of parody and cartoon. Marlene Dietrich ducked Mary Travers' high-soaring notes on her languid Paff, der Zauberdrachen – rechristened because in German Puff means brothel – but the song remains the same.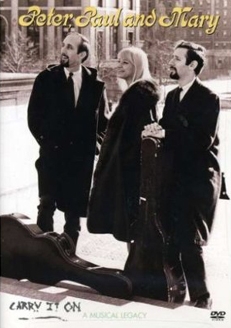 "I never wanted to be a professional singer," Travers told Barry Alfonso in an interview for PP&M's boxed set Carry It On (2003). "To me, folk music was more a social thing you did. It was great fun to sing, but it was not something I wanted to do for a living." In mid 1960 Grossman signed Yarrow initially with a view to him performing as a soloist before convincing Yarrow that in the right group he would have immediate success. Visiting Izzy Young's Folklore Center early in 1961, Grossman and Yarrow clocked Travis' picture and, even before hearing her astonishing voice, decided she was right.
At this point Travis was on the way to divorcing her first husband – a writer whose name has been struck from the historical record – with a tiny daughter and living on Greenwich Village's MacDougal Street. When Yarrow finally met her at her apartment things did not click personally or musically. Early in 1961 Grossman had tried to interest the stand-up comedian and musician Noel 'Stook' Stookey in joining this vision of a group he was attempting to put together – 'manufacture' would not be too strong a word. Stookey turned the idea down flat, only to have it reactivated about three months later when Travis rang to ask if she could bring somebody over to sing. Harmonizing on Mary Had A Little Lamb they discovered a vocal chemistry and that was how the trio's 'Paul' came to complete the line-up.
After a few months' rehearsals, they did a one-off public appearance at Folk City, then an extended engagement at the Bitter End club. Gambling, Grossman brokered a no-advance contract with Warner Bros. Records in January 1962 and by March 1962 their album was in the shops. Reviewing that eponymous début in the UK monthly magazine Gramophone, Charles Fox called them "a very well-drilled group" "sounding closer to the conventional close-harmony trio than to a folk ensemble. [T]he group must be praised for not spoiling the songs with gimmicks or jokes – as, for instance, the Kingston Trio are inclined to do." Peter, Paul & Mary's In Concert (1964) redressed any such omission by including Stookey's stand-up routine, PaulTalk.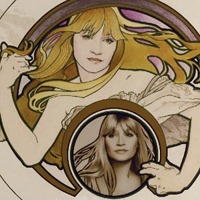 That "run-of-the-mill LP" sold over two million copies and became their calling-card. In 1963 they sang for JFK's inauguration anniversary and at the Lincoln Memorial prior to Martin Luther King giving his I Have A Dream speech. ("We knew we were listening to history," she said later. The trio toured incessantly, championed Dylan's work, played civil rights bashes and anti-war and pro-peace benefits, received bomb threats and abusive letters. Nevertheless, gradually rifts appeared, professionally and personally, leading to the decision to split in October 1970.
Stookey had become a born-again Christian in 1967 and, to the other two members' annoyance, had taken to preachifying his glad tidings from the stage. Musically, Yarrow was into "music as a vehicle for stopping the [Vietnam] war" and in March 1970 pleaded guilty to "taking immoral and indecent liberties" with a 14-year-old girl. "Terrible for the image," Travers said archly in a 1978 interview. The trio went its own ways.
Between 1970 and 1978 – when PP&M reformed – Mary Travers made five solo albums, most notably the first Mary (1971) and Circles (1974), the latter with a post-Alfons Mucha cover. After 1978 when PP&M reunited, she sang with them until 2006 when ill-health stopped her performing.
Travers' marriages to "a writer", the photographer Barry Feinstein and next National Lampoon and Spy publisher Gerald Taylor ended in divorce. "They weren't mistakes, but attempted relationships," she drolly admitted. Her daughters Erika and Alicia are from her first two marriages. In 1991 she married Ethan Robbins. She died in Danbury, Connecticut on 16 September 2009.
Paul Vitello's obituary of Barry Feinstein in The New York Timesof 21 October 2011 is at: http://www.nytimes.com/2011/10/21/arts/music/barry-feinstein-photographer-of-defining-rock-portraits-dies-at-80.html?ref=obituaries