10. 8. 2010 | Rubriky: Articles,Lives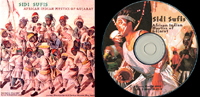 [by Ken Hunt, London] "When I met him," says Mike Heron of the Incredible String Band of Nazir Ali Jairazbhoy, "he was working at the School of Oriental and African Studies, I think. He was teaching there. How I came across him was that [Elektra record producer] Joe Boyd introduced us to odd songs and things and Robin [Williamson] suggested we might have a sitar player on Mad Hatter's Song. He actually played on Mad Hatter's Song credited as 'Soma' because he asked not to have his name used, I don't really know why. He probably had some contractual thing going. It says sitar by Soma but it's actually him."
N.A. Jairazbhoy's nom de sitar – Soma – on the Incredibles' 5000 Spirits or The Layers of the Onion (1967) derives from a Hindu holy drink and a Hindu lunar deity. If you wish to get obscure about it and the period, Soma in another context was also a track by Dantalian's Chariot on Chariot Rising (1967) – the UK band that included Zoot Money and future Police guitarist Andy Summers.
Nazir Ali Jairazbhoy, the musicologist, film-maker and musician, who died in Van Nuys, California on 20 June 2009, was more than a session musician. He had a status of sufficient stature to warrant an entry in the New Grove Dictionary of Music and Musicians. He won his inclusion by having established his reputation in ethno-musicological circles through writings, recordings and film. For example, alongside Ravi Shankar's My Music, My Life (1969), Gopal Sharman's Filigree In Sound (1970) and Reginald & Jamila Massey's The Music of India (1976), his book The Râgs of North Indian Music (1971) fed the imagination and intellectual aspirations of connoisseurs of North Indian music and aspirants alike.
Nazir Ali Jairazbhoy was born on 31 October 1927. His father, Cassamally Jairazbhoy, was a published author who, by 1916, was Vice-President of the Moslem League's Bombay Branch. His mother Khurshid Rajabally Janmohamad reflected a frequently overlooked yet major aspect of the Indian diaspora, having been born in Burma of Indian parents. Whilst his mother was pregnant, his parents were travelling and she gave birth in Clifton, Bristol. As a babe-in-arms he was taken back to Bombay. Over the course of his life, he lived in India, England and North America and taught widely, including stints in Ontario, Delhi and California, retiring from the UCLA Department of Ethnomusicology in 1994.
As a boy there he began tuition in sitar with Madhav Lal. By the time he guested on The Mad Hatter's Song, he was studying at the University of London's School of Oriental and African Studies (SOAS) – having already studied at the University of Washington with the eminent Dutch ethnomusicologist Arnold Adriaan Bake, about whom he later contributed an essay in the book Comparative Musicology and Anthropology of Music: Essays on the History of Ethnomusicology (1991).
Jairazbhoy led directly to the Incredible String Band expanding their instrumental palette. At Williamson's nudging, Heron took up the sitar and took lessons at Jairazbhoy's Northwood, London home. Although Jairazbhoy himself didn't appear on Mike Heron's Smiling Men With Bad Reputations (1971) – a musically catholic beanfeast that included such anointed guests as John Cale, Elton John, Keith Moon, Jimmy Page, Dudu Pukwana, Richard Thompson and Pete Townsend – he did recruit the south Indian musicians for the track Spirit Beautiful.
For The Râgs of North Indian Music (Faber, 1971), he obtained the services of the acclaimed sitar maestro Vilayat Khan for the first edition's flexidisc recording. Jairazbhoy's connection with the family was reinforced when, for example, he contributed liner notes to Vilayat's brother, Imrat Khan's Surbahar/Sitar (India Archive Music IAM CD 1005, 1991) featuring Raga Puriya Dhanashri.
The scholar also contributed to a number of record releases. In 1955 he recorded the primer Classical Music of India for Folkways Records (which appears to be retitled Nazir Jairazbhoy Explains the Theory of the Classical Hindusthani Music of India in the Smithsonian Folkways catalogue). Lyrichord's Folk Music of India (Orissa) consisted of recordings he had made himself during 1963-1964 and concentrated on Tribals' music from, among others, the Bonda, Paraja and Saora). In the case of Nonesuch Explorer's Classical Music of India Featuring Renowned Soloists (1969), the credit was "Annotations by John Levy and Nazir Ali Jairazbhoy"; incidentally, the "Renowned Soloists" included rudra vina player Zia Mohiuddin Dagar, the jalatarang player Chintamani Jain and the bamboo flute player Devindra Murdeshwar.
Jairazbhoy was a pioneer in the use of film technology when documenting folkways. As early as 1973, he was arguing that Bollywood film was worthy of serious academic scrutiny and study, hardly a commonly held view. He produced all manner of publications – whether print and/or audio and video – about the culture of the subcontinent. The subjects included Pakistani folk music, Rajasthani puppet theatre, the music of the Sidi people (an African diaspora people settled in India, especially in the state of Gujarat) and filmed biography about the South Indian classical violinist T.N. Krishnan amongst others.
Rather than presenting his cases as straightforward ethnomusicology, he also blurred factual and fictive elements in Hi-Tech Shiva and Other Apocryphal Stories: an Academic Allegory (1991) and in the fake documentary film Retooling A Tradition (1994). Much of his work appeared on his and his third wife, Amy Catlin-Jairazbhoy's Apsara Media for Intercultural Education.