26. 9. 2011 | Rubriky: Articles,Book reviews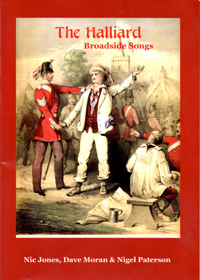 [by Ken Hunt, London] Now, it's only personal opinion. Still, hear out my theory. Every movement has its share of before-and-after benchmarks or epiphanies. They divide people who experienced them first-hand from those who got the experience passed down. On 1 June 1980, a date that shall forever remain hallowed in the annals of what we laughingly call England's Folk Revival, Topic Records released a twelve-inch, nine-track masterwork known as 12TS411 in the trade and as Penguin Eggs to the punters that snaffled it up. It is no exaggeration to say that it took the folk scene by storm, much as Dick Gaughan's Handful of Earth did the following year. The auteur of this cinematic masterpiece – certainly the songs he sang ran movies in my skull – was a 33-year-old guitarist and folksong interpreter called Nic Jones.
A since-defunct weekly music magazine called Melody Maker voted Penguin Eggs its 1980 Folk Album of the Year. In February 1982 Jones sustained near-fatal injuries in a car crash. Anyone who saw him play before the accident – and I did – is forever divided from those who never saw him perform in his heyday. No elitism intended: that is the simple nature of things. There are many people I would have loved to have witnessed perform first-hand and/or interviewed to capture the stories they could tell. That's life.
I never saw The Halliard – Nic Jones, Dave Moran and Nigel Paterson – perform live. They preceded his time as a solo artist. The songs that this group worked up however, travelled ahead of them. They "began to have a life of their own," as Dave Moran recalls in this songbook's main historical essay, snappily entitled A Short Historie of The Halliard. At one gig, he recalls, though printed words, like email emoticons, lack the ability to communicate miffed properly, the residents devoted their first set to Halliard material. The Halliard recovered to deliver a different set, only to have the club organiser tell them to "include the songs just sung by our residents in your second set after the break as they are club favourites." Robbed of your own repertoire! The club favourites and beyond that you get to here include British Man of War, Billy Don't You Cry For Me, Stow Brow, Calico Printer's Clerk and Going For A Soldier, Jenny.
Judging by this book and the music currently available on CD, I wish I had had the chance to see The Halliard between 1964 and 1968 when, as Nigel Paterson explains they were touring "almost nonstop…as full-time professionals."
Nic Jones, Dave Moran & Nigel Paterson – Broadside Songs of the Halliard Mollie Music MMSB-1 (2005, reissued without CD 2006)
For more information visit, http://www.nicjones.net/ and http://nigelpatersonmusic.com/