23. 1. 2012 | Rubriky: Articles,Lives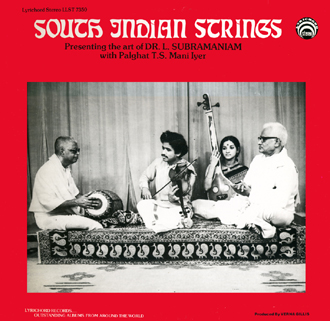 [by Ken Hunt, London] The mridangam virtuoso Palghat T.S. Mani Iyer, born 100 years ago in Palghat (the anglicised version of Palakkad) in Kerala, was one of the musical giants of the Twentieth Century. Prior to him, the mridangam had filled the subordinate time- and tempo-supporting role – the usual role of drums in both of the subcontinent's art music systems and folk traditions. He was one of a generation of musicians that changed the complexion of South Indian music.
His vision and innovation was to shift the balance, so that, in his hands, the mridangam attained a greater melodic role with phrasing that reflected the words, whether sung or unsung. He redefined the artistry of the South's principal barrel drum and rewrote the figurative book, inspiring such mridangists as Palghat R. Raghu (1928-2009) and Umayalpuram K. Sivaraman (b 1935) – and players he never met – to take his innovations and explore them further.
In 1940 Palghat R. Raghu's family moved to Palghat, specifically so he could study drumming with Palghat Mani Iyer. Recalling this, he said, "Becoming his disciple was, for me, a dream come true," In 1948 he wed Palghat T.S. Mani Iyer's niece Swarnambal, further reinforcing the ties between guru and pupil. Mani Iyer guru had begun his career in music in 1924 at the age of twelve, accompanying the vocalist Chembai Vaidyanatha Bhagavatar (1896-1974) – Chembai being a village near Palghat – with whom he would work and grow over succeeding decades.
Mani Iyer was also part of the post-Second World War artistic explosion that brought South Asian classical music to Britain and elsewhere. He appeared at the pivotal 1965 Edinburgh Festival accompanying the Karnatic principal vocal soloist K.V. Narayanaswamy with his son Rajamani as second mridangist and the violinist Lalgudi G. Jayaraman.
Mani Iyer changed the face of mridangam playing. He reinforced the realisation that the rhythmist's role could also be to colour and reflect the words as they unfolded.
Further reading
To learn more about Palghat Mani Iyer, the violinist daughter of Lalgudi G. Jayaraman, Lalgudi Vijayalakshmi's article 'A genius who redefined the art of mridangam playing' from em>The Hindu of 28 December 2011 is recommended reading: http://www.thehindu.com/arts/music/article2755328.ece?homepage=true

Ken Hunt's obituary of Palghat R. Raghu 'Palghat R. Raghu: Master of Indian percussion who played with Ravi Shankar and Alla Rakha' from The Independent of 30 June 2009 is at: http://www.independent.co.uk/news/obituaries/palghat-r-raghu-master-of-indian-percussion-who-played-with-ravi-shankar-and-alla-rakha-1724491.html
The artwork for South Indian Strings: Presenting The Art of Dr. L. Subramaniam with Palghat T.S. Mani Iyer (Lyrichord Records LLST 7350, 1981) finds him seated on the viewer's far left – image © Lyrichord.