1. 2. 2010 | Rubriky: Articles,Interviews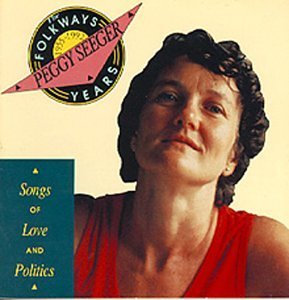 [by Ken Hunt, London] Peggy Seeger was one of people like Ramblin' Jack Elliott and Big Bill Broonzy and Cisco Houston whose records introduced Britain to an authentic lexicon of Americana. That word didn't exist in the 1950s but if it had those musicians would have pretty much defined it. In that period, as far as Cold War Britain of the 1950s was concerned, American music was a unholy trinity of the crypto, wannabe and cod. Skiffle, Britain's first youth movement, was a hugest craze but, as an American, Peggy Seeger had a head start.
By the time Peggy officially relocated to England in 1959, the folk scene was largely a young person's scene. A decade on, when I saw her with Ewan MacColl (1915-1989), every time I saw them he whiplashed me back to my schoolboy days and sitting on a form in school assembly. He had a headmasterly hauteur towards folk club audiences. That British folk scene regularly felt like two diary-keepers from opposing sides documenting a battle. One faction I understood: and the MacColl-Seeger one had nothing in common with what I was experiencing, with my life, with my music.
When she emerged after MacColl's death in October 1989, my ears felt less biased. It began with reviewing her 1992 Smithsonian Folkways anthology Songs of Love and Politics – a great record – for Q magazine and being charmed and captivated by her takes on traditional and non-traditional songs. The quality of her voice and what she was communicating lifted the latch. There were some traditional songs like Pretty Saro and Broomfield Hill. Yet it was the discovery of her own feminist observations on male conditioning such as Lady, What Do You Do All Day? and, especially, Gonna Be An Engineer that caused me to ditch my Seegerish blinkers.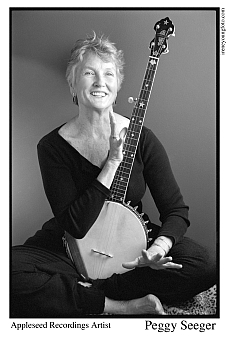 The sheer quality of what she has brought to the folk scene is incalculable. Enough of ruminating: time to let her to talk.
To kick off, I wondered how you felt the creative process has changed for you over the course of your musicianly life?
Thank God for a new question! Well, I didn't make up a song, I didn't create a song until I was about 22. That was when I was in China. [Song of the Forts] was a song that hopefully nobody is ever going to hear. It was a hopeless song. It was based on trying to express a feeling about militarism in a way that was like a political speech to music. I met Ewan when I was nearly 21 and I got very enthused with the idea of political song. His early songs were extremely direct and I think not nearly as well crafted as his later ones. I wasn't very proud of the song but I just felt it was good to have written it. Then I wrote a couple of songs that were like his song the Trafford Road Ballad and something that was like one of his marching songs for Aldermaston [the Campaign for Nuclear Disarmament march destination]. I was kinda copying other people, which I think sometimes is a necessary thing to do. I think it's a necessary thing to do in singing ballads and singing folksongs that you learn to sing as close to the people that sing with the intentions of the creators of the songs – of course if that's possible – and then you go your own way. Copying things, I think, was very important. I learned to put new content into an old form.
In early days I put an awful lot of words into the songs, especially the feminist songs. I think the development of the creative process, for me, has been influenced by Ewan MacColl, by the traditional songs, by my knowledge of classical or formal music. The last has been really useful for me in the offbeat pieces that I've done, as on my songs for the 2004 one [Peaceful Woman, Fighting Hard]. The accompaniment for the Bush song was great such fun. I have a wonderful time performing that because I can hit any note on the piano, so long as I can resolve it in a way that my voice can come back up to. It's a kind of plagiarism of a traditional song.
Then I had my partner Irene who said, 'Be more human in what you do.' Ewan had 'more human' in his songs probably than I did. I just hadn't worked it out. Some of the humour that I used was borrowed directly from cartoons, from jokes, from other people's words. I 'plagiarised' terribly.
Who doesn't?
I try to acknowledge it when I do it. All these things have fed into what is essentially a media-trained person. It's been an absolutely wonderful journey. I'm beginning to plot my next move. What I'd like to do is create songs that I can sing on political platforms. My voice is not strong and many of the songs I've made have been too complicated.
What do you mean by that exactly?
I've never been good at actually performing on political platforms. I don't sing well actually standing up for a start. My voice is not strong. And many of the songs that I've made are too complicated to sing like that. I will probably remake my song, No More, No More, No More about Nelson Mandela. It needs words that people can use and remember. That's what I want to do.
This creative process that you're going through right now, when it comes to the delivering of songs, is that to do – though I'm loath actually to use the analogy – with the smoothing away that occurs with years?
A tone of voice adds an awful lot, an added dimension to the meaning of words. I write songs for singing, not the singer. You can write a song on paper but unless you sing it, you won't realise it. Writing in short sentences if you're going to read it out over the radio where people don't have the benefit of lip-reading is important. So it's important in something that is spoken to not be too complicated unless you're going to speak very slowly. In a short sentence you can use a long word.
The creative process, as far as I'm concerned is one of adding one creative thing on top of another. And also going back to original inspirations. One of the songs I've been performing is The Judge's Chair about abortion. I created that literally like a traditional ballad. Literally. I used all the ways of a traditional ballad. It's made of their strength.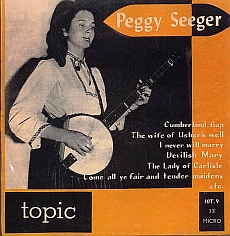 How do you mean that?
There's a whole stack of things that happen to ballads that don't happen in other types of songs. Things like: they jump into the middle of the action; scene changes are no heralded by any logic; you get incremental repetition, repetition of a motif, of an idea, each time with slightly different circumstances; non-judgemental attitudes. There is a whole stack of things that people recognise in a traditional ballad. These are things that people somehow recognise in the cultural genes that are handed down to them. Maybe it's inherent in the language, I don't know. Ewan used that in The Ballad of the Carpenter [the alternative name for The Ballad of Jesus Christ in the 1957 BBC radio broadcast, released as Sing Christmas and the Turn of the Year (Rounder, 2000)]. I consciously use that.
In Song of Myself you lay down your history and you talk about journalists asking you the same questions over and over again.
I get sick of it. God, you get sick of it! It's like they have to hear you say what they have read already. You hear it on the radio in interviews. The interviewer asks a question and then you 'so and so and so'. The person says, 'Oh yes, I did that.' There's got to be a better way of interviewing people against past events. Why not just give a capsule? Born so-and-so. Parents so-and-so. Took up the banjo. Now tell us about who you really are. And get deeper in, quicker.
There's so much small talk with interviews. Often now I will say I don't want to spend more than five minutes on family, Pete Seeger and Ewan MacColl. Let's talk about who I am now! They can read about that anywhere. Send them to the website if they're really interested. But do we really have to give everybody encapsulated information? When what we really need to share is feelings, responses, attitudes, quirky things.
Maybe things that are not quite as favourable to you as a person but which take you off the pedestal. You can say, OK, this person may be special here with what we're talking about, but. Sure, I shit, I fart, I pick my nose, I do this, this, this. Other people can feel, 'Gosh, we're all in this together.'
The website to be sent to: www.pegseeger.com
Not to be confused with that of Irene Young whose 2004 portrait of Peggy Seeger from Peggy's website appears above: www.ireneyoungfoto.com
Small print
Unless otherwise stated, all interview material is original and copyright Ken Hunt.