5. 2. 2014 | Rubriky: Articles,Lives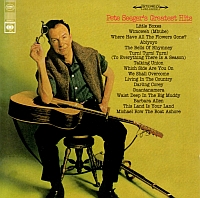 [by Ken Hunt, London] In person Pete Seeger was, much like you'd imagine, physically pretty spindly, pretty lanky but with a muscularity. Born on 3 May 1919 in Manhattan, he had an air of another era about him. He had a personable gentlemanliness quality, if it doesn't sound too foolish, a real Pete Seeger-ness to him.
The obituaries will rightly talk about his lion-heartedness facing down the House Un-American Activities Committee in 1955, blacklists and censorship, principles and running the gauntlet because of his involvement in the Civil Rights movement, his antiwar stance, his ecological activities and so on. There will be talk of songs such as Where Have All The Flowers Gone, Turn! Turn! Turn! (To Everything There Is A Season), We Shall Overcome and his antiwar parable Waist Deep In The Big Muddy. There was also the matter that he married Toshi, a woman of Japanese-American extraction, in 1943, at a time when the United States was beset with anti-Japanese fever.
In 1998 he was at a wedding in upstate New York. He had hunkered down with his banjo and John Herald had his guitar and they were leading a rough-and-ready jam session in the small marquee. The temperature dropped and a downpour came and the tent thinned out. A young man with a guitar sat facing Pete and he played something. Pete paused him, complimented him and asked him to show what he had just played. The young man with the guitar practically levitated with pride afterwards, like it was one of those tell-the-grandchildren experiences. That was Pete Seeger-ness personified. He radiated kindness, energy and engagement. He showed another side as the rain continued. When Toshi called him in, in a 'Yikes!' moment, he cocked a deaf ear and pretended he couldn't make out what she was saying. And played on.
He died at the not-for-profit, non-sectarian New York-Presbyterian Hospital on 27 January 2014. Toshi Seeger died on 9 July 2013.