25. 7. 2011 | Rubriky: Articles,Live reviews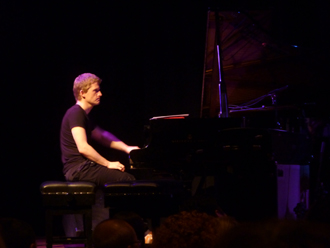 [by Ken Hunt, London] Nigel Kennedy's late May 2010 flourish, his Polish Weekend at the Southbank Centre, brought together an array of Polish jazz and musical talent that included Kennedy's Orchestra of Life (playing Bach and Ellington), Robert Majewski, Anna Maria Jopek and Jarek Śmietana. Tucked away in the early Sunday afternoon slot was the Piotr Wyleżoł Quintet. A relatively recent development, aside from the band's pianist-leader, it comprised Krzysztof Dziedzic on kit drums and Adam Kowalewski on double-bass, their fellow countryman Adam Pieroeńczyk on soprano and tenor saxes and the Czech Republic's David Dorůžka on electric guitar.
The concert began over half-an-hour late because Kennedy, who wanted to emcee their appearance, arrived late. His brief, laddish introduction managed to shoehorn in two lessons in bad manners. His affable excuses in Polish and English sounded more 'adorable me' than apologetic. Next, he failed to mention Dorůžka and Pierończyk while individually introducing his Nigel Kennedy Quintet band-mates.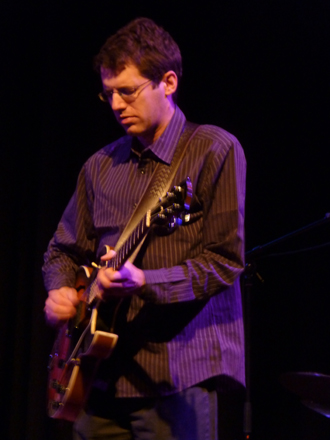 The Piotr Wyleżoł Quintet already had a CD release, Quintet Live – a concert affair recorded at Polish Public Radio's Katowice studio – under its belt. Yet at times elements within the band seemed under-prepared or as if their minds were elsewhere or wandering. During Dorůžka's opening composition Was This The Last Time?, Pieronczyk finished adjusting his soprano's mouthpiece nano-seconds before his break; when Dorůžka tapped him on the shoulder, it hadn't looked like cliff-edge timing, more like away with the fairies. Over Nicholas Patou, Dr. Holmes, Snake and Els Gats, the quintet's strengths and weaknesses emerged.
In the Purcell Room, Dziedzic's kit cried out for another cymbal so he could quietly ride the rhythm. And while democratic divvying-up of solos is laudatory, few added much to the journey, to the narrative's unfolding. Wyleżoł and Dorůžka's were the prime exceptions. Next time, more eye contract, greater interplay, more preparation and closer ensemble playing.
Small print
The images of Piotr Wyleżoł and David Dorůžka are © Santosh Sidhu/Swing 51 Archives.
David Dorůžka's website is at: http://www.daviddoruzka.com/ Piotr Wyleżoł's appears to be under construction at http://www.piotrwylezol.com/

Note
This review was originally commissioned for Jazzwise but fell victim to the magazine's austerity measures. Dorůžka is the grandson of the eminent jazz critic Lubo Dorůžka and favourite son of Petr Dorůžka of this parish.