10. 2. 2010 | Rubriky: Articles,CD reviews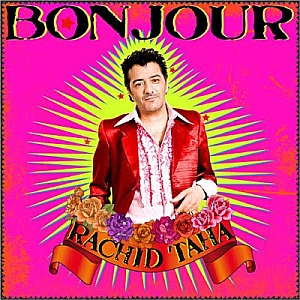 [by TC Lejla Bin Nur, Ljubljana] Bonjour (Barclay/Universal, 2009) is Rachid Taha's eighth studio album since he started on his solo path in 1990. During this time he had released at least two Best Ofs, a hefty pile of remixes, extras & vinyl for collectors and a few concert albums and projects, notably the world-wide resounding success 1, 2, 3, Soleils with Khaled and Faudel in 1998. Before all that, way back in 1980's, he also recorded about two and a half albums with his band Carte de Sejour. To sum up, he's come a long way and produced an opulent harvest of quality music that dexterously evades genre labels; in his melting pot he brews rock welded to electro, wrought with music of the world from just about everywhere, obviously and particularly North Africa – all together often encrusted with pop glitter and sometimes even permeated with its essence. After his masterpiece Made in Medina (2000), the coarser Tekitoi (2004) and both his own rootsy compositions on the cover album Diwan 2 (2006) it seemed that this roseate sugar encrustation more or less has fallen off for good in the ripe maturity epoch of master Taha. However, last autumn, a little before All Saints, he struck again with new, screamingly roseate album Bonjour, its soundscape jingling with a wide variety of cheap sweetmeats.
Album Bonjour wasn't produced by Taha's long term collaborator Steve Hillage, the producer of most of Taha's previous band and solo opus. This time, the producers are New Yorker Mark Plati (who has collaborated with, among others, David Bowie, The Cure) and Gaetan Roussell, the leader of the well known French band, Louise Attaque. Roussell also wrote the music and some of the lyrics for the title song Bonjour, composing three more songs in collaboration with Plati and of course with Rachid Taha, the author of the majority of the music and lyrics. Also new is the ample team of various musicians that recorded this album with Rachid Taha at studios in Paris and New York; only mandolute master Hakim Hamadouche remains from former albums and live performances.
Rachid Taha claims that he gathered this fresh team with a purpose, to bring a new wind to his new album, however (in my opinion) that wind blows from the stifling port and stuffy shopping centre of a Megapolis, not from the spacious seascapes and airy deep spaces of the universe. The rhythms are less interesting, a bit monotonous. Here and there they don't agree and sometimes come to blows. The same goes for a myriad of various sounds and sound crumbs as well as for the Rachid Taha's proverbial marriage between Euro-American and North African popular genres; as far as we can even still talk about the latter. Rachid's vocals are rather straight and one-sided, less multiple, more or less not taken advantage of enough in all its expressive potentials (such as onomatopoetic sounds), probably because the producers don't know him well enough to know exactly what to do with his voice. And yet Bonjour is still, despite the annoying bits and pieces, punctuated with rare outstanding moments, a solid product of contemporary popular music with Taha's distinctive beyond-genre flavour.
Taha's selection of 10 short pieces (allegedly radio friendly 3 to 4 minutes) starts with the love-pleonasm Je t'aime mon amour (I love you my love) and continues with the story of the homeless tramp Mokhtar which offers a hand to Ha Baby, a statement of universal love, which bounds into the title-song Bonjour which claps hands with North African rap Taha style, Mine jai (Where are you coming from). This one goes on into the birth of humanity Mabrouk aalik (Congratulations) which spills onto otherwordly Ile liqa (See you soon), followed by It's an Arabian song, a duet with French singer and Taha's old pal Bruno Maman, with whom he also wrote the music, while Rachid's lyrics are short: "Good is better than evil. Never forget." The penultimate track, Selu (Ask) with its solid drive, is a tribute to all great minds, the phrase "ask angels" (selu el maleika) is also a wordplay with title-song Bonjour or Salam aleikum. At the end the circle comes around and fastens the way it was opened, with the sensuous and sensitive love lure Agi (Come).