5. 6. 2009 | Rubriky: Articles,Live reviews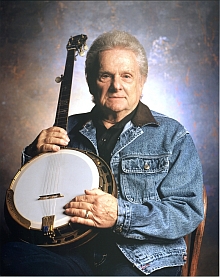 [by Phil Wilson, London] Dr. Ralph Stanley – as he's proud to be called these days – isn't someone you'd necessarily describe as '82 years young', but he's still in great form. There was a precautionary chair on stage at the Barbican, but he only draped his jacket over it, and even for the band members' solo numbers and the instrumentals he remained standing and merely stepped back to allow them the spotlight.
Most of the musicians – Dewey Brown on fiddle, Steve Sparkman on banjo and James Shelton on guitar/vocals – have been with Stanley for at least 15 years, so there's a camaraderie on stage that softens any well-oiled routines. Long-time bass-player Jack Cooke was absent with pneumonia but Audey Ratliff slotted in nicely although Ralph was also clearly missing the presence of his guitar-playing grandson Nathan Stanley on the trip.
The band came fresh from their annual Bluegrass festival at the old Stanley homeplace in Virginia, so Ralph apologised for the slight hoarseness of his own voice after three days' constant singing but his choice of material more than compensated.
All of the musicians are useful singers and Stanley's penchant for gospel (about one third of his recorded repertoire) is natural. They included old favourites like I'll Fly Away, Angel Band and a wonderful version of Amazing Grace. The last was done as a vocal quartet in what he explained was "lining out" style – based on a preacher/congregation responsorial style – where the leader sings the line quickly and the singers repeat it in harmony at normal tempo.
Their set opened and closed with the classic instrumentals, Lee Highway Blues and an excellently fiddled Orange Blossom Special – but it was Ralph's solo performance of the Dock Boggs classic O Death and the inclusion of many old time mountain songs and ballads that made this evening special. Not only Man Of Constant Sorrow, which he introduced as having been good to him over the years (and which he said he'd first heard his father sing at around 12 or 13), but also personal favourites like Little Maggie and Pretty Polly. Wonderful stuff.