2. 9. 2008 | Rubriky: Articles,Lives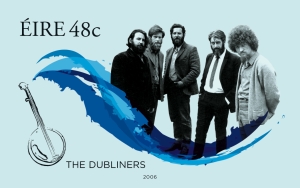 "Here's to the Ronnie, the voice we adore
Like coals from a coal bucket scraping the floor
Sing out his praises in music and malt
And if you're not Irish, that isn't your fault" – The Ballad of Ronnie Drew
[by Ken Hunt, London] In November 2006 An Post – Eire's Post Office – issued a set of four commemorative stamps with portraits of The Clancy Brothers with Tommy Makem, The Dubliners, The Chieftains and Altan on them. Each group added something special to Ireland's appreciation of its own musical heritage and in turn to the wider world's appreciation of Irish music. But there was never a folk band to compare to the Dubliners – the Chieftains were quite different – and in his prime Ronnie Drew's voice was contender for the most distinctive in Irish music.
Born in Dún Laoghaire, Co. Dublin on 16 September 1934, the folk musician, singer and actor Ronnie Drew was a founding member of the Dubliners. Aged 27 he landed back in Dublin after having worked as an English-language teacher in Spain for some years. He fell in with a crowd that hung out at O'Donoghue's pub in Merrion Row. (O'Donoghue's features prominently in the annals of Irish folk music, but that is a tale for another time.) A band coalesced, initially under the name of the Ronnie Drew Group. With Joycian reinvention they jettisoned that name – much to Drew's delight – and assumed a new name based on Luke Kelly's current reading matter, James Joyce's 1914 book of short stories, The Dubliners. As a name it sang a sense of regional identity and was both liberating and joyful.
What Ciaran Bourke, Ronnie Drew, Luke Kelly and Barney McKenna created together wasn't so much a formula as a musical template. Over the next years there would be comings and goings but one of the most important characteristics of the early line-up was the contrasting vocals of Luke Kelly and Ronnie Drew. On their 1964 Transatlantic album (reissued by Wooded Hill Recordings, 1997), Drew's voice on Love Is Pleasing is like a jackdaw creaking and chuckling across a clear blue morning sky. It was quite different to Kelly's on Rocky Road To Dublin or Bourke's on Jar of Porter.
Talking about the Dubliners after Drew's death, Jenny Barton, who had run the Troubadour club in London's Earl's Court district during its 1960s heyday, laughed as she told me, "They weren't always on time, they weren't always sober." But their music was powerful. And there was no band to match them on the British or Irish folk scene.
The Dubliners recorded extensively but one of their defining pieces was the folk novelty hit Seven Drunken Nights. It had once appeared in Francis James Child's orderly tallying of Anglo-Scottish balladry as Our Goodman. By the time the Dubliners released it, it had been shorn of a couple of nights. It was the heyday of offshore pirate radio – before the Marine Broadcasting Offences Act of 1967 put paid to stations such as Radio Essex, Radio London and Radio Scotland. Radio Caroline just played the 45-rpm single over and over again. Indeed so repeatedly that it was plain that Major Minor – the record company – was 'subsidising' their playlist. The Dubliners had shifted to Major Minor after Dominic Behan had effected an introduction. We didn't know the word payola back then in Europe.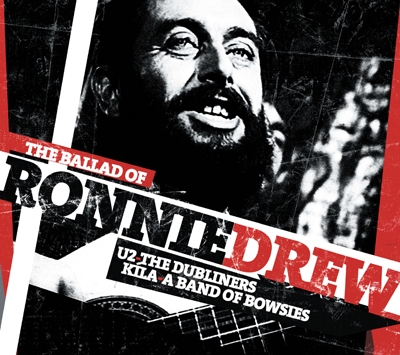 In Eire, RTÉ banned Seven Drunken Nights because of its bawdiness, though the ribaldry was more Carry On… film innuendo and hype than bawdiness per se. Still, as Jane Birkin and Serge Gainsbourg and the Sex Pistols would later learn and demonstrate, banning doesn't necessarily kill sales. Seven Drunken Nights and Black Velvet Band were both hits in the UK. Drew's time with the Dubliners was split between two periods: 1962 and 1974 and 1979 and 1995. Interestingly, the Dubliners and the Pogues went on to enjoy a minor hit with The Irish Rover – interesting because there was a sense of camaraderie across the generations with the two groups. Drew collaborated with many people but his collaborations with the ex-De Dannan singer Eleanor Shanley must be mentioned.
In addition to making music and mischief, Drew acted in theatre, film, television and revue. He came up with Ronnie I Hardly Knew You – a revue that toured internationally in the 1990s. The revue went to, amongst other places, Scotland, the USA, Hungary, the Czech Republic and Israel. It drew on folksong and the words of Brendan Behan (in whose Richard's Cork Leg he had acted in the 1970s), Joyce (naturally), Patrick Kavanagh and Sean O'Casey.
In January 2008 members of U2, Kila, the Dubliners and the Band of Bowsies went into Windmill Lane studios in Dublin to record a tribute song to Drew called The Ballad of Ronnie Drew. It was co-authored by the former Grateful Dead lyricist Robert Hunter, U2's Bono and The Edge and Simon Carmody. 'Bowsies' is a Hiberno-English, that is, Irish-English, word connoting a disreputable drunkard or drunken good-for-nothing. Among the people who took on this affectionate moniker were Moya Brennan, Andrea Corr, Shane MacGowan, Christy Moore and Sinéad O'Connor. The song's profits went to the Irish Cancer Society and it topped the Irish charts. In 2006 Drew had been diagnosed with cancer of the throat.
Ronnie Drew died on Saturday, 16 August 2008, in Dublin, at the age of 73. His obituary appeared the next Monday in The Daily Telegraph, The Guardian, The Independent and The Times in the UK – and that is no mean feat. At his funeral service in Greystones, Co. Wicklow, Phelim Drew came up with a telling anecdote about his father. According to Kathy Sheridan in The Irish Times of 20 August 2008, it concerned Michael Flatley allegedly making a million whatevers a week. "'What would you do if you earned a million a week?' Ronnie was asked. 'I'd work for two. And then I'd stop', he said." Well, amen to that. "He was," laughed Jenny Barton, "a hell of a character" – and on that score nobody could disagree.
Dedicated to Gill Cook (1937-2006)
For information of various sorts about The Ballad of Ronnie Drew, visit http://www.cancer.ie/news/ronnie_drew_song.php and watch the video at http://www.u2.com/highlights/?hid=437