12. 3. 2009 | Rubriky: Articles,Lives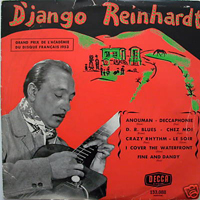 [by Ken Hunt, London] One of the great European jazz musicians of the Twentieth Century died at the age of 81 on 20 February 2009 in Hoei (Huy in French) in the western Belgian province of Luik (Liege). The Belgian multi-instrumentalist, arranger and composer Sadi, actually Sadi Lallemand (he took Sadi as his name because he didn't like something about the sound of his surname), linked many post-war developments in jazz and popular music.
Born in Ardenne in the northwestern Belgian province of Namen on 23 October 1927, he was drawn to jazz through hearing Louis Armstrong on record as a boy circa 1938 and, his musicality stirred, he took up the vibraphone, the instrument with which he was particularly associated, in 1941. During the German Occupation he built up his playing and was good enough to get work on the lucrative US military base circuit after the end of hostilities. After the War he also played with various Belgian bop bands.
In due course he moved to Paris – one of the post-war magnets for jazzers and especially expatriate black US jazz musicians. From 1950 he found work there in the city's thriving jazz clubs and played alongside top names such as Kenny Clarke, Sacha Distel, Stéphane Grappelli and Django Reinhardt. Sadi played on Reinhardt's last Decca sessions on 8 April 1953. The session comprised, Charles Delaunay wrote in his early biography Django Reinhardt, Le Soir ('The Evening'), Chez Moi ('At [My] Home'), I Cover The Waterfront and Deccaphonie. Soon after Reinhardt was dead. The guitarist died at Samois-sur-Seine, near Fontainebleau in France on 16 May 1953.
Sadi, also nicknamed Fats (for example, on the Reinhardt session), was extraordinarily versatile and also played in orchestral settings, notably the orchestra of Michel Legrand and after his return to his Belgian homeland in 1961 with RTB (Belgium's equivalent of BBC), Henri Segers Orchestra and the Kenny Clarke-Francy Boland Big Band. He recorded as a soloist and bandleader in his own right from 1953 for Vogue, Manhattan, Polydor and Palette.