7. 8. 2009 | Rubriky: Lives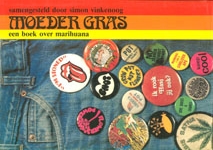 [by Ken Hunt, London] The Dutch counter-culture poet, writer and painter Simon Vinkenoog died in Amsterdam on Saturday, 12 July 2009, a few days before his 81st birthday. Born on 18 July 1928 in Amsterdam, Vinkenoog was the child of a lone parent family raised in the De Pijp part of Amsterdam's Oud-Zuid (Old South) district.
As a writer, he became part of the Netherlands' post-war flowering of small literary titles, editing the short-lived magazine Blurb followed by the bloemlezing (anthology) Atonaal – a manifesto of intent of the literary collective self-styled 'atonal poets' known as the Vijftigers (50ers). Coinciding with this Dutch and Belgian (Flemish) movement's emergence, from 1948-56 he lived in Paris – as ever a literary magnet of a place but especially then in the post-Second World War years. He was very much a reflection and an advancement of the times.
In the 1960s he was part of the new wave of writers influenced by what was going on around them. For example, he wrote about LSD and made his first record with the Dutch singer Frank Boudewijn de Groot, collaborating on the single Captain Decker b/w Steps Into Space. In June 1965 he appeared at London's Royal Albert Hall in the glad company of Gregory Corso, Lawrence Ferlinghetti, Allen Ginsberg, Christopher Logue, George Macbeth, Adrian Mitchell, Alexander Trocchi and others.
His works ran from Wondkoorts (1950) via Jack Kerouac in Amsterdam and Moeder Gras (both 1980) through the Ginsy-inspired Me and my peepee (2001) to Am*dam Madmaster (2008). In the Noughties he collaborated on disc with Spinvis, the one-man-band on Ja! (2006) and 2000-copy limited edition Ritmebox (2008). He also campaigned for the legalisation of cannabis. Superlatively, without stooping to Dutch cliché, from 2004 he was the Netherlands' Dichter des Vaderlands ('Poet of the Fatherland'), equivalent to Britain's Poet Laureate.
Further reading: http://www.iisg.nl/collections/vinkenoog.php