31. 1. 2011 | Rubriky: Articles,Lives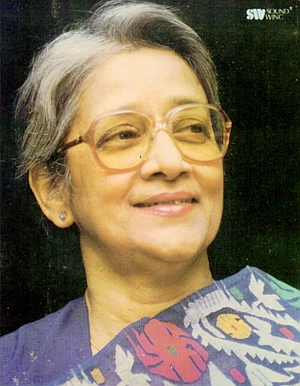 [by Ken Hunt, London] The Bengali singer Suchitra Mitra died on 3 January 2011 at her home of many years, Swastik on Gariahat Road in Ballygunge, Kolkata. She was famed as one of the heavyweight interpreters of the defining Bengali-language song genre form called Rabindra sangeet – or Rabindrasangeet (much like the name Ravi Shankar can also be rendered Ravishankar). 'Rabindra song' is an eloquent, literary, light classical song form, derived from the name of the man who 'invented' it, Rabindranath Tagore, the winner of the 1913 Nobel Prize for Literature.
Tagore's songs helped define Bengali and Bangladeshi culture and identity – and importantly pan-Indian culture – in the years before the dissolution of the British Raj and afterwards. He died in 1941 and it was a cause of immense regret that she began her studies at Tagore's Santiniketan – meaning 'abode of peace' – days after his death without having met him. However, she did study with some of the illustrious, next-generation exponents of the form in situ.
Although Suchitra Mitra will be remembered as one of the greatest ever interpreters of the Rabindra sangeet song form, she was massively important for her championing of Tagore as a cultural icon – for once the cliché 'cultural icon' is justified. She danced in Rabindra Nritya Natyas – his dance dramas -, taught and wrote about him and his works. She became one of the great authorities on him and his art.
She was born in what was then known as Central India Agency in British India on 19 September 1924. At the time her mother was on a train and for some reason was too preoccupied to note where exactly.
Regrettably the photo copyright information and the photographer's name are unknown. We will correct this and/or remove the image when known.