7. 5. 2010 | Rubriky: Articles,Lives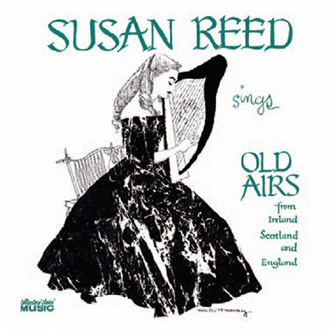 [by Ken Hunt, London] Folk music everywhere goes through changes of style and presentation. Little is immune to change. That applies whether we are considering traditional or revivalist forms. After all, everything starts from somewhere before going somewhere else. Very little is fixed in a stone. The US folksinger Susan Reed, who died on 25 April 2010 in Long Island, New York State, had a relatively short-lived but important part to play in the East Coast folk scene of the second half of the 1940s into the 1950s.
Born Susan Catherine Reed in Columbia, South Carolina on 11 January 1926, she grew up in a theatrical family. Her father, Daniel was in the film industry while her mother, Isadora was a theatrical publicist. From an early age she and her brother Jared – three years her senior – imbibed folk music and folklore the way that many left-leaning families did but they also came into contact in person with the likes of folklorist Carl Sandburg, whose influential The American Songbag was published the year after her birth.
Susan Reed became a folksinger in the then-current American mode. She never had folksong in her blood like her later Elektra label stablemate Jean Ritchie of the Singing Ritchies of Kentucky, but was not the point. She was projecting something else, something more citified, whether she was singing American folksongs or Irish songs gleaned from members of Dublin's Abbey Theatre Company. By the time she gave her major public debut at NYC's Town Hall in 1946, she had several years of experience when it came to singing in public in clubs, churches and, like Austria's Trude Mally, for the war-wounded.
She recorded a flurry of albums, including Folk Songs for Columbia Masterworks (a 12-inch album on the other side of which were 7 Songs of the Auvergne taken from Joseph Canteloube) and I Know My Love for RCA Victor. She also became an early member of the Elektra roster alongside Jean Ritchie, Ed McCurdy, Cynthia Gooding, Oscar Brand and their kind – a prelude to its folk explosion in the early to mid Sixties with Judy Collins, Tim Buckley and their kind. Jac Holzman bows to bollocks (cliché) and calls her "an art singer with a silky voice kissed by Irish mist" in Follow Me Down – The Life and High Times of Elektra Records in the Great Years of American Pop Culture (1998).
As folk became a four-letter word in the 1950s, she came under scrutiny of the US authorities and, like Pete Seeger and the Weavers, found herself blacklisted. These events coincided with her style of folk music losing its popularity. Increasingly, she was relegated, like Richard Dyer-Bennet and John Jacob Niles to a folk hinterland, once the new wave of 'more authentic' performers blew into town and onto the airwaves. If only they had been of the calibre of Jean Ritchie! When the bubble burst, Susan Reed did other singing and moved on. She also ran an antique shop in Nyack, NY.
But the next time you hear or sing Black Is The Colo(u)r, Go (A)'Way From My Window, If I Had A Ribbon Bow, (S)He Moved Through The Fair or Must I Go Bound, remember others went before.