6. 1. 2016 | Rubriky: Articles,Book reviews
Scott Barretta (editor)
Scarecrow Press
ISBN 978-0-8108-8308-6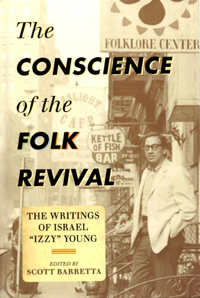 [by Ken Hunt, Berlin] This fascinating gathering of writings from Israel G. Young appeared in 2013. The elder of two sons born to Polish Jewish parents in March 1928 on Manhattan's Lower East Side, he reveals himself as a clear-sighted and sometimes curmudgeonly commentator, catalyst and chronicler of the New York folk scene. (California and Europe barely get walk-on parts.) Izzy Young gravitated to New York's nascent folk music scene via the square dances of the left-leaning American Dance Group. He attended his first dance during the winter of 1944/45 and soon joined
the American Square Dance Group under the sway of its leader Margot Mayo. In February 1957 he obtained the lease on a property at 110 MacDougal Street in Greenwich Village that not long after opened as the Folklore Center. Later it moved to 321 Sixth Avenue.
The accounts here reveal the Folklore Center as a marvellous abode of folk music and deeply flawed finances. Part store and bigger part folk drop-in centre, Bob Dylan's (unrecorded) Talking Folklore Center (its manuscript looks like it barely survived Gettysburg) described its unique non-selling proposition: "You don't have to buy anything/Do what everybody else does/Walk in, walk around, walk out." Soon Izzy Young was putting on gigs there by the likes of local talents Oscar Brand, Sonny Terry and Brownie McGhee and the New Lost City Ramblers. Later, under the aegis of the Friends of Old Time Music, the Folklore Center put on a welter of blues, bluegrass and folk acts. (One rationed-to-one list might opt for Mississippi Fred McDowell, Bill Monroe and Clarence Ashley.). Still later he put on bubbling-under talents of the calibre of Tim Buckley, Joni Mitchell and Patti Smith. In May 1973 Young relocated to Sweden and founded the Folklore Centrum ("dedicated to Swedish folk music and dance") in Stockholm – a subject outside this anthology's orbit.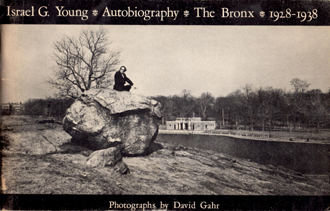 Scott Barretta's selections gather together a body of little-known published materials. This category includes Young's writings for short-life periodicals such as Caravan, the Folklore Center-Fretted Instruments Newsletter and the Philadelphia and Newport folk festivals. Naturally, his influential Frets and Frails column in Sing Out! figures prominently (Frets and Frails superseded his newsletter Folk Music Guide * USA in 1959 before petering out in 1969). Alongside this material is an assortment of hitherto unpublished writings from diaries, notebooks, interviews and sundry drum-bangings. Some content is newsy, freeze-framing points in time. Some insights and observations about Joan Baez, Bob Dylan, part-hero, part-b©te noire Alan Lomax, Ewan MacColl and Peggy Seeger and the New Lost City Ramblers might well blow you away. Some targets remain as pertinent today as the day he delivered them. One recurring theme is rights-grabs to do with song copyrights. Try the unpublished 1997 paper, Folk Music and Copyright, Lomax and Leadbelly for size. There are occasions when the absence of a sic or an editorial aside or intervention throws up twitches. Nevertheless, Izzy Young's writings also nail a number of floating folk quotes that long ago lost their attributions.
A romp of a read, as the lost-for-words reviewers say when reviewing popular fiction.
PS And one he made earlier: Autobiography – The Bronx.