17. 10. 2011 | Rubriky: Articles,DVD reviews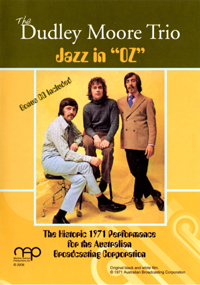 [by Ken Hunt, London] There are many reasons for pulling faces and putting on accents. And Dudley Moore excelled in doing both. In this hour-long, black-and-white, Australian Broadcasting Corporation show, first shown in 1971, Moore runs through a gamut of facial contortions and thespian gazes and a range of 'his voices'. He brings his Pete & Dud voice – reminding that even when continents separated them physically, Peter Cook was beside him in spirit – to the piano.
He subjects material such as his own hamming-about novelty Madrigal, the souped-up Lieder duet of Die Flabbergast and, naturally, his and Cook's valedictory song Goodbyee to various forms of falsetto screech. Revealingly (for cub psychoanalysts in the readership) he adopts somebody else's voice in the spoken introduction to his first-rate composition 'Chimes'. Always a good distancing gambit, psychologically speaking.
Frequently with music DVDs any CD audio-counterpart is little more than a cheapo bonus duplication. In the case of Jazz in "Oz" the CD generally allows the listener to filter out Moore's visual distractions to concenhtrate on the music. For example, from the laughter that ripples through the Saint-Saëns/Moore The Swan the 'blindfolded viewer' knows that there's a whole lotta muggin' goin' on. Setting aside the matter of hilarities – and the humour is way removed from jazz-bo' comics – the trio's jazz, for example, on Strictly For The Birds, is definitely of the era. While Moore, Pete Morgan on double-bass and Chris Karan on kit drums dip into the Great American Songbook on The More I See You, Moon River and The Look of Love – and shine on their lustrous melodies – what emerges is the strength of Moore's own jazz-veined compositions. A prime example is Chimes. Once the comicality of the visual introduction is stripped out, you know he isn't playing it for laughs. The two versions combine like the accounts of witnesses who saw something from different vantage points. Both show what editing and angles can add or subtract.
A very British, period artefact.
Jazz in "Oz" Martine Avenue Productions MAPI – 2665 (DVD and CD set), 2008
More information at the official Dudley Moore website: www.martineavenue.com