26. 6. 2008 | Rubriky: Articles,Live reviews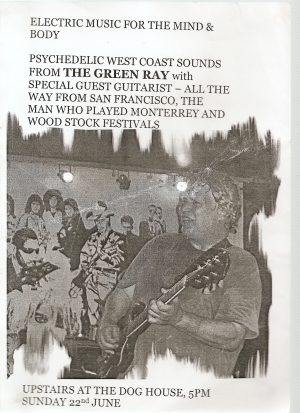 [by Ken Hunt, London] Don't you just love the thrill of unpublicised gigs? So long, that is, that the act delivers music worthy of the buzz and you attend. This nicely semi-secret Green Ray gig ticked all the boxes and more. The Dog House announcement just promised "psychedelic West Coast sounds" and an unnamed "special guest guitarist – all the way from San Francisco, the man who played Monterrey and Wood Stock Festivals". Yup, two spelling mistakes in 18 printed words. The Green Ray are still improvising and pursuing that ol' psychedelic Grail. Were they an American band they'd probably get saddled with the description 'jam band'.
To say that the gig was unpublicised is bending the truth. A little. Its 'publicity' had a word-of-mouth or -email samizdat feel to it, worthy of the Plastic People of the Universe in their publicity-avoidance days. The A4-sized announcements downstairs in the Dog House were nicely grainy in a degraded photocopy way. Before the gig, scheduled for a civilised five in the afternoon, began and the upstairs room filled, the aforementioned "special guest guitarist" chortled in conversation how this one was "unannounced and unpaid". And since this is the internet crawled over by search engines, let's drop mystery and mystique into the compost bin of time. The guest was Barry Melton.
Thwarting expectations, two singer-songwriters opened with a calling-card set apiece. David Ferrard and his guitar opened the afternoon's proceedings. Like Kim Beggs who followed, he was an unknown quantity for me. That unknown quantity quality extended to his speaking and singing voice, though his clarifications about his family background, life lived in Scotland and the USA and more explained his accent. Anyway, his accent is American and he took his set from his Broken Sky (2008) album. His opening song was Visions of Our Youth. It was – indeed is – an observational reflection on activism and, while one may smile and nod along in agreement, it is not a song to leave the venue singing. Sets such as this are snapshots. One Hell of a Ride, the concluder, felt little more than a rhyme scheme lassoing a melody, the stuff, without being too uncharitable, that fills out sets. Hills of Virginia may have an unmemorable title but the subject matter renders it second cousin to Utah Phillips' Green Rolling Hills of West Virginia. In Utah's song the miner looks back to what once was. In Ferrard's song "the hills of Virginia" are a counterpoint to a tour of duty in Iraq. The tour gets extended – prompting the ironical money-line: "But then we were told/'Some of you here will be here for years/Better treat it like home.'" (A live version of the song is also on the Stop The War Coalition's Not In Our Name in the good company of performances from Dick Gaughan, Robb Johnson, Amy Martin, Leon Rosselson and David Rovics and specially recorded, exclusive stuff from Roy Bailey & Martin Simpson and Jim Page.) The song that stuck the most was Dmitri's Pocket Radio, a tale of an illegal immigrant to England turned asylum seeker. It even has a happy ending outro, the only part of the song that didn't work for me.
Kim Beggs' speaking and singing voice is decidedly Canadian. Stylistically speaking, her music falls between Canadian folk and country – a wide, vast territory that Ian & Sylvie first opened my ears to. Statistically speaking, most of her set came from Wanderer's Paean (2006) though she also road-tested a song for her next album. She opened with Bucko – "C'mon Bucko/What I really want to do/Is two-step with you" being its limpet-on-your-brain refrain. Unlike her Wanderer's Paean versions with their splashes of pedal steel, mandolin, basses, banjo and fiddle, here she was on her own and a long way from the Yukon. Walking Down To The Station, Lay It All Down and Ain't Gonna Work from Wanderer's Paean are all songs that would fit sweetly in the really early repertoire of k.d. lang. Maybe even Mama's Dress too – which Beggs also did. The one that lodged was I Can't Drive Slow Yodel about being stopped for speeding by "the handsome man with the golden shoulders" – that is, a speed cop, sheriff or whatever they're called in Royal Canadian Mounted Police territory – and coughing to the offence ("I ain't havin' a baby" being one mea culpa). As she announced in the preamble to the song, she sweet-talked her way out of getting a ticket. It figured. Sort of, if only because there is a gift of the gab about her. She finished with a jaunty, upbeat trad. arr. song called Ain't Gonna Work that Bambi-eyed charges of apparent work-shy tendencies with the disarming "I ain't gonna work tomorrow/I ain't gonna work today/I ain't gonna work tomorrow/For that is my wedding day". There may have been a 'Lord' before the last line, but I'm a humanist and we don't hold with that stuff on Sundays or any other day. Two fine starts to a lazy Sunday afternoon with no time to worry. Or a "drift into a Sunday", as Ken Whaley put it, perhaps summoning the same Small Faces song.
Quite what informed The Green Ray's choice of name is a subject that invites speculation. The name is presumably an allusion to the rare optical phenomenon variously known as the green ray or green flash. It happens around sunrise and sunset when a green light burst becomes visible. Maybe it also evokes Jules Verne's Le Rayon vert in an Alan Garner and Red Shift way or, riffing off that idea, even a comic book Green Lantern sort of way. Musically speaking, what is plain is that The Green Ray – the band – is a lineal descendant of Help Yourself and Man.
The Green Ray are Simon Haspeck on guitar and vocals, Ken Whaley on electric bass and vocals, Simon Whaley on drums and Richard Treece on guitar and vocals. Now, the only difficulty with that "vocals" inclusion was that there was still only one vocal microphone to go around, meaning no real chance for doo-wop harmonies, polyphony and all that folk jazz. This was rough and ready and in the spirit of improvised music and improvising equipment alike. Which made the presence of Barry Melton all the better. After all, he was once of Country Joe & The Fish (ergo the Monterey and Woodstock references). He is one of the San Francisco Bay Area greats and has been both the complicit and steadying hand on the shoulders of Mickey Hart's waywardness. (He had played the previous weekend with Hart.) He once, take a deep breath, crawled on his back up an isle whilst playing an electric guitar solo (as the support act for Commander Cody & His Lost Planet Airmen) at the Hammersmith Odeon. He is a folkie turned rock guitarist turned public defender. And around the time he 'did' Hammersmith would have been around that time that Melton first worked with the Help Yourself-Man axis, come to think of it.
Ken Whaley got to 'hog' the microphone for the opening Before The Fall and it set the tone and pattern for the rest of The Green Ray's performance. Babble On with Treece wailing on guitar from his seated position and Melton singing and hitting the slide was psychedelicised pub rock in the fine old tradition of entertainment. The Treece-Melton exchanges and passages were some of the best moments from the set as a whole. They followed Babble On with Running Down Deep, again with trademark fluid Meltonesque guitar. The rest of the set went to many different places with All My Tears, Swedish Detective Movie and a return to the stage for Kim Beggs in order to tell a story about – and I hope this is in the right order and no calumny – a low-down, beer-suckin' cigarette smoker. (Melton sat out and smiled approvingly from rear of the stage.) The stage set-up and sound system were as basic as basic can be. The sound was raw, inflexible and unyielding. But between them these three acts painted a blank canvas with splashes of colour in so many unexpected ways. Don't you just love the unexpected things that unpublicised gigs deliver?
Where next to go:
David Ferrard – Broken Sky (Flamingo West Records flam010), 2008 – www.davidferrad.com – and Not In Our Name (Songs For Change, no number) – www.songsforchange.com
Kim Beggs – Wanderer's Paean (Out of a Paper Bag Productions CRCD024, 2006) – www.kimbeggs.com
The Green Ray and Barry Melton – www.senzatempo.co.uk
With thanks to two UK-based music writers that span the generations, span psychedelia and punk, and have probably never met: Nigel Cross and Alex Ogg.