22. 3. 2009 | Rubriky: Articles,CD reviews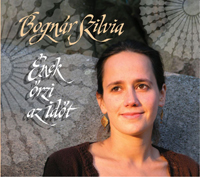 [by Ken Hunt, London] Lest we forget, Hungary was directly responsible for the ultimate Fall of the Berlin Wall in 1989 and, likewise, lest we forget, Hungary's strong and vibrant folk and roots music scenes have had a huge influence on Europe's folk and world music scenes for longer still. My first brushes with Hungarian music came through having my ears turned and recalibrated by LPs on the Soviet-era state record company Hungaroton and UK releases on Joe Boyd's Hannibal label. Things have got continually better. With musicians of the calibre of Szilvia Bognár in the vanguard of developments and consolidations, it is no wonder that Hungary's roots music scene is in such fine fettle. Szilvia Bognár's Semmicske énekek is what Hungary sounds like right now and it is spectacular.
Alas I am still biding my time until see Bognár perform as a headlining soloist. As a singer I have seen her perform live with the Budapest-based band Makám (and here on Semmicske énekek Hegyen s földön/Mountains and Valleys carries Makám-esque echoes) and as part of the miraculous trio with Ágnes Herczku and Ági Szalóki fronting the Szájról Szájra ('From mouth to mouth') project. Bognár belongs to that select pantheon of singers everyone should strive to listen to before the Grim Reaper scythes each and every one of us down. Or, put it this way, if I were in a lifeboat on an ocean or even Lake Balaton after a cultural shipwreck and got my pick of choice singers to be shipwrecked with, Szilvi would be singing her lungs out.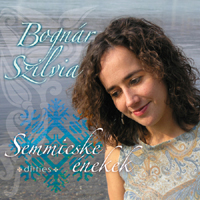 Semmicske énekek/Ditties is her follow-up to her luminescent 2006 album Ének őrzi az időt/Songs preserve the heartbeat of time. They are works within an impressive continuity of creativity. Once again Zoltán Kovács is the composer-arranger for Semmicske énekek's music. The instrumental palette is little changed with a blend of contemporary and traditional instruments. Saxophone, shepherd's flute (furulya), oud, guitars, gadulka (Bulgarian spike fiddle), kaval, violin and percussion of various kinds all feature. Her Szájról Szájra companions – the Agneses Herczku & Szalóki – join her on three tracks. The ones in question are Te kislány/Little Girl, De jó együtt/How Fine It Is Together and Szemünk-lelkünk/Our Eyes And Souls, while Szalóki adds vocals on Ádil hullám/The Waves of [the River] Volga.
Although born in 1977, Szilvia Bognár brings the wealth of generations of experience of her art, art beyond her years. Her voice, tone and timbre on Semmicske énekek brings new sense and meaning to the word 'natural'. There are all manner of layered qualities to her voice as she sings of love, sings farewell to the figurative bride, sings for the jilted and lovelorn. For example, there is the lonesome plaintiveness to Este van/Evening Has Come that Péter Bede's saxophone and István Pál's violin subtly underpin. When you hear her sing Ága-boga/The Flowers of the Wreath you know you are as much in the world of sublime expressiveness as the world of folkloric symbol. Similarly, when she and János Gerzson's oud raise Hungarian shades of the Ottoman Empire on the Bulgarian folk song, Zaljubih/Mother, I Fell In Love the wedding match is perfect, not forced. And when she sings the jilted woman's song Kék szivárvány/Blue Rainbow she brings desolation and bewilderment to bear on a tale of betrayal. It is reminiscent of why Shirley Collins' depiction of The Blacksmith likewise reveals the high art in folk poetry.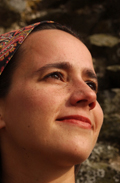 Semmicske énekek – 'Ditties' just doesn't work as a translation for high art in small or 'low' songs – is a masterpiece, not merely one of the year's masterpieces. It is hard to communicate just how wondrous an instrument Bognár's voice is. Her voice is totally under the skin of what we call folk music. When she first gave me her handmade business card, it stated her profession as 'népdalénekes' or 'folksinger' and nothing I have ever heard from her lips has ever warranted revising that job description of hers. Hungarian folksong comes no better than this.
Semmicske énekek/Ditties Gryllus GCD 081, 2008 and Ének őrzi az időt/Songs preserve the heartbeat of time Gryllus GCD 057, 2006
Further information: www.kalaka.hu and www.bognarszilvia.hu