16. 5. 2011 | Rubriky: Articles,Lives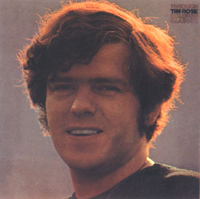 [by Ken Hunt, London] The songwriter and singer Tim Rose died aged a day over 62, on 24 September 2002 in London just before a string of concerts.
Rose was born Timothy Alan Patrick Rose in Washington on 23 September 1940 and fetched up in Chicago where he became the sort of chap that might figure in one of Pete Frame's family trees through his involvement in a folk group called the Triumvirate. They subsequently changed their name to the Big Three, a group that included Cass Elliott who went on to fame with the Mamas and the Papas.
In Greenwich Village he came to wider attention, playing the Bitter End and the Night Owl, before landing a contract with Columbia. Rose's eponymous 1967 debut remains a classic of its kind. He would continue to release albums, albeit sporadically, until 1997, though after his death more emerged.
With a certain twist of fate however, it would be for two covers that he is best remembered. Namely, Hey Joe (a song also picked up on by Love and Jimi Hendrix) and Morning Dew (an underhand hijacking of Bonnie Dobson's song that went into the repertoires of , amongst others, the Grateful Dead, Jeff Beck, Lulu, Einstürzende Neubauten, Ralph McTell and Robert Plant). Fatefully, Them and Judy Collins' cover of Come Away, Melinda, another anti-war song and another song associated with Rose, also had a contested provenance.
He is buried in Brompton Cemetery in South-west London.