4. 11. 2008 | Rubriky: Articles,Live reviews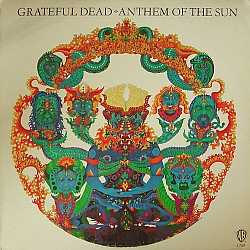 [by Ken Hunt, London] To declare an interest, Tom Constanten and I are addicts of bilingual punning and are old friends. Indeed we started our correspondence when I lived in Sutton, a town that I have no reason to return to in many years. As opener for Jefferson Starship, the audience got a magic show of multivalenced allusion, illusion and wordplay from the former keyboardist of the Grateful Dead during their wonderful experimental period as a septet in the late 1960s that produced Anthem of the Sun, Aoxomoxoa and Live Dead.
His curtain raiser was Jorma Kaukonen's Embryonic Journey which dissolved into Bonnie Dobson's anti-/post-nuclear holocaust hymn Morning Dew before finishing on a sight-gag piece of theatre with his right hand falling off the keyboard whilst reaching for the non-existent 'last note'. In a parallel musical universe Constanten developed a variant of Humphrey Lyttelton's radio panel game 'One song sung to the tune of another' into something infinitely spaceier.
The audience got his syphilis-to-salvation take on Amazing Grace to the tune of House of the Rising Sun topped with Robert Burns' Auld Lang Syne. Another was Dylan's All Along The Watchtower sung to the tune of Warren Zevon's Werewolves of London. And indeed the wind began to howl. Friends of the Devils got a Mountains of the Moon into Dark Star segueing into the Doors' People Are Strange – as a sung entity – into his take on the Dead's Turn On Your Lovelight, the vehicle for his old friend Ron 'Pigpen' McKernan. One day Dose Hermanos – his sometime duo with Bob Bralove – will tour in Europe and then we will see what happens when musical and visual spontaneities go bilingual as the music feeds on the visual and vice versa.