11. 7. 2011 | Rubriky: Articles,Lives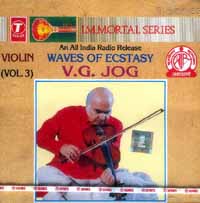 [by Ken Hunt, London] The outstanding, trail-blazing Hindustani violinist Vishnu Govind Jog, usually known more simply as V.G. Jog, died in Kolkata (Calcutta) on 31 January 2004. He had been born in Bombay (now Mumbai), then in the Bombay Presidency (nowadays Maharashtra) in 1922. He received his early music training from several notables, amongst them, S.C. Athavaic, Ganpat Rao Purohit and Dr. S.N. Ratanjarkar, but where he differed from most of his contemporaries was his espousal and championing of the violin played in Indian tuning. To the north of the subcontinent, the European violin had little status. Professor V.G. Jog was a major force in correcting violinistic misperceptions. In Hindustani music the violin had (and has) to compete with the sarangi, an instrument of rare subtlety, capable of splitting the microtonal atom, as it were.
In 1938 he met the multi-instrumentalist Allauddin Khan in Lucknow who became his guru, as he was to, amongst others, his son Ali Akbar Khan, his daughter Annapurna Devi, his eventual son-in-law Ravi Shankar and the sarodist Sharan Rani. In 1982 the violinist Jog was awarded India's highest honour in the field, the Padma Bhushan, the nation's third highest civilian award. By then he had changed people's perception of the instrument in the Hindustani realm.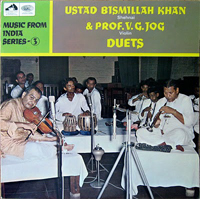 To give a few entry points, try his out-of-print jugalbandi (duet) with the shehnai (shawm) maestro Bismillah Khan for EMI's 'Music From India Series'. More readily available are his duets with the guitarist Brijbhushan Kabra for the German Chhanda Dhara label (1988) and the santoor player Tarun Bhattacharya for Nataraj Music (1993). In a solo sphere, his renditions of his namesake raga – Jog – for Moment (1991), his 1981 recording of Kirwani and Kajri for Navras (1996) or his All India Radio-derived recordings in T Seroes' Immortal Series are good entry points. Anybody interested in the violin's potential should listen to him. One of the great, great masters.