10. 11. 2010 | Rubriky: Articles,Giant Donut Discs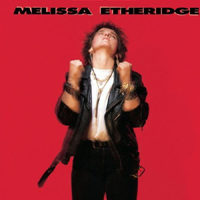 [by Ken Hunt, London] Winter draws on in London but on the island the sun is shining. Helping to banish gloom is a rather fine selection of music this month. Ladies and gentlemen, boys and girls, this month we have Norma Waterson, Mohammad Reza Lotfi, Tükrös Zenekar, O'Hooley & Tidow, Ronu Majumdar and Kishan Maharaj, the Butterfield Blues Band, Santana, Wizz Jones, Bukka White and Melissa Etheridge. It begins with a song of mortality and the acceptance of mortality and ends with one bitter and not accepting. In between all human life is there.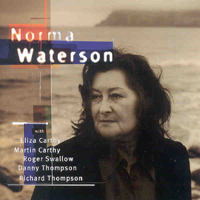 Black Muddy River – Norma Waterson
Norma Waterson tackles this song with great dignity and flair. The accompanists include Richard Thompson on electric guitar, Danny Thompson on string bass and Roger Swallow on drums. There's also something magical about her voice and the way her voice and that of her daughter Eliza Carthy entwine and slow-dance together. The song's opening lyrical gambit gets me every time: "When the last rose of summer pricks my finger/And the hot sun chills me to the bone." It's a song of such strength and poignancy. It's a late period Garcia/Hunter Grateful Dead song but Norma Waterson wasn't aware of its provenance at all when she short-listed it from an unknown recording found on an unmarked cassette. She just fell for the song. From Norma Waterson (Hannibal HNCD 1393, 1996)
Magyarpalatkai Menyasszonykísérő/Csárdás És Sűrű Csárdás – Tükrös Zenekar
Tükrös Zenekar is a Hungarian ensemble – the zenekar of their name – that has Old Hungary's village folk music as its focus. But Old Hungary, not in any nonsensical way like yearning for ceded territory or suchlike. Or like a rummage through artefacts from a bygone Hungary in a figurative Budapest flea market. Their name works best as a pun. Tükrös is the sort of container that might hold washing paraphernalia like a razor, a mirror and shaving brush. Tükör means 'mirror'. Put them together and you have an ensemble holding a mirror up to the past, mirroring back the old sounds, the sound of Old Hungary.
A Mi Mezőségünk ('Our Transylvanian Heath'), Tükrös Zenekar's third CD, begins with the sound of tolling church bells (maybe calling the faithful in) before going into this opening suite, which is as fine a recreation of Hungarian village music as I have ever heard. There is a sublime tension to the way they play. It might sound stiff at first to the newcomer's ears but it is as taut as a bowstring and when they let loose the arrow it really hits the bull's eye. Gergely Koncz and Attila Halmos play violin; Péter Árendás and Endre Liber, viola; and András Lelkes, string bass. This Hungarian ensemble (remember, zenekar) has village music as its ace up the sleeve. By the time their vocalist Éva Korpás enters into the music, you will be dancing in your head on the Transylvanian Heath. From A Mi Mezőségünk (FolkEurópa Kiadó FECD 040, 2008)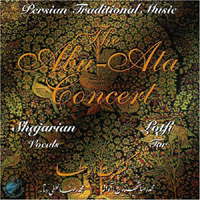 Farāz – Mohammad Reza Lotfi
My introduction to the Iranian ostads ('masters') Mohammad Reza Shajarian and Mohammad Reza Lotfi was arranged by Kavi Alexander of Water Lily Acoustics. One day I found myself opening a package of Iranian classical recordings on the Los Angeles-based Kereshmeh label. It would be impossible to express what a box of enduring delights it proved to be. Ten or so years later I discovered a whole collection of Iranian classical recordings that somebody had donated to the Oxfam charity shop in Richmond upon Thames. Over two months or so I bought up a fair few albums, as funds permitted, through the simple ruse of first prioritising the greats, like the vocalist Mohammad Reza Shajarian, and leaving the ones with the most Farsi text on the packaging till last.
This October I got a commission to write a piece about Iranian music. At the end of the assignment I needed to charge my ears with a different sort of Iranian music and the recording that screamed out to be played was The Abu-Ata Concert, one of the greatest recordings in the classical canon. It was recorded in the German Cultural Centre in Tehran – I assume its Goethe-Institut – on 4 March 1981. On the evening of the performance there was a demonstration on the university campus. Mohammad Reza Lotfi, the tar (long-necked lute) virtuoso was part of the faculty as Head of its School of Music at Tehran University and he was detained too. He arrived late for the recital and it began ninety minutes late. Farāz is an extraordinary Lotfi solo. Maybe there's a touch of channelled rage to the performance. More likely it is passion. From Mohammad Reza Shajarian and Mohammad Reza Lotfi's The Abu-Ata Concert (Kereshmeh Records KCD-107, 1997)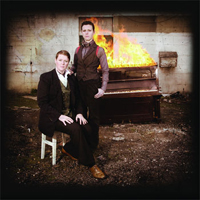 Flight of the Petrel – O'Hooley & Tidow
The title of this composition by Belinda O'Hooley and Heidi Tidow might waft memories of Lal Waterson's Flight of the Pelican. It is a very different kind of avian lament. It deals with society's progress as imperceptible and grinding as glacial flow. In its world "bees drop like coins", motorways are backed up and communities are like the aftermath of a road traffic accident and we take what it takes to get us through. From its arrangement with piano and string quartet to O'Hooley & Tidow's vocals, Flight of the Petrel is sheer class. And it's only the opener. Note the burning piano behind them. Oh, the symbolism. From Silent June (No Master's Voice NMCD32, 2010)
Raga Ahir Bhairav (Alap, Jod, Jhala) – Ronu Majumdar and Kishan Maharaj
Recorded live at the Mahashivratri Festival in Benaras, it says on the cover. That is all the information you get in typical – sorry to stereotype – Indian fashion where CD product gets knocked out with little or no useful, contextual information (beyond recycled, copy-and-pasted biography). The Mahashivratri Festival itself celebrates Lord Shiva and Benaras or Varanasi is popularly known as the 'City of Lord Shiva'. As to which year it was recorded, well, that must have been considered insignificant by Times Music. That is regrettable because Ronu Majumdar is playing superlative bansuri (bamboo flute) and Kishan Maharaj reinforces why he was such a presence in contemporary tabla music. From Generations (Times Music TDICL 079C, 2002)
My obituary of Kishan Maharaj is at www.independent.co.uk/news/obituaries/kishan-maharaj-fearsomely-talented-tabla-player-834614.html
East-West, Live Version #3 – The Butterfield Blues Band
East-West was the title song and defining composition on the Butterfield Blues Band's second LP in 1966. (For some reason, they weren't credited as the Paul Butterfield Blues Band this time around.) At this point they comprised Paul Butterfield on harmonica, Michael Bloomfield and Elvin Bishop on electric guitar, Mark Naftalin on keyboards and the rhythm section of Jerome Arnold on electric bass and Billy Davenport on drums
East-West blended blues and modal improvisation in a way that seemed really fresh. East-West Live contains three versions captured in grainy sound between the winter of 1966 and the winter of 1967. East-West, Live Version #3 is from the Golden Bear, Huntington Beach, California and the winter of 1967. It lasts just under half an hour. Of the three live recordings, it is one that shows off this other, modally inflected blues the finest. Arnold and Davenport are especially tight and inventive.
Parenthetically, Fairport Convention listened to the Paul Butterfield Blues Band. In late 1966 Fairport's electric guitar maestro Richard Thompson saw them on tour. The band played at London's Marquee Club but I have a dim memory of Thompson telling me something about seeing them in Cricklewood. The Chicago band's arrival was well anticipated and material from East-West was in the set. East-West may well have sowed seeds for Fairport's own voyage into modal waters, with A Sailor's Life on Unhalfbricking (1969). On the sessions of which Dave Swarbrick guested on fiddle, directly setting in train events which led to him joining the band. From East-West Live (Winner 447, 1996)
Black Magic Woman/Gypsy Queen – Santana
In 1971 the Santana that had made Abraxas, the previous year's album, landed in Hamburg to promote it. A small troupe of us went to see them play in a massive concrete box that passed as a concert venue. Such were the vagaries of German public transport that we could travel by train to Hamburg but the only way back after the concert finished, lay not through Altona railway station, but hitching northwards via Pinneberg. The night was clear and starry and the concert kept playing in my head. Literally. We had a souvenir open-reel concert recording of the night's concert. In my mind's ear, this bonus track on the Abraxas reissue has a similar vibe to that Santana concert in Hamburg.
Years later, talking to the banjoist Bill Keith, I had the concert ticket stub as a bookmark in something pertinent to the interview. It turned out that his band had played as the opening act at the Santana gig. Still more years later, I discovered the Bombay music director R.D. Burman had also got fired up about Santana. Small worlds of coincidence. Assuming you believe in coincidence. From Abraxas (Columbia/Legacy CK 65490, 1998)
When I Leave Berlin – Wizz Jones
This track was recorded in October 1973 for Wizz Jones' When I Leave Berlin album for Village Thing and, though I may have heard it then, I first remember being aware of the song in 1991. Wizz Jones and many other folkies had earned a good income from touring in West Berlin, long before David Bowie ever rented a two-room flat in the West Berlin district of Schöneberg. I have no idea whether Jones or Bowie ever crossed across to East Berlin in the 1970s. My one traipse across to the East in the summer of 1970 was an important step, personally and professionally, although it took two decades to realise that. "The gates are open/Mothers are weeping with their sons," wrote Wizz Jones. It is a Cold War hymn and more. The accompaniments are from Lazy Farmer – Joan Bidwell on flute, Sandy Jones on banjo, Jake Walton on dulcimer and Don Coging on banjo. From the various artists' compilation Ghosts From The Basement (The Weekend Beatnik WEBE 9046, 2010)
Fixin' To Die – Bukka White
Like many people of my generation found it, back-sourcing where a piece of music had come from was no easy task. In the case of the blues singer Bukka White, tracking down this song that had flitted into my consciousness on Bob Dylan's first LP involved one of most bizarrely inappropriate record covers it was ever my misfortune to clock. It involved a container of water, some false gnashers and a goldfish. (Or were there two goldfish?) If it ever had any meaning it sailed over my head and fortunately that image has gone muzzy in the meanwhile and doesn't stalk my dreams.
The song went other places, for example, lodging in Buffy Sainte-Marie's early repertoire as well. Bukka White's version has played in my head for years and its appearance on the cover-mounted CD with Mojo's December 2010 issue wafted in many good memories of an epoch in which curiosity and private passions involved hoovering up music. Thankfully, that epoch also planted seeds of curiosity that never stopped germinating. From Mojo Presents Dylan'Scene (Mojo, December 2010 issue)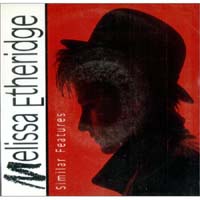 Similar Features – Melissa Etheridge
This song appeared on Melissa Etheridge's 1988 debut. Back then she was a hot new singer-songwriter but stood out from the torrents of new singer-songwriter recordings that arrived weekly in the post. I interviewed her on 28 June 1988 at the office of Island Records in London for a magazine that folded before I had had time to even start transcribing the interview. She was a superb interview, by turn frank and gracious, candid and discrete. In the interview she sowed new levels of understanding about the songs on her eponymous debut album.
She opens and closes with the lines: "Go on and close your eyes, go on imagine me there/She's got similar features with longer hair/And if that's what it takes to get you through/Go on and close your eyes, it shouldn't bother you." (© Rondor Music) It's a barbed hook of an idea holding the song together. Even without knowing what happened next in Etheridge's life, Similar Features works on several levels. If that's the way your pleasure tends, it is a novella. Is this a case of serial mistakes being unfolded? A junk-and-upgrade scenario? A tale of old fashioned rejection and grievance? That's the power of a truly great song.
Island also put Similar Features out on her five-track promotional EP Live (PR 2555-2, 1988) and comparing it and the Melissa Etheridge version I realised I preferred the way she moved the air in the studio. I certainly enjoyed the ride, revisiting Bring Me Some Water, Like The Way I Do and their kind, whilst weighing up versions and deciding that it was the debut album version to plump for. From Melissa Etheridge (Island CID 9879, 1988)
The copyright of all other images lies with the respective photographers, companies and image-makers.