10. 10. 2011 | Rubriky: Articles,Lives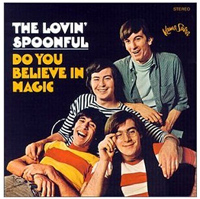 [by Ken Hunt, London] The Lovin' Spoonful was a band that, in the most cool of manners, took its name from a Mississippi John Hurt recording. They made a music that brought together jug band (skiffle) music, folk and folk-blues with an added pop into rock sensibility around 1966 when nobody knew exactly what was going on and definitely nobody knew where it was all going to go.
Born in Toronto on 19 December 1944, Zalman 'Zal' or 'Zally' Yanovsky (bottom left on the album sleeve in yellow and orange stripes, next to John Sebastian's orange and white stripes) died days short of his 57th birthday on 13 December 2002. Arriving on the Eastern seaboard of Canada's southern neighbour with a trio called the Halifax Three – its Halifax, Nova Scotia-born Dennis Doherty subsequently went on to well for himself in The Mamas and The Papas – Yanovsky made contacts that in New York found him and Doherty joining the Mugwumps. That group was name-checked in the Mamas And The Papas' potted history of folk into rock, Creeque Alley – a baton of an autobiographical history that the Grateful Dead's Truckin' took up and ran with.
"The Mugwumps didn't make many records," wrote Michelle Phillips in her autobiography, California Dreaming – The True Story of The Mamas And The Papas (1998), "but they became legendary after they had broken up. They were a cult after the event." Keeping careful-with-the-'legendary'-axe, St. Eugene (British Columbia) business the crowd's comings and goings enabled them to be a backbone of a Pete Frame rock family tree.
Yanovsky joined the Lovin' Spoonful and became intrinsic to its succession of local, then national, then international hits. Those hits included Do You Believe In Magic, Daydream and Summer In The City. Those songs were as other and distinctive as anything that the Rolling Stones, The Kinks or the Small Faces were releasing in Britain. They shone out.
Everything was going so well… Then in 1966 with Summer In The City roaring up the charts internationally, Yanovsky and Steve Boone found themselves in a bit of a quandary. They got busted in San Francisco for possession of marijuana – it was still illegal in California back then. (May still be.)
Pressure was applied. Fearful of visa problems, they sang. "The episode," observed Joel Selvin in Summer of Love (1994), "finished the Spoonful in underground circles." Back then even if we didn't know the exact detail, there was enough scurrilous stuff flying around to glean that all was not right in the state of the Spoonful. Mud stuck.
Post-Spoonful Yanovsky played with Kris Kristofferson – I saw him at the 1970 Isle of Wight Festival – and he made a cameo appearance in Paul Simon's One Trick Pony (1980). At the time of his death, he was a restaurateur in Kingston, Ontario in a place wittily called Chez Piggy.
For more information about Frame and his Rock Trees – visit http://blog.familyofrock.com/