About us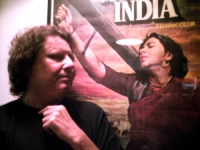 The writer, broadcaster, translator and occasional lyricist Ken Hunt, main contributor for the English part of this site, was born in the Southern English county of Surrey in 1951, he grew up in a house filled with the music of Ellie Fitzgerald (sic), Coleman Hawkins, Billie Holiday, Nellie Lutcher, Artie Shaw and others. Plus whatever was on the wireless. His first published (non-music) writings appeared in 1967. Annoyed by the standards of music journalism, he resumed writing in 1975.
He had contributed, as editor or translator but predominantly as writer, to scores of audio and visual releases, including ones by B.E.V., Vishwa Mohan Bhatt, Asha Bhosle, Iva Bittová, Anne Briggs, Martin Carthy, Martin Carthy with Dave Swarbrick, Purbayan Chatterjee, Hariprasad Chaurasia, Commander Cody, Čechomor, Dissidenten, Davey Graham, the Home Service, Bert Jansch, Robb Johnson, Ali Akbar Khan & Asha Bhosle, Sultan Khan, Alan Lomax, Lata Mangeshkar, Yehudi Menuhin, Ronu Majumdar, Ougenweide, Shahid Parvez, Mohd. Rafi, Kala Ramnath, Ravi Shankar, Shivkumar Sharma, June Tabor, the Watersons and Manickam Yogeswaran.
His arranged marriage project of Asha Bhosle, the Kronos Quartet and the compositions of R.D. Burman – You've Stolen My Heart (2006) – was nominated for a 2006 Grammy Award for Best Contemporary World Music Album.
He has a sideline in writing lyrics for the Czech violinist-vocalist, Iva Bittová. Compositions now figure in her solo repertoire and those of her duo with Tony Fajt, Bang On A Can, Krakauer alias Checkpoint KBK, Čikori and Eviyan. He co-wrote the title song for her solo album Entwine/Proplétám (released on Pavian, 2014) and A Paper Cone, in its most recent commercially recorded form released on Iva Bittová a Čikori's at home. More at www.bittova.com
Song collaborations with the German guitarist Jürgen Ehle (of Pankow) appear on releases by the German singer Scarlett O'. More about Scarlett O' (in English) at www.scarlett-o.de/enscarlett.htm
Since its 'Millennium update' in 2000, Hunt has been an essayist and music consultant for the Oxford Dictionary of National Biography, probably Britain's oldest reference work. By 2017 he had written more entries on folk music subjects than any other essayist in the DNB's 200-year history.
Twitter @KenHunt01
You can contact Ken Hunt by email.
Ken Hunt's full biography
Petr Doruzka who started this web in 1996, is a music writer since 1968 and radio presenter since 1980's. He runs his weekly show Borderline Music on the Czech National Radio and contributes to the leading Czech papers. He was one of the founding members and producers of the Bonton record company (now owned by Sony Music) and has written books on alternative, contemporary, and world music. Since 1992 he is a member of the World Music Charts Europe panel. In recent years, he has also written for music magazines in Italy, Germany, France and UK, and contributed for the Global Village programme in Canada. Since 2002 he lectures on world music at the Charles University in Prague, in 2003-5 he served as a jury member of the Sayan Ring festival in Siberia, and in 2007 as one of the Womex 7 Samurai. You can contact Petr Doruzka by email.
Our webmaster, Petr Kolacek, the flutist, occasional singer and bandleader of the Prague band Gothart, is also one of the most busy Czech web designers. Check out some of his projects here: Gothart, TDP-Ontrack – Záchrana dat, TDP, Czech Travel Centre.
He also writes about his musical adventures in his blog MLOG.cz.